Mashed Potato Croquettes, made with left over mashed potatoes and some spices. Deliciously crispy on the outside and soft and creamy on the inside. The perfect side dish.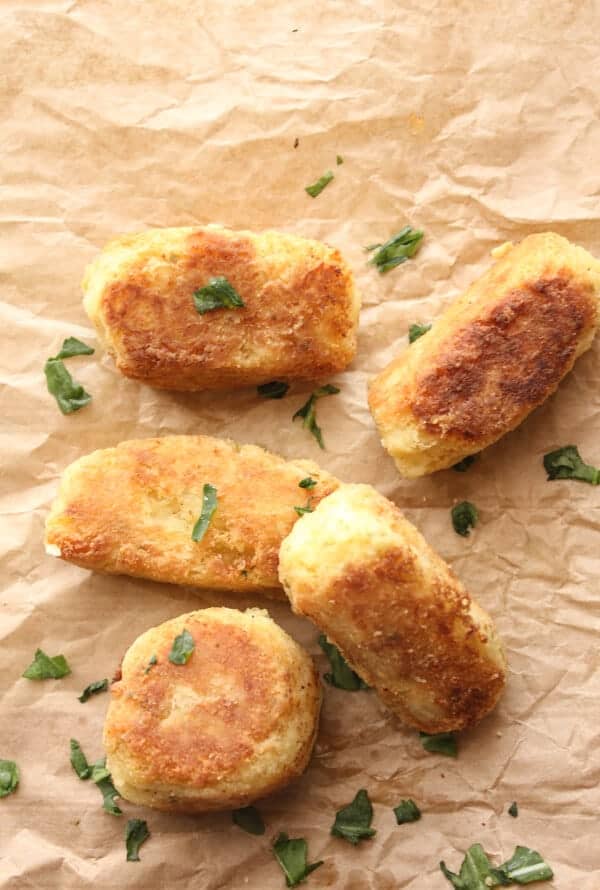 I hope everyone had an amazing Easter with family and friends. We had a nice quiet Easter and then a fun get together with friends.
It was pretty chilly but that didn't stop us from having our first barbecue of the year, of course with a couple of Pasta Dishes included. I enjoyed a nice rest from cooking. Although Baking is another story!
You always have to have a Dessert!
A really good friend of ours is an amazing cook so whenever possible we let him cook and as per usual he didn't disappoint.
I don't know if you serve mashed potatoes at Easter, but I remember my Mom always did. And I am telling you I think I preferred the day after dinner better than the Easter dinner.
For one thing that cooked Ham was thankfully all gone and hopefully there were leftover mashed potatoes. I think my Mom made extra mashed potatoes just because she knew how much we all loved her Mashed Potato Croquettes.
Mashed potatoes aren't well-known in Italy, but over the years I have gotten my family hooked on mashed potatoes, gravy and yes Yorkshire pudding. My youngest daughter actually goes crazy for Yorkshire pudding. At least it is one thing she hasn't tried to put Nutella on!
Mashed Potato Croquettes
Naturally when I make mashed potatoes I tend to make more than necessary just so I have enough leftovers to make these crunchy on the outside and soft on the inside perfect Mashed Potato Croquettes.
Once you try these,   you might just skip the mashed potatoes and go straight for the Mashed Potato Croquettes. Buon Appetito!

Mashed Potato Croquettes
Follow me on Youtube!
Watch the videos and don't forget to subscribe on Youtube!
Ingredients
3

cups

mashed potatoes

990 grams

1

egg beaten

1

teaspoon

parsley

.4 grams

1/4

cup

bread crumbs

25 grams

1/2

chopped onion if desired

flour for dredging
Instructions
In a medium bowl with a fork combine well mashed potatoes, beaten egg, parsley, bread crumbs and chopped onion if desired.

Taking approximately a 1/4 cup (more or less) at a time of the potato mixture, form into an oval or ball shape, then dredge in flour.

In a medium pan add 2-3 tablespoons of oil, on medium heat, heat until oil is hot (not smoking hot), add croquettes a few at a time turning as they brown.

Place on a plate lined with paper towels. Serve immediately. Enjoy!
Nutrition