Italian Roasted Vegetable, delicious good for you veggies, tossed with the perfect blend of spices and Olive oil, then Roasted to Perfection.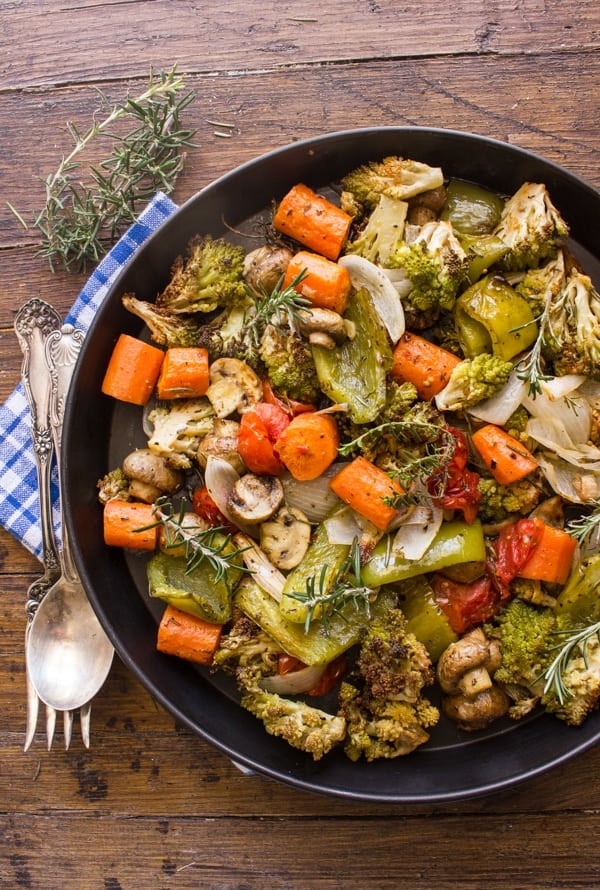 As my visit in Canada continues, so does this crazy weather.  Saturday was an absolute beautiful day, wonderfully spent with my daughter and my niece  in another picturesque town,  just north of Toronto called Port Perry.
We spent the day walking around the town. Stopping to check out the market to see the locals selling their fresh vegetables.
Naturally, I bought some fresh vegetables to add to my Italian Roasted Vegetables, that I planned on cooking for dinner.  We couldn't resist stopping in all the small shops. And of course I couldn't help but buy one of my absolute favourite candy.
Fudge at the local chocolate shop, which was absolutely delicious.  After a few more purchases we decided it was time to head back home for our can't-wait-for-barbecue.
The great thing about Canadians, is the fact that they try to soak in all the sun and heat they can before the winter season returns.
The grass is green, the gardens and pots are full of flowers, there are amazing vegetable gardens in tiny backyards. Oh and don't forget about their amazing barbecues, something they are very serious about.
If you have never eaten roasted vegetables, this is a must try.  It is not only good for you, but it's also absolutely delicious.  I combined six different types of vegetables.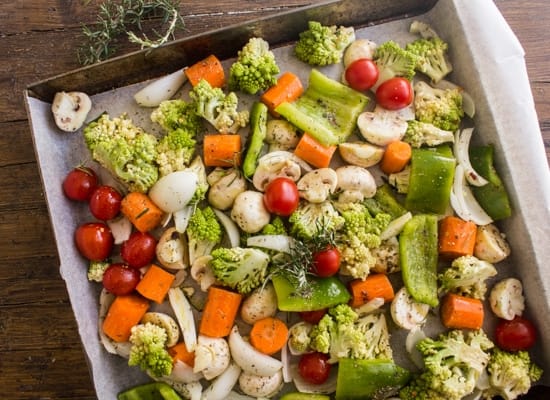 What I like about roasted vegetables is that they can also be done in the oven and all year-long,  just pick in season vegetables and you are ready to go.  Buon Appetito!
Italian Roasted Vegetables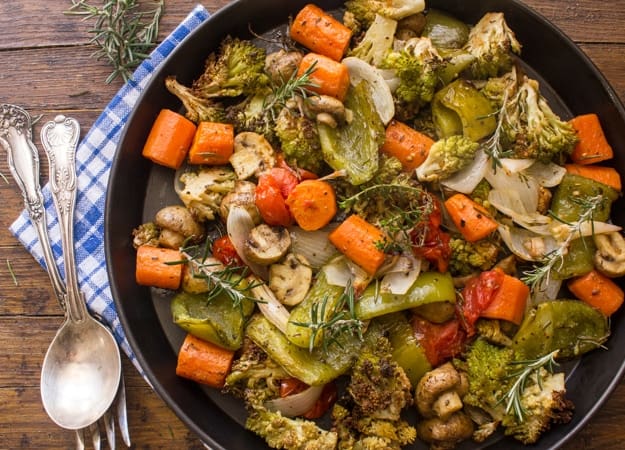 Roasted Vegetables
Italian Roasted Vegetables, deliciously spiced with Italian herbs and olive oil, oven baked to perfection. A yummy family veggie dinner dish.
Total Time
1
hour
5
minutes
Ingredients
3

tomatoes (or 10 cherry tomatoes)

2

potatoes

2

beets

2

medium zucchini

2

peppers large sliced

1

large onion

2

carrots

1

head of broccoli and or cauliflower (or half and half)

1

eggplant

12

mushrooms halved

2

cloves

of garlic chopped

1/3

cup

olive oil

43 grams

1 1/2

teaspoon

oregano

1 gram

1

teaspoon

salt or as desired

5 grams

4-5

leaves

fresh basil chopped

3

leaves

sprigs fresh rosemary or 1 - 1 1/2 teaspoons dried rosemary removed from the stems

removed from the stems, 1 gram

hot pepper flakes if desired
Instructions
Wash and clean all the vegetables ( I peeled only the beets and onions and left the skin on the zucchini and potatoes (clean really well), separate the broccoli into florets, cut the remaining vegetables into large pieces and place in a large bowl, add garlic, oregano,salt,rosemary, fresh basil, hot pepper flakes and olive oil, toss gently together. Place vegetables if using a BBQ)( on 2 or 3 sheets of foil or foil pans and sprinkle with additional salt (if desired) and if necessary drizzle with a little extra olive oil, fold and seal gently. Bake for 30-40 minutes on the barbecue, (if roasting in the oven) place vegetables on one or two parchment paper lined cookie sheets and bake in a pre-heated 375 degrees (190 celsius) for approximately 50-60 minutes. Turning a couple of times, bake until tender. Serve immediately. Enjoy!
Nutrition