Sheet Pan Italian Pork Chops, a fast and easy dinner Recipe. Perfect for any day of the week. Pork Chops baked with your favourite veggies. Delicious.
Sheet Pan recipes have become very popular lately and when I think of the amazing ways Italians would make Baked Trout or Lamb it was basically made this way. Usually with just potatoes although I always like to add a couple of sliced onions.
My husband is not a chicken eater, so when my daughter asked for Roasted Veggies I decided to throw some Pork Chops in the pan, and  it was delicious.
For my vegetable mixture I chopped up a couple of carrots, onions, a few potatoes and half a head of broccoli. I left the florets quite large and the potatoes I cut into smaller cubes.
I bought a thicker cut of pork chops because you want everything to cook together and come out tender at the same time. I did turn on the broiler for the last few minutes, because who doesn't love some crunchy potatoes.
Sheet Pan Italian Pork Chops
I tossed the veggies with olive oil, oregano, salt, pepper and of course some chopped fresh rosemary. What is the best thing about these Sheet Pan Italian Pork Chops? Besides how delicious it is, it's so quick to put together.
Throw it all on a pan and in the oven it goes. 30-35 minutes later and there you have the perfect Sheet Pan Dinner Recipe. Just make sure your Pork is cooked to 160°F (71°C) internal.
During these cold winter months a Tasty Sheet Pan Recipe is one of the best Comfort Foods you could eat. Buon Appetito!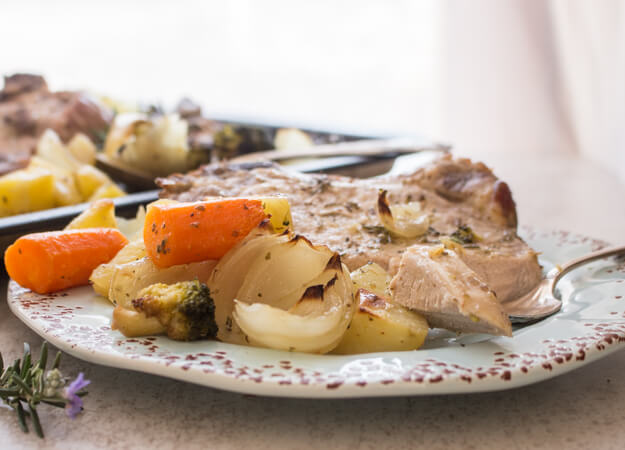 Sheet Pan Italian Pork Chops
Sheet Pan Italian Pork Chops a fast, easy and healthy dinner recipe idea, veggies of choice make it a family favourite.
Ingredients
4

pork chops (thicker cut)

2

medium potatoes (small cubed)

1/2

head broccoli (florets only)

1

-2 onions quartered

2

carrots (chopped)

1

clove garlic minced

1

teaspoon

oregano (+ more for sprinkling)

1

teaspoon

salt (extra if needed)

pepper to taste

3

sprigs rosemary (leaves removed and chopped)
Instructions
Pre-heat oven to 400°F (200°C). Lightly drizzle a baking pan with olive oil.

In a small bowl add 1/4 cup olive oil, garlic, oregano, salt, pepper and chopped rosemary.


In a medium bowl add cubed potatoes, broccoli florets, quartered onions, chopped carrots, add olive oil mixture and combine.

Place pork chops on baking pan, sprinkle with salt, pepper, oregano, rosemary, turn over and repeat, drizzle with olive oil. Add veggie mixture and bake for approximately 30-35 minutes, (halfway through turn the chops) or until pork is cooked (160°F). Broil for the last 3-5 minutes to brown if desired. Serve immediately. Enjoy!
Nutrition