Italian Breaded Pork Chops, a delicious Family Dinner Meal.  Pork chops baked not fried in a yummy Parmesan  Breaded coating, makes this dish a healthy alternative.  An Easy weeknight or weekend dinner idea.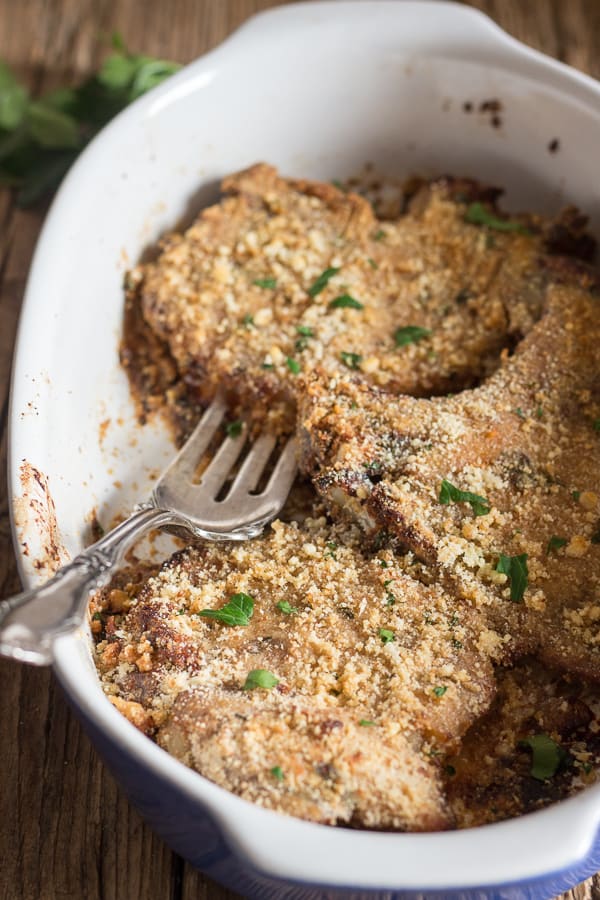 Breaded Pork Chops
Bread Crumbs tossed with freshly grated parmesan cheese and chopped fresh parsley take these Breaded Pork Chops to another level.  So Good.
Thinking about my childhood always brings a smile to my face, because I think I was blessed with a great one.
I not only had wonderful parents and three amazing older sisters, but I also had the luck of living close to great people who were neighbours and friends of my family.
I was friends with the eldest daughter and I remember having the best conversations with her at night from my window.
They lived right across my house so that was the easiest way of talking to her when it was time to go to bed.
I always thought they had the best foods in their house and I remember thinking how cool that family was! Yes, that's me, who would have thought that I would end up writing about this one day on my own blog for another great recipe?
I now understand that my parents didn't have the extra money to afford the same food products since we were four girls and my mother was a stay-at-home-mom.  
And isn't it funny when you get older you realize, yes homemade really is better, not only healthier but even more delicious, from Cookies to Pasta and everything in between, including these Delicious Breaded Pork Chops.
My mouth would water (and still does) every time my friend's mom offered me one of those fudgee o' cookies or peanut pirate cookies.  
I wasn't much into sugar cereals though,  and yes, they had those as well.
As time went on, those cookies and a few boxes of shake-and-bake found their way into my home too, and even now when I return to Canada for a visit, I dream of getting my hands on those cookies.
Baked Pork Chops
Not so much the shake and bake,  because to tell you the truth I think my Baked Italian Breaded Pork Chops are better and healthier.
More Meat Recipes you may Enjoy!
They come out crunchy on the outside and nice and moist on the inside.   Amazingly delicious! Try them, trust me, you won't regret it.  Buon Appetito!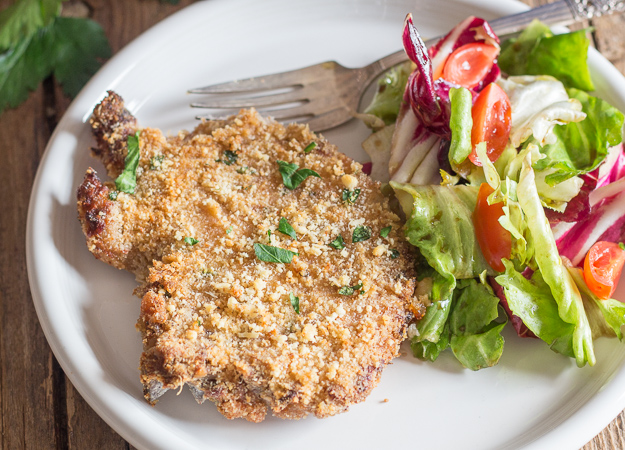 Italian breaded pork chops
Italian Breaded Pork Chops, a delicious Family Dinner Meal. Pork chops baked not fried in a yummy Parmesan breaded coating it makes this dish a healthy alternative. An Easy weeknight or weekend dinner idea.
Ingredients
4

pork chops

1/2

cup

bread crumbs

2

tablespoons

freshly grated parmesan cheese

1/4

teaspoon

salt

1/2

teaspoon

dried parsley

2

tablespoons

olive oil for drizzling
Instructions
Pre heat oven to 350° (180°)

In a medium mix together bread crumbs, parmesan cheese, salt and parsley, coat the pork chops very well with the crumb mixture one at a time, place on a lightly oiled (1/2 tablespoon/7 grams olive oil) baking pan, sprinkle lightly with salt (pinch) and drizzle with remaining olive oil. Bake in pre heated oven for approximately 35-45 minutes**, halfway through baking turn the chops over (in the last 5 minutes I raised the temperature to 390°/200°), for extra browning. Enjoy!

** Pork needs to be cooked to an internal temperature of 160 degrees F.
Nutrition
Calories:
333
kcal
|
Carbohydrates:
9
g
|
Protein:
31
g
|
Fat:
17
g
|
Saturated Fat:
4
g
|
Cholesterol:
91
mg
|
Sodium:
346
mg
|
Potassium:
526
mg
|
Vitamin A:
0.4
%
|
Calcium:
6.2
%
|
Iron:
7.3
%