Italian Beef Roll Ups or also known as Involtini are a quick and easy main dish recipe that looks fancy enough for a special get together or a delicious family dinner idea.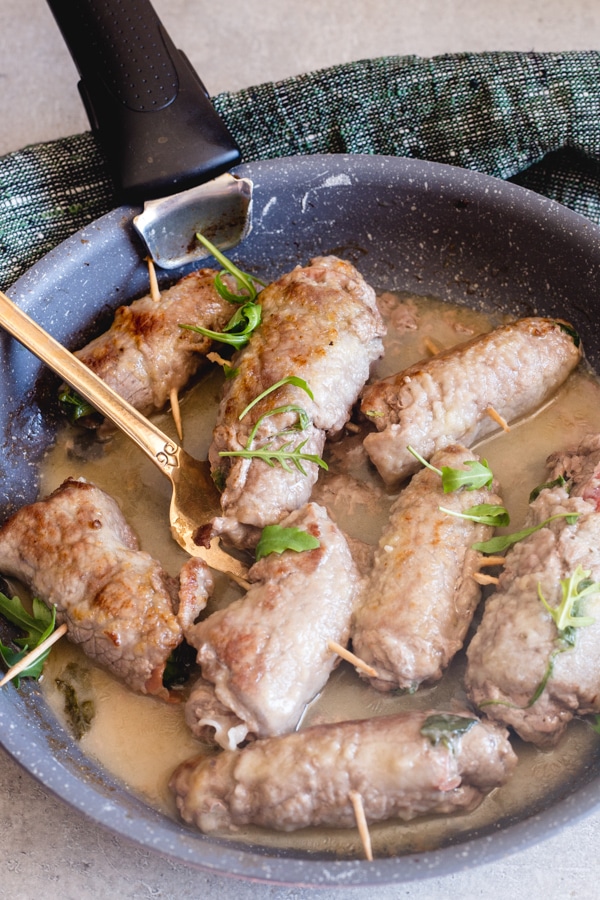 Involtini / Italian Beef Roll Ups
This is one of those Italian Main Dishes or Secondo Piatto that is not only easy and delicious but also looks extra special!
My years of motherhood and mixing the Italian with the English languages always confused my poor kids.
I think the Italian just pretended not to notice or decided it was the fault of his mother's "Ciociaro dialect" that helped teach me my Italian!
When my eldest daughter moved to Canada and started telling friends and family that she had to go grocery shopping for Salad instead of Lettuce, and laughingly told me "Ma, it's called Lettuce not Salad!
Inmy defence it's called Insalata in Italian,  or my confusion with "Involtini" and "Saltimbocca".
On her return home she declared can you make me Saltimbocca, which I made and served the day after, much to her dismay when she in fact wanted Involtini!
"Well that's what you asked for", "yeah but you always called them Involtini". And there you have it! My poor confused kids.
What to Stuff a Beef Roll Ups
The traditional stuffing for an Involtini  is a slice of Prosciutto and 2-3 leaves of sage.
But I like to use Arugula, fresh Italian Parsley or even Spinach leaves instead of Sage.
Because Prosciutto is quite salty on its own, there is no need to salt the meat.
Involtini
More Involtini / Roll Ups Recipes
So if you are looking for a simple impressive Dinner Idea, then these Involitin / Italian Beef Roll Ups are a good idea. Buon Appetito!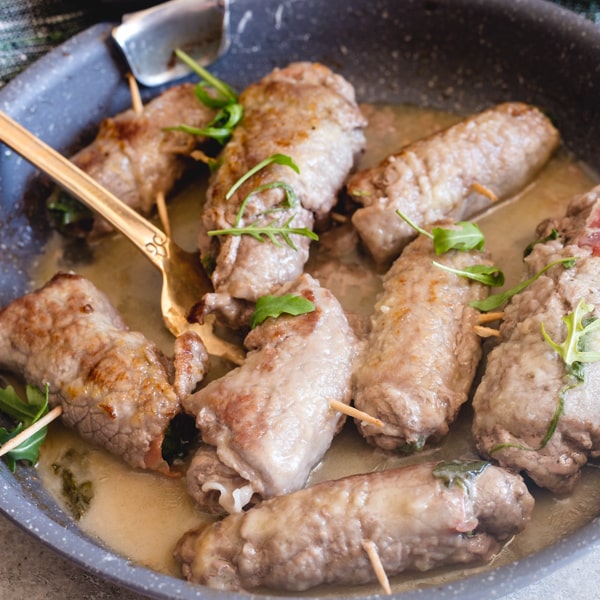 Involtini / Italian Beef Roll Ups
Ingredients
12

thin

slices of veal or beef top round

(thinly sliced)

12

slices

of Prosciutto di Parma*

(if large slices cut in 1/2)

1

cup

of chopped arugula**

(also called rocket)

3

tablespoons

olive oil

1/4 - 1/2

cup

flour

(34 - 68 grams)

1/3

cup

dry white wine

(78 grams)

12

toothpicks
Instructions
On a clean chopping board place 1 slice of beef or veal, on top place a slice of prosciutto and top with 1/2 – 1 tablespoon of aurgula, roll up meat and secure with a toothpick. Continue until all the meat is rolled.

In a small plate add flour, dredge rollups well in the flour one at a time . Over medium high heat, heat a large frying pan with the oil, when oil is hot add meat rollups (sprinkle some flour over the rollups). Cook covered on medium / low heat for 5 minutes (or until browned) turn the rollups over and repeat cooking covered for 5 minutes. Add white wine heat on high until the fumes evaporate, then cover and cook until thickened, approximately another 5 minutes. Serve immediately.
Notes
*When using prosciutto no need to add salt, because the prosciutto is salty enough.
**If you don't like arugula you can always substitute Italian parsley, sage or fresh spinach leaves.
Nutrition
Calories:
218
kcal
Carbohydrates:
1
g
Protein:
3
g
Fat:
20
g
Saturated Fat:
4
g
Cholesterol:
17
mg
Sodium:
162
mg
Potassium:
89
mg
Vitamin A:
120
IU
Vitamin C:
0.7
mg
Calcium:
8
mg
Iron:
0.4
mg
Updated from December 8, 2013.