Tasty Grilled Stuffed Meat Rolls, are a quick and easy barbecued Meat Recipe, made with a thin slice of beef, stuffed with ground pork, rolled and then wrapped in bacon. Your new favourite BBQ Stuffed Meat Rolls Recipe.
I have now been in Canada for almost two weeks and I am loving every minute of it! Last week I spent  5 days in Winnipeg with the most wonderful people. I consider them to be my second family.
Lounging in the Sun by their lakefront Home, drinking a nice cold Canadian Beer, chatting and reminiscing. And that for sure my friends is the life.
I was also gifted with a Double Rainbow after a bit of a rain storm and what a beautiful sight it was.
Of course when it's summer,  surrounded by amazing people and a beautiful view what better way to enjoy it all then with some delicious food.
And I love a good grilled meat dish. I used my three favourite meats in these Stuffed Meat Rolls.
I purchased thin slices of beef, and I made a stuffing of ground pork with a few spices, I then roll it up and I didn't stop there! I wrapped it up with some bacon!
I grilled it slowly at first just to make sure the pork cooked and then I raised the heat to cook the bacon to perfection. You can cook these either on a BBQ or even a simple pan grill.
These Simple, Easy and Tasty Grilled Stuffed Meat Rolls were a big hit. If you are looking for something a little lighter you could serve them with a simple side salad.
Tasty Grilled Stuffed Meat Rolls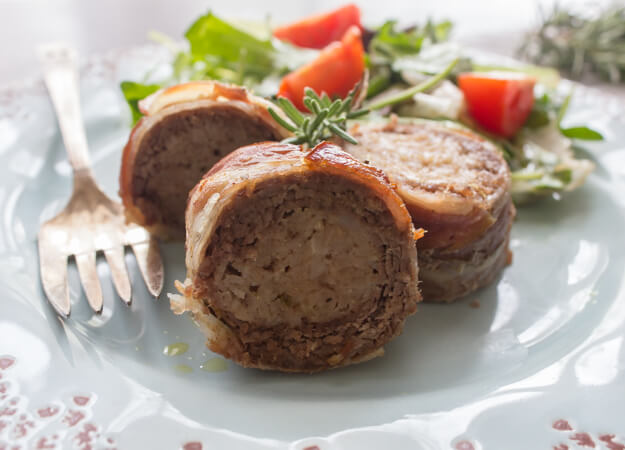 And since you have the grill going why not serve up some Bruschetta? Can't beat a delicious BBQ dinner along with a few Fast and Easy Salads.
Why not try a tasty Borlotti Bean Salad or a Stuffed Mozzarella? And don't forget an Easy Classic Tomato Bruschetta or if you are an Avocado lover this could be the Bruschetta Recipe for you!
Tasty Grilled Stuffed Meat Rolls
The perfect BBQ meat recipe, Tasty Grilled Stuffed Meat Rolls a fast and easy three Meat Recipe, a yummy family lunch or dinner dish.
Ingredients
4

slices

thin slices of beef

6 1/2

ounces

ground pork

190 grams

4

slices

bacon

if they are short slices then 8 slices

1/2

teaspoon

oregano

1/2 gram

1/4

teaspoon

salt

1.4 grams

4

sprigs fresh rosemary

1-2

tablespoons

olive oil

13 1/2 - 27 grams
Instructions
In a medium bowl add ground pork, oregano and salt, mix to combine.

On a flat surface place one slice of beef add 1/4 of the pork mixture, fold over sides of beef and roll up, wrap with 1 - 2 slices of bacon, and secure with a piece of string, place a sprig of rosemary between the meat and the string, drizzle with olive oil and sprinkle with a little salt, grill or bbq until cooked. Let sit 3 minutes, remove string and slice and serve.
Nutrition