Grilled stuffed beef rolls are a delicious dish made by rolling thinly sliced steak around a flavorful filling of seasoned ground pork. The rolls are then wrapped in bacon and grilled to perfection, creating a savory and satisfying meal that will become a new summertime favorite!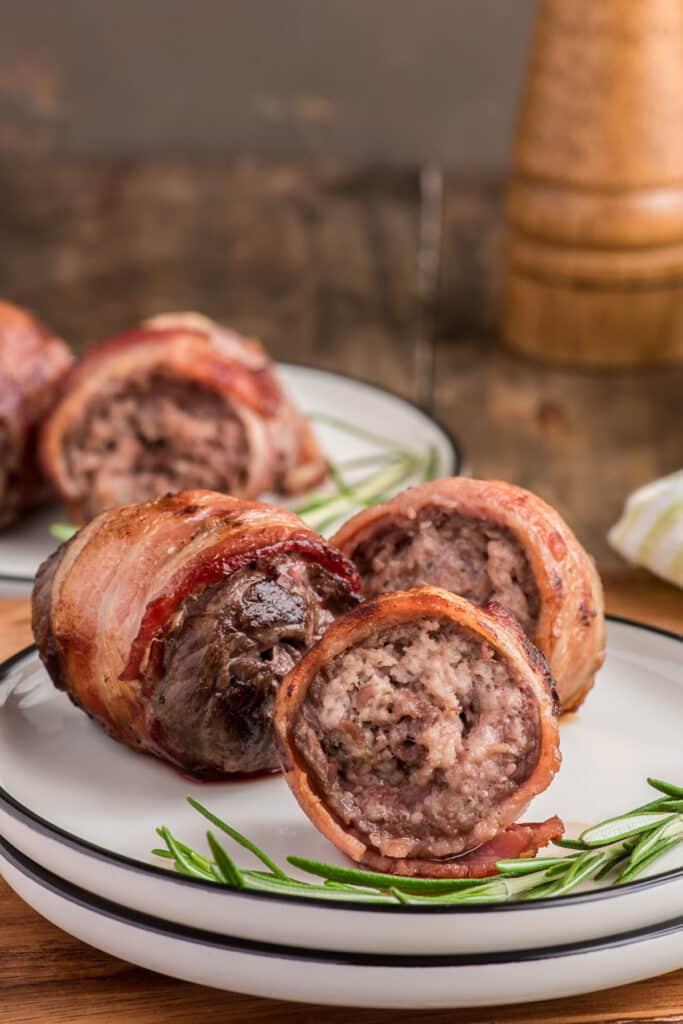 While I love my traditional Italian Involtini beef roll-ups that are cooked on the stovetop, during the summertime when it's perfect grilling weather, I love to fire up the BBQ for these grilled stuffed beef rolls which are a twist on the classic!
This braciola alla griglia recipe is made with quality slices of beef that are then stuffed with seasoned ground pork and wrapped in bacon. Involtini refers to all things rolled and for this grilled recipe it's three meats and it's the ultimate crowd-pleaser!
I love the combination of three meats in the grilled beef roll although you could get inventive and add other meats or cheeses. I first made this for friends at their lake house in Canada, although it would be just as great for a Sunday dinner!
Recipe Ingredients
To make this recipe for grilled braciole, you will need these simple ingredients.
Thinly sliced beef: I prefer beef top sirloin, although stuffed flank steak is also amazing.
Ground pork: This will be used for the filling, you could use ground sausage if you would like.
Oregano: Adds a robust slightly sweet taste to the pork filling.
Salt: To tenderize and enhance the taste of all the ingredients.
Fresh rosemary: Adds aromatic taste.
Bacon: You will need 4 or 8 bacon slices depending on how long they are in size.
Olive oil: Not only does it add flavor, it helps prevent the beef rolls from sticking to the grill.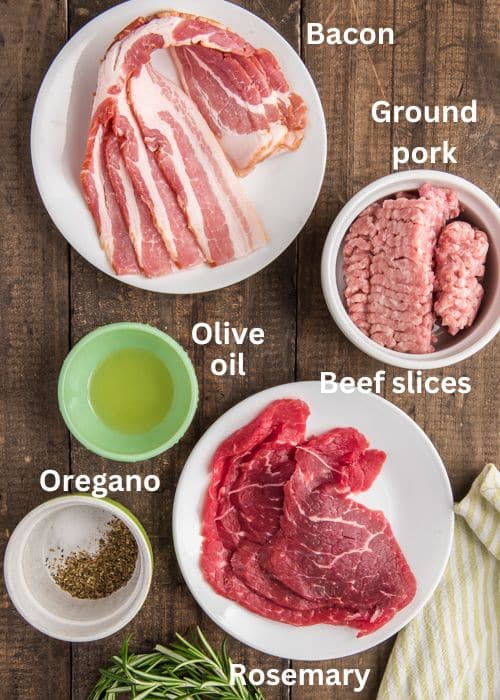 What Cut of Meat to Use
This may vary depending on personal preference and availability but here are the best cuts of meat I like to use for these grilled beef rolls.
Beef Top Sirloin
Top Round Steak
Flank Steak
Skirt Steak
Variations
Breadcrumb filling: Combine breadcrumbs, freshly grated cheese and herbs for a delicious stuffing. You could even add hard-boiled egg if you wish.
Vegetable filling: Instead of a meat filling try carrots, red peppers or even asparagus.
Sicilian style: Make a filling with breadcrumbs, Parmesan, pine nuts and raisins.
Cheese: Add freshly grated Parmesan cheese, pecorino romano, provolone or even mozzarella cheese to the sausage filling.
Serve with a side of dipping sauce: Fresh tomato sauce, basil pesto or even a gravy all work!
How to Make Grilled Stuffed Beef Rolls
To start, make the beef roll filling by combining the ground pork, oregano and salt in a medium sized bowl. Mix to combine.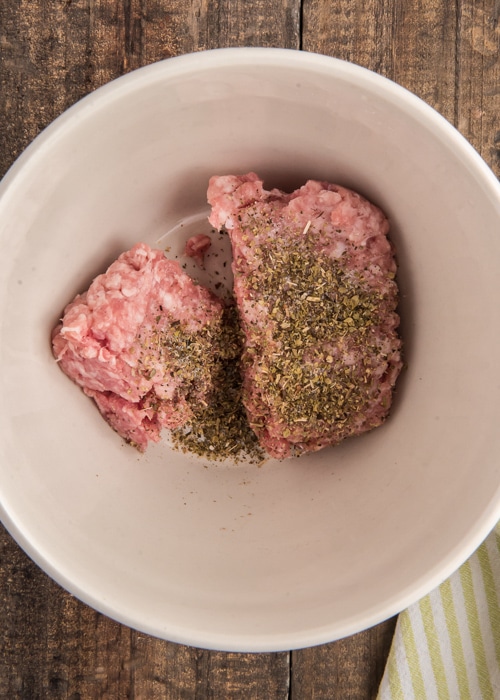 On a flat surface place one slice of beef, add 1/4 of the pork mixture, fold over the sides of beef and roll up lengthwise.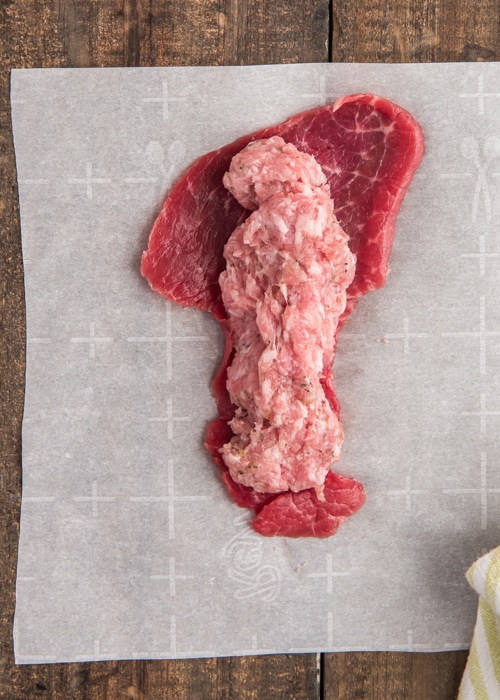 Wrap the roll with 1 – 2 slices of bacon then secure with a piece of butcher's string. Place a sprig of rosemary between the beef and the string, drizzle with olive oil and sprinkle with a little salt.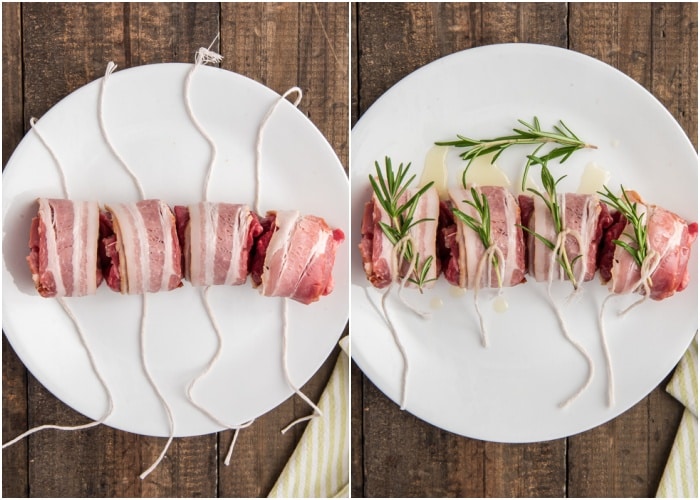 Place the meat roll on a hot preheated grill and grill over high heat until cooked. Turn frequently to ensure a nice brown exterior on your beef.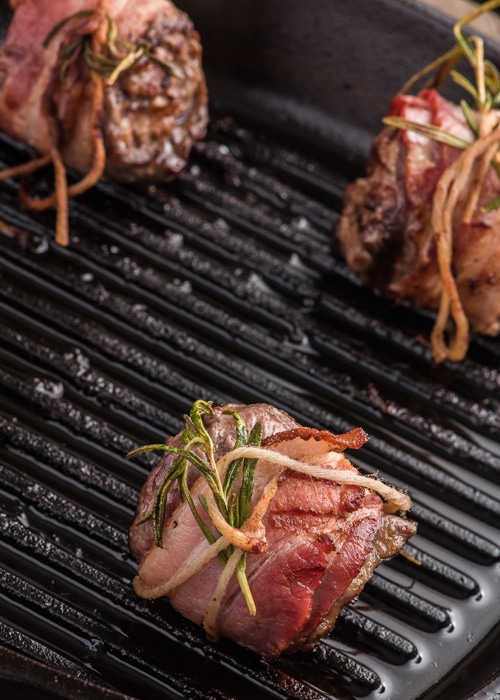 Remove from the grill when it reaches desired doneness. Let sit for 3 minutes, remove the string, place on cutting board, slice with a sharp knife and serve with freshly ground black pepper if you wish.
Top Tips
Butchers twine: Use good quality butcher's twine to secure the beef roll.
Use a good butcher: While you can thinly slice your beef yourself, having your butcher butterfly your beef and pound it thin not only saves time but produces the best results.
Pound your beef: Even if you have used a butcher, it is still a good idea to pound the beef before adding the filling to tenderize it.
Thickness of beef: Your beef should be no thicker than ¼-inch for the best stuffed steak rolls.
What to Serve with Grilled Beef Rolls Recipe
Nothing is better in the summer than grilled stuffed steak hot off the BBQ with a cold summer salad or side of classic tomato bruschetta! My favorite lately is this tomato, avocado and feta bruschetta which is also a delicious option.
I often serve these beef rolls with Borrlotti bean salad for a quick weeknight dinner or if serving guests I make this Caprese stuffed fresh mozzarella.
For a heartier side dish to accompany these steak rolls, I serve polenta or baked risotto. Although, no one ever turns down a side of homemade pasta!
Can I bake this in the oven instead using the grill?
It might be possible, although I have not tested it. I would sear the beef rolls first on the stovetop, then place in a baking dish and cook uncovered for 20 minutes at 375°F. Test for your preferred doneness and continue to cook up to another 20 minutes more if not done to your liking. You could also add some gravy or tomato sauce at this point and continue cooking.in the oven instead using the grill? You may be able to broil your meat rolls as well. Set your oven broiler to high and broil for a few minutes then check for doneness.
How do I know when my grilled stuffed beef rolls are done?
Using a meat thermometer is the best way to ensure your beef rolls are done. The internal temperature should be around 160F-165F when inserted into the center of the roll. As it rests, the temperature will continue to rise a few more degrees.
What temperature should my grill be when grilling beef rolls?
For best results your grilling surface should be hot! This means your grill should be in a range of 400-450°F for high heat grilling.
What is the best method to follow when resting grilled meat?
When you let your meat rest after grilling the juices will settle back into the meat making it more tender and juicy. You can place a cover over your pan or tent it with aluminum foil.
Can I use other cuts of meat?
Grilling time may change but you can try pounded chicken or pork if you would like.
Make-Ahead and Storage
Make ahead: To make in advance, prepare your beef rolls and then store overnight in the refrigerator. Bring to room temperature before proceeding with grilling.
How to Store: Store the steak roll covered in an airtight container for up to 4 days in the refrigerator.
To Freeze: Flash freeze each roll or wrap separately and place in a freezer safe container for up to 3 months.
Reheat: Thaw then heat lightly on the stovetop or in the microwave until just warm.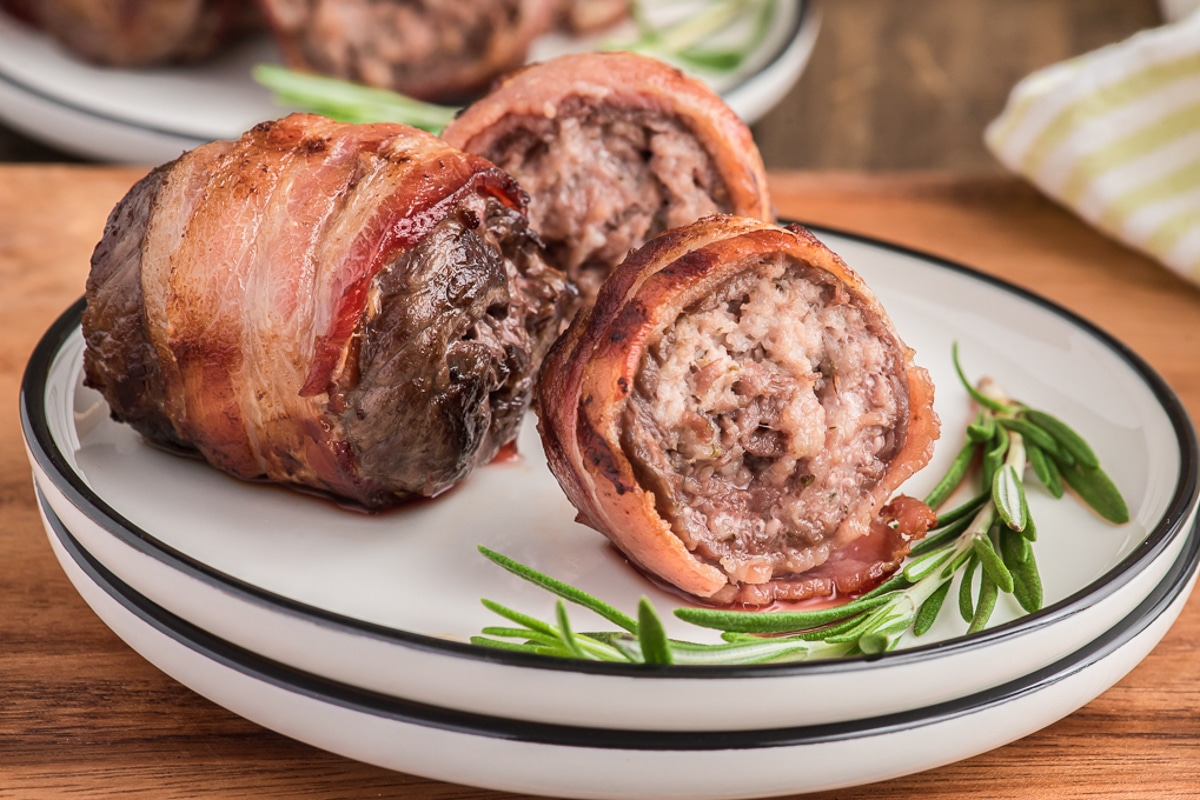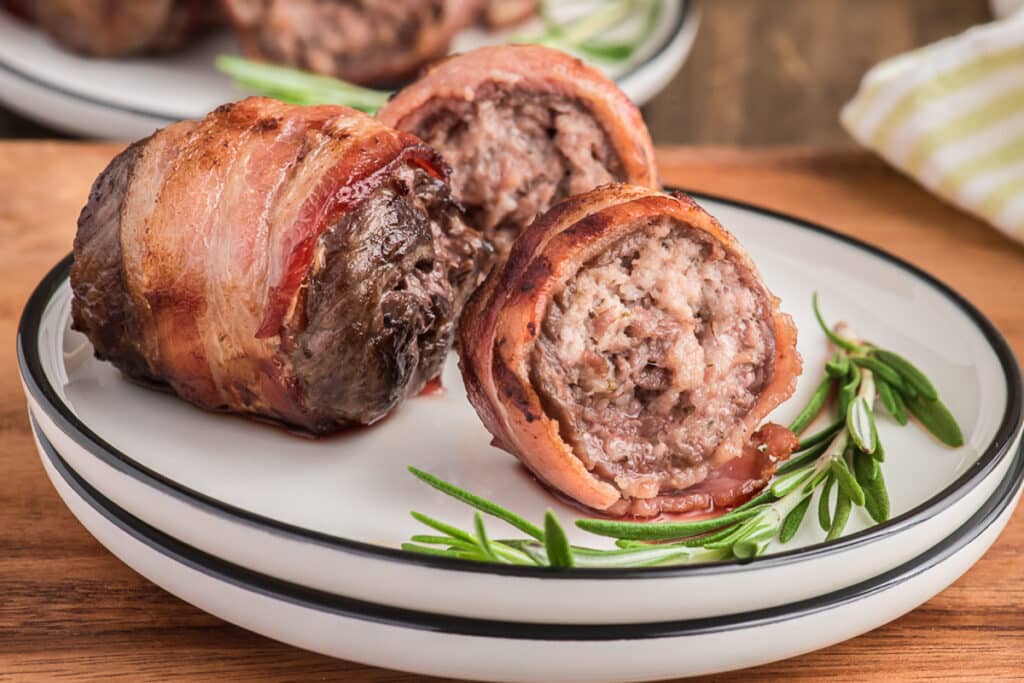 These grilled stuffed beef rolls are a mouthwatering delight that brings together the tenderness of beef, the smoky char of the grill, and a delicious savory filling. Perfect for outdoor gatherings or for a weeknight dinner. Buon Appetito!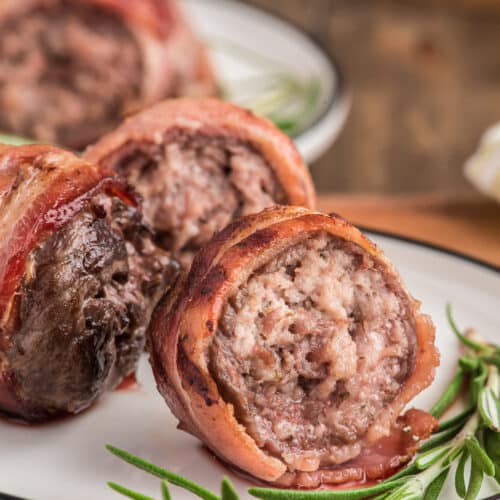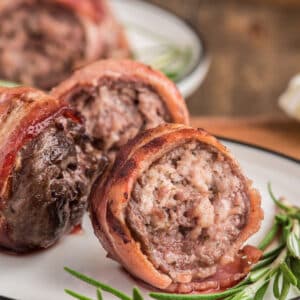 Grilled Stuffed Beef Rolls
The perfect BBQ meat recipe, Tasty Grilled Stuffed Meat Rolls a fast and easy three Meat Recipe, a yummy family lunch or dinner dish.
Ingredients
4

slices

thin slices of beef

6½

ounces

ground pork

½

teaspoon

oregano

¼

teaspoon

salt

4

sprigs fresh rosemary

4

slices

bacon

if they are short slices then 8 slices

1-2

tablespoons

olive oil
Instructions
In a medium bowl add the ground pork, oregano and salt, mix to combine.

On a flat surface place one slice of beef add ¼ of the pork mixture, fold over sides of beef and roll up, wrap with 1 – 2 slices of bacon, and secure with a piece of string, place a sprig of rosemary between the meat and the string.

Drizzle with olive oil and sprinkle with a little salt, grill or bbq until cooked. Let sit 3 minutes, remove string and slice and serve.
Notes
This may vary depending on personal preference and availability but here are the best cuts of meat I like to use for these grilled beef rolls.
Nutrition
Calories:
247
kcal
Carbohydrates:
1
g
Protein:
11
g
Fat:
22
g
Saturated Fat:
7
g
Polyunsaturated Fat:
3
g
Monounsaturated Fat:
11
g
Trans Fat:
0.04
g
Cholesterol:
48
mg
Sodium:
318
mg
Potassium:
183
mg
Fiber:
0.1
g
Sugar:
0.01
g
Vitamin A:
19
IU
Vitamin C:
0.4
mg
Calcium:
13
mg
Iron:
1
mg
Updated from July 31, 2016.