Traditional Polenta,  an Italian Comfort Food served with a tasty Sausage Pork Rib Sauce. A hearty Dinner for those cold winter days.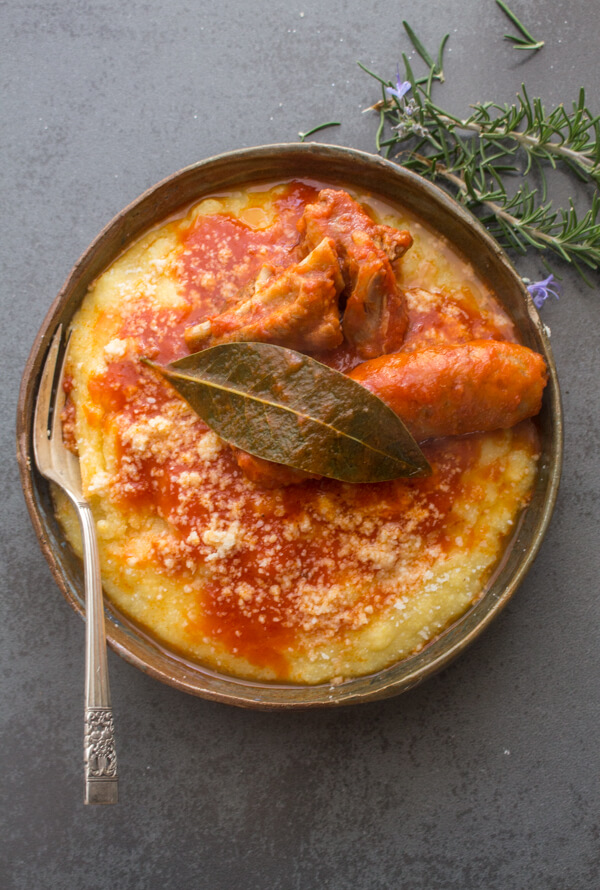 I am going to be honest with you right from the start. I and no member of my family are Polenta lovers. So you are probably thinking then why would she do a post on Traditional Polenta if she doesn't even like it?
Because it's one of my favourite times of the month,  "The Taste Creations Blog Hop" time. We are 4 bloggers  who every month get together and make something with a certain ingredient, and yes it was decided that November would be Polenta month!
Last month we shared recipes made with herbs, and I made Easy Parmesan Rosemary Pizza Pinwheels. In September we shared Apple Recipes and I baked up some  Apple Pie Cookies.
This month, since I have never made Polenta in my life, and only ever eaten it once. Needless to say, I didn't like it then, and I don't like it now. Luckily I have the Italian nodding his head in agreement!
We decided to make a little get together of it and our amazing Chef Friend came to my rescue. A few other friends came over and they were all excited to be eating Polenta.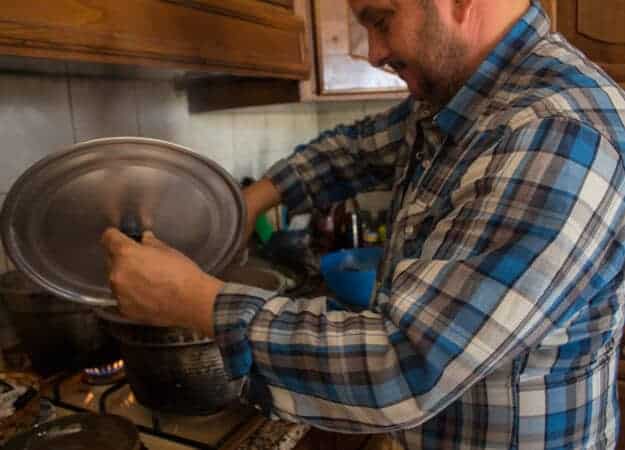 I have to tell you though, he made one of the best sauces I have ever eaten, so, if like me Polenta isn't on your Italian-Food-Wish-List, I can assure you this Sausage Pork Rib Tomato Sauce will certainly make up for it.
To start he added some olive oil to the pan, browned the meat on medium high heat, let it brown and then turn it over to brown on the other side, then a little red wine was added.
He added the Tomato Puree, some spices, water and let it simmer for about an hour. Thank goodness there was some left over sauce because it was perfect over a little Rigatoni. However you serve this Sauce with some Traditional Polenta or over Pasta, Buon Appetito!
Traditional Polenta with a Sausage Pork Rib Tomato Sauce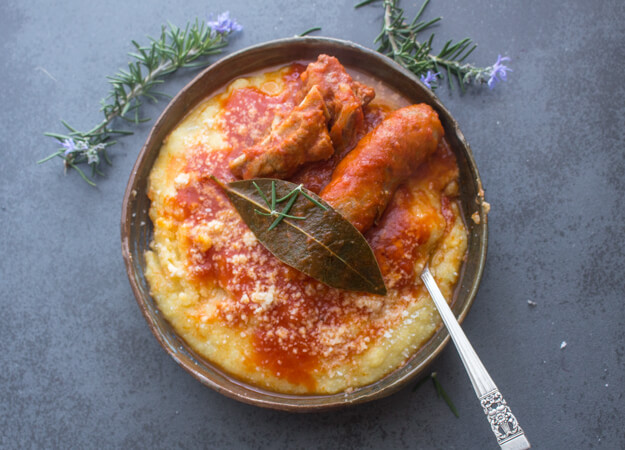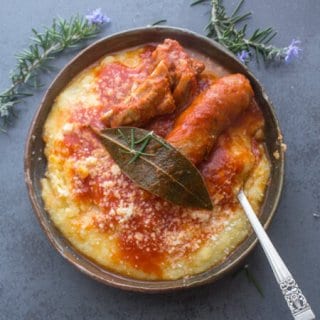 Traditional Polenta with a Sausage Pork Rib Tomato Sauce
A creamy Traditional Polenta, served with a delicious Sausage Pork Rib Tomato Sauce Recipe, Italian Comfort Food at it's best.
Ingredients
FOR THE SAUCE
1

pound

pork ribs (cut into small pieces)

(500 grams)

5

Italian sausages

4 1/2

cups

tomato puree (passata)

(1000 grams)

2

tablespoons

olive oil

(27 grams)

2

cloves

garlic (1 whole & 1 minced)

hot pepper flakes to taste

2

sprigs

rosemary

2

bay leaves

1/4

cup

wine (red or white)

(60 grams)

3/4

teaspoon

salt

(4.23 grams)

1 1/2

cups

water

(354 grams)
FOR THE POLENTA
2

cups

cornmeal flour

(240 grams)

7

cups

water

(1 3/4 liters)

1/2

teaspoon

salt

(2.8 grams)
Instructions
FOR THE SAUCE
In a large pot on medium high heat, add oil, garlic, sausage and ribs, salt to taste, and a dash of pepper, brown meat on both sides, add bay leaf and rosemary turn up heat and add wine and cook until wine has evaporated (approximately 5 minutes) add tomato puree and water, 1/4 teaspoon salt, stir to combine, bring to a boil, reduce heat and simmer for approximately 1 hour or until meat is tender (fall off bone tender). Taste for salt. While sauce is simmering make the Polenta.
FOR THE POLENTA
In a large pot add water and bring to a boil, gradually pour in corn meal, whisking constantly to combine, once it starts to boil reduce heat but keep whisking frequently, cook for approximately 45-50 minutes whisking and until thick. Taste for salt. Serve immediately with sauce and a generous sprinkle of Freshly grated Parmesan or Pecorino Cheese. Enjoy!
Nutrition
The Taste Creations Blog Hop happens on the 1st Monday of Every Month. Every month, myself and 2-3 other bloggers challenge ourselves to make something with a chosen ingredient. Hope you will check out these recipes too. Have a great week everyone!
Our Good Life – Breakfast Polenta
Tikkido –  Baked Polenta with Roasted Mushrooms