This Cheese & Tomato Pie, is the perfect appetizer or Main Dish. A fast and easy savory tart made with fresh tomatoes, cheese and basil. The perfect Summer dish.
Easy Italian Cheese & Tomato Pie
It is almost my favourite time of the year,  tomato season, actually, I'm pretty sure you can get tomatoes year round almost everywhere, I still believe there's nothing like a fresh tomato straight out of the garden.
Or out of the pot when it comes to my way of growing tomatoes. You should try it one day,  get some dirt, a couple of huge pots and plant some tomato plants in each pot.
There is nothing like it, trust me and while you're at it, a little pot of basil won't hurt either. The perfect combination Tomatoes and Basil especially made in this tasty Tomato Pie Recipe.
Delicious Fresh Tomato Recipes
Whenever someone asks where are you living in Italy, for convenience sake I always say Rome, because technically we are in the province of Rome.
But in an area known as Castelli Romani, I must say it's breathtaking, and as far as weather goes it is perfect except for the summers that are extremely hot. But I guess you can't have everything.
This area of Italy is a gardeners paradise. I have flowers 12 months out of the year. And my mother-in-law always had her year-round veggie garden! Those were the days.
So this Tomato Pie Recipe always brings back memories  of a tasty savory pie I would make with a few of her homegrown tomatoes.
For this particular Tomato Pie I used a puff pastry crust, but it is equally delicious with this easy Homemade Savory Pie Crust if you prefer, or any store-bought would work too.
How to make A Cheese & Tomato Pie Recipe
Place the pastry dough on a lightly greased round pan.
Brush the pastry with the melted butter.
Top with the sliced mozzarella,
then the sliced fontal cheese.,
Finally top with thin slices of tomato.
Sprinkle with salt, oregano and basil.
Drizzle with olive oil and bake for about 35 minutes. Serve warm or at room temperature.
I have made this pie quite a few times, with both savory and puff pastry dough and either are quite delicious, it really depends on your preference.
What are the best tomatoes for baking?
For baking in a pie the best tomatoes are low water content tomatoes, such as Roma or Plum tomatoes. I also like cherry or even grape tomatoes.
Make sure the tomatoes are firm but ripe. If you find they have a lot of seeds or pulp just remove them before baking.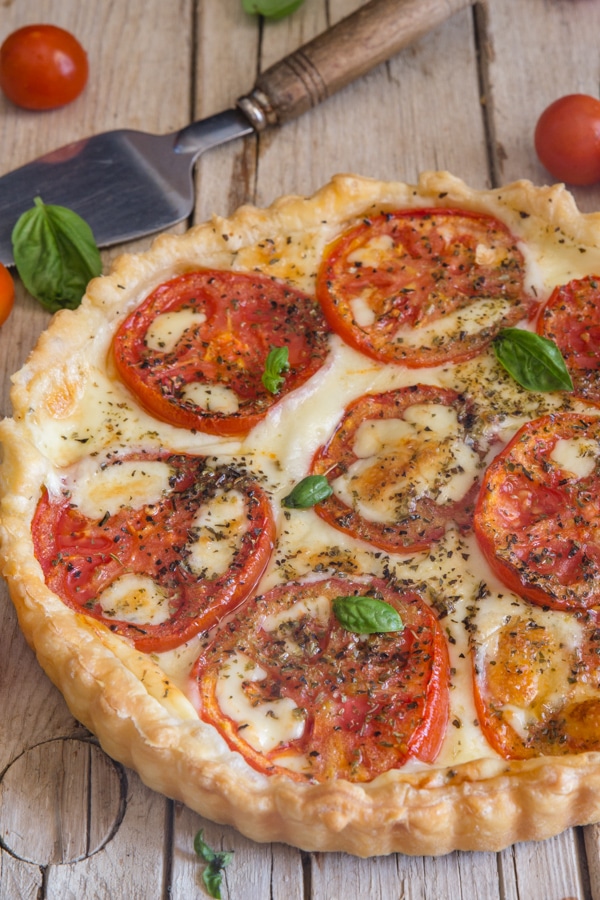 How to store Tomato Pie
Any leftover Pie should be stored in the refrigerator and eaten within two days. I like to serve this pie warm from the oven but it can also be served at room temperature.
The pie can be re-heated in a warm oven for about 10 minutes before serving.
It probably isn't a good idea to freeze the baked Tomato Pie because the tomatoes can make the crust soggy.
So whatever crust you decide to make this yummy Cheese & Tomato Pie with, I hope you enjoy it and let me know what you think. Buon Appetito!
Italian Cheese & Tomato Pie
Easy Italian Fresh Tomato Cheese Pie, a delicious Italian healthy summer savory pie recipe, the perfect appetizer or main dish.
Follow me on Youtube!
Watch the videos and don't forget to subscribe on Youtube!
Ingredients
1

pre-made pie crust or puff pastry

1

tablespoon

butter melted

7

ounces

firm mozzarella thinly sliced

(200 grams)

5 1/4

ounces

fontal cheese / gouda / gruyere (or any soft cheese of choice)

(150 grams)

2

ripe / firm tomatoes thinly sliced

1 1/2

teaspoons

oregano

1

teaspoon

basil

1/4 -1/2

teaspoon

salt

1 1/4

tablespoons

olive oil for drizzling

3-5

leaves

fresh basil
Instructions
Pre-heat oven to 375° (190°). Lightly grease a 12 inch (30 cm) round pizza pan.

Place the puff pastry / savory crust on the prepared pan, brush the pastry with the melted butter, top with first the thinly sliced mozzarella, then the thinly sliced fontal cheese, and finally top with the thin slices of tomato (if they are really seedy i remove the seeds & pulp) sprinkle with salt, oregano and basil, drizzle with olive oil and bake for approximately 35 minutes or until golden. Remove and top with chopped fresh basil. Serve immediately. Enjoy!
Nutrition
Calories:
276
kcal
|
Carbohydrates:
13
g
|
Protein:
12
g
|
Fat:
20
g
|
Saturated Fat:
9
g
|
Cholesterol:
45
mg
|
Sodium:
336
mg
|
Potassium:
140
mg
|
Fiber:
1
g
|
Sugar:
1
g
|
Vitamin A:
590
IU
|
Vitamin C:
4.2
mg
|
Calcium:
269
mg
|
Iron:
0.9
mg
Updated from June 4, 2014.