30+ Fresh Tomato Recipes, from Pasta to Appetizers and of course Raw Recipes. All the recipes you will need for using fresh tomatoes, easy and tasty.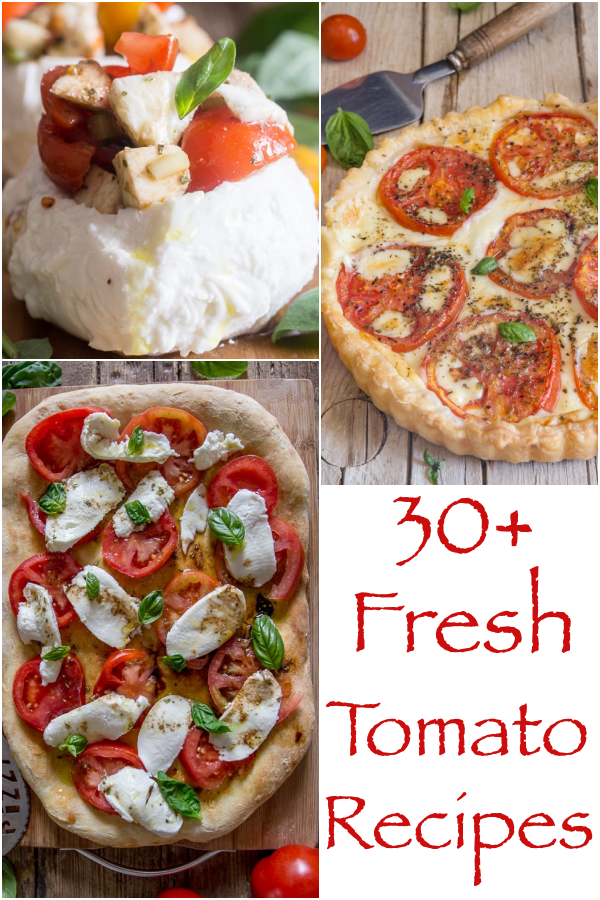 30+ Fresh Tomato Recipes
The Tomato, one of the most popular and welcoming vegetable of Summer. Whether you have your own garden, go to a Farmer's Market or even Grow a few in a Pot. There is nothing like a Fresh Tomato.
Most Popular Types of Tomatoes
With over 3000 varieties, there must be a few to your liking. Some of the most popular tomatoes for eating in salads or sliced with a little sprinkling of salt and a drizzle of olive oil are Bush, Cherry, Grape, Plum, Roma, Black and why not add some Green, Yellow or Orange Tomatoes just to name a few.
Unlike my sister who would go in the middle of the garden and eat a ripe tomato like an apple, I prefer my fresh tomatoes either stuffed or drizzled with a little oil.
How to choose the best tomato
Any tomatoes with blemishes or dark spots should be avoided. They should feel a bit heavy and have a good weight for their size. Make sure that they are firm but give in to a light pressure. They should also have a wonderful sent where the stem is or used to be.
How to freeze them
Freezing tomatoes can be done without blanching, just place the clean dried tomatoes on a cookie sheet and place in the freezer until firm. Transfer to a freezer safe bag or container. They will last for 6 months in the freezer.
Recipes made with Fresh Raw Tomatoes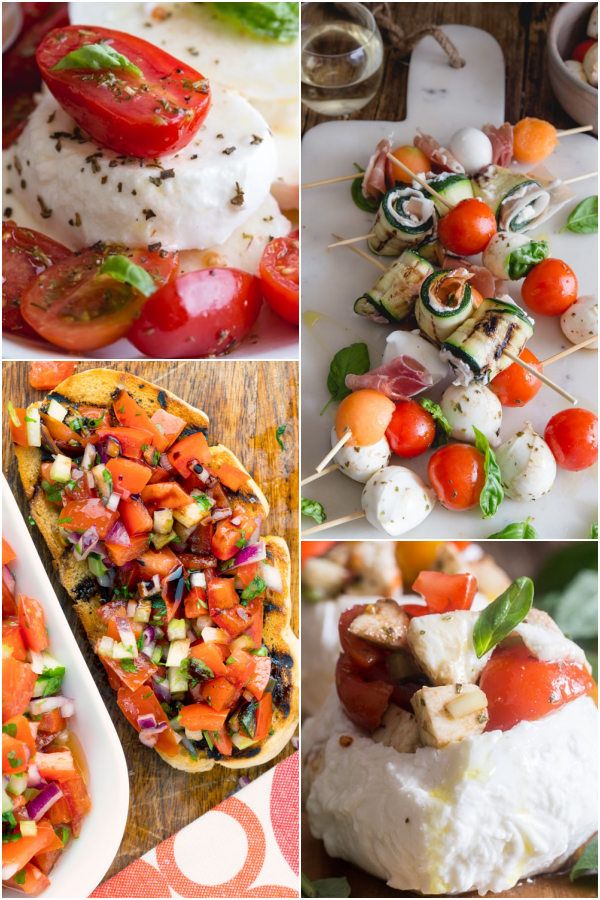 Tuna Mozzarella Stuffed Cherry Tomatoes
Easy Stuffed Fresh Mozzarella Caprese
Italian Pasta Salad with Fresh Summer Vegetables
Easy Classic Tomato Bruschetta
Easy Tomato Avocado Feta (or Mozzarella) Bruschetta
Easy Caprese No-Yeast Pizza Dough
Easy Italian Antipasto Skewers
I love a good Pizza, Focaccia or even Tomato Tart. The perfect tomatoes for baking are firm and ripe. Such as Roma, Plum, Cherry or Grape Tomatoes. Why not try them chopped on a Pizza, nothing like it.
Pizza Recipes with Fresh Tomatoes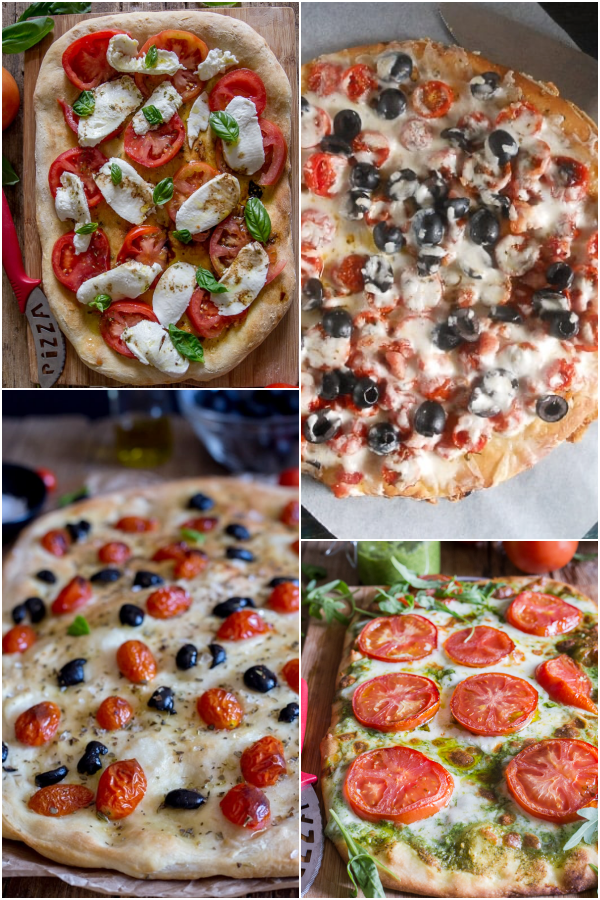 Cheesy Sautéed Mushroom Pancetta Pizza
Easy Caprese No Yeast Pizza Dough
Easy Italian Fresh Tomato Cheese Pie
Tomato Cheese and Pancetta Pie
Pesto Pizza with Fresh Tomatoes & Mozzarella
And of course who can ever tire of Pasta and Fresh Tomatoes. I will keep the canned for the winter months, but give me all the Fresh Tomato Recipes for the Summer.
Pasta Recipes with Fresh Tomatoes
Pasta with Italian Sausage and Fresh Tomatoes
Spaghetti with Oven Dried Parmesan Tomatoes
Amatriciana with Fresh Tomatoes
Creamy Tomato Pesto Fettuccine
Fusilli with Fresh Tomatoes and Mushrooms
Italian Baccala with Linguine Recipe
Amatriciana with Fresh Tomatoes
Easy Italian Pasta Salad Recipe
I have also included a few Must try Fresh Tomato Recipes that I discovered while living in Italy. Who would have thought that tomatoes could be used in so many delicious and different ways.
Must Try Fresh Tomato Recipes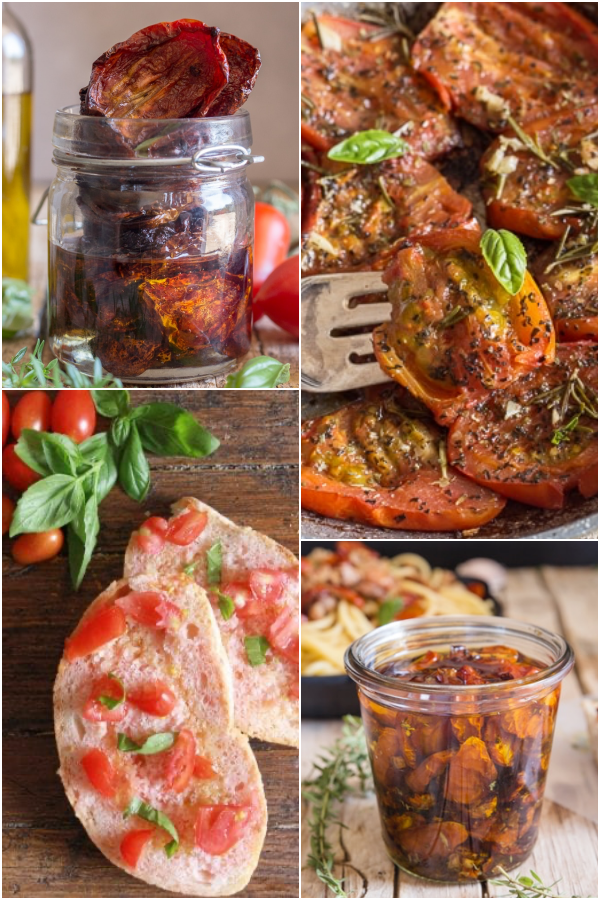 Baked Tomatoes Stuffed with Rice
Mozzarella & Parmesan Baked Tomatoes
Are tomatoes good for you?
And Don't forget, Tomatoes are also an excellent source of vitamin C, biotin, molybdenum and vitamin K. They are also a very good source of copper, potassium, manganese, dietary fiber, vitamin A, vitamin B6, folate, niacin, vitamin E and phosphorus.
So don't forget to eat your Tomatoes! Enjoy.