Baked Tomatoes stuffed with Rice are an Easy and Delicious Dinner recipe. Deliciously Italian spiced Rice cooked in firm ripe tomatoes served with yummy roasted potatoes.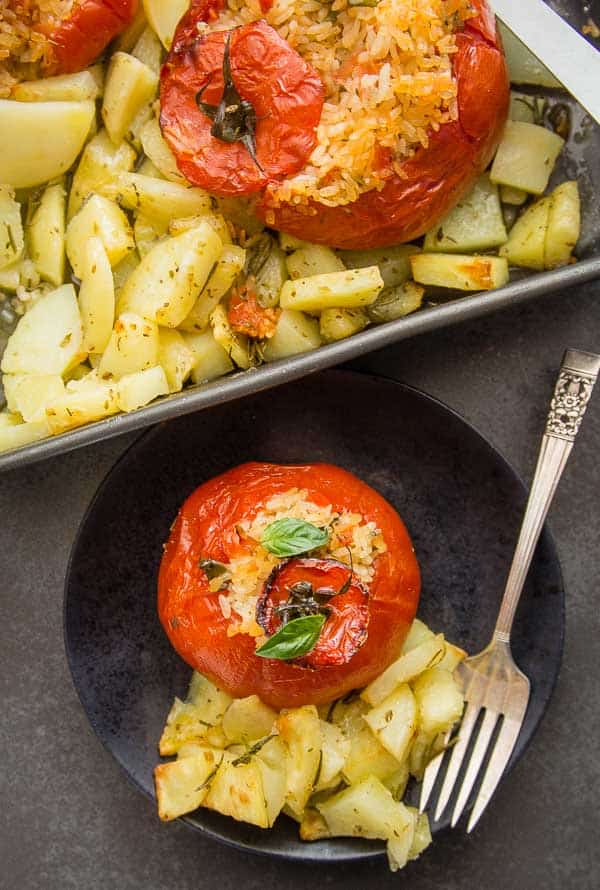 Baked Tomatoes Stuffed with Rice
I know I've already mentioned a million times how my kitchen is full of zucchini, but I have news that I would like to share with all of you, are you ready?
Well (drum roll) zucchini can now take a back seat because tomatoes just took over! And to tell the truth I prefer the tomatoes.
Probably because I LOVE pasta and for me there is nothing better than a delicious tomato sauce covering any kind of pasta, short, long, whatever, anything goes and who doesn't love a Tasty Fresh Tomato Recipe?
Tomatoes Stuffed with Rice
Fortunately tomatoes also go wonderful with rice and this tomato stuffed with rice dish is one of my favourites.
I first tasted this dish about 20 years ago. Maria, my friend's mother had a summer party and this among many dishes was the one I remember the most.
And baking the tomatoes with some cut up potatoes makes this the perfect Summer Dinner idea.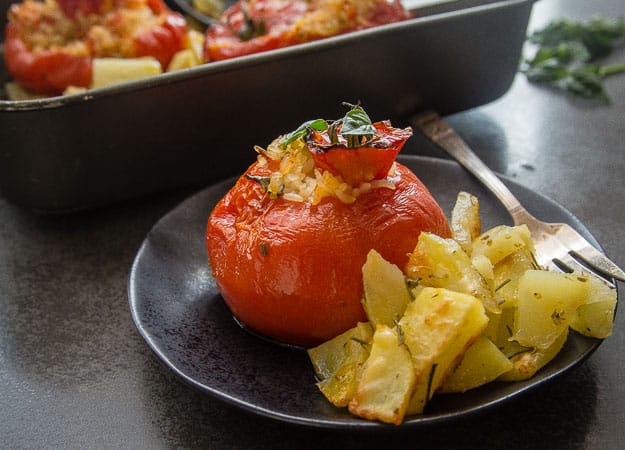 For this recipe you don't use just any tomato you need nice large, round,  firm tomatoes that will hold the rice and  stay firm (more or less) during the cooking time.
The Italian who is not much of a rice lover has to admit that this is one tasty dish.
So if you are looking for something different to try,  give this tomatoes stuffed with rice a go and then let me know what you think. Buon Appetito!
More Tomato Recipes you may Enjoy!
Tuna Mozzarella Stuffed Cherry Tomatoes
Tomatoes stuffed with rice
Baked Tomatoes Stuffed with Rice, a delicious Italian Recipe, whole tomatoes stuffed with a perfectly spiced rice and roasted potatoes.
Ingredients
FOR STUFFED TOMATOES
4

large round firm ripe tomatoes

6-7

tablespoons

uncooked rice (not par boiled)

(60 grams)

1

teaspoon

oregano

1/2

teaspoon

salt

6

sprigs fresh chopped Italian parsley

6

leaves

fresh basil chopped

1

clove

garlic chopped

5

tablespoons

olive oil separated

(67 grams)
FOR ROASTED POTATOES
4-5

potatoes (peeled and chopped into medium cubes)

2-3

sprigs fresh rosemary (leaves only)

2

teaspoons

oregano

1

teaspoon

salt

3-4

tablespoons

olive oil
Instructions
In a small bowl add rice and cover with 2 cups of water let soak for 1 hour. Then drain.

Rinse and dry tomatoes, carefully cut off top of tomato and set aside, remove seed and pulp from the tomatoes, set aside the pulp and discard the seeds.

In a medium bowl mix together, chopped tomato pulp, oregano, salt, parsley, basil, garlic, 2 tablespoons (26 grams) olive oil and rice. Fill hollowed out tomatoes with mixture (divide in 4 parts), replace top on tomato.

Cut and rinse the potatoes. Dry the potatoes with a towel. In a large bowl mix together, potatoes, rosemary leaves, oregano, salt and olive oil.

Place tomatoes in lightly oiled medium to large baking pan place potatoes around the tomatoes. Sprinkle with a little salt and drizzle with a little olive oil.

Bake in a 350° (180° celsius) oven for approximately 45-60 minutes until potatoes and rice are tender. Serve immediately. Enjoy!
Nutrition
Calories:
453
kcal
Carbohydrates:
44
g
Protein:
7
g
Fat:
28
g
Saturated Fat:
4
g
Sodium:
902
mg
Potassium:
1200
mg
Fiber:
7
g
Sugar:
3
g
Vitamin A:
1210
IU
Vitamin C:
43.4
mg
Calcium:
104
mg
Iron:
8.2
mg
Republished from August 14th 2014.