Spaghetti with Oven Dried Parmesan Tomatoes, a fast and easy Pasta made with oven baked fresh cherry or grape Tomatoes, sprinkled with Parmesan and blistered to perfection.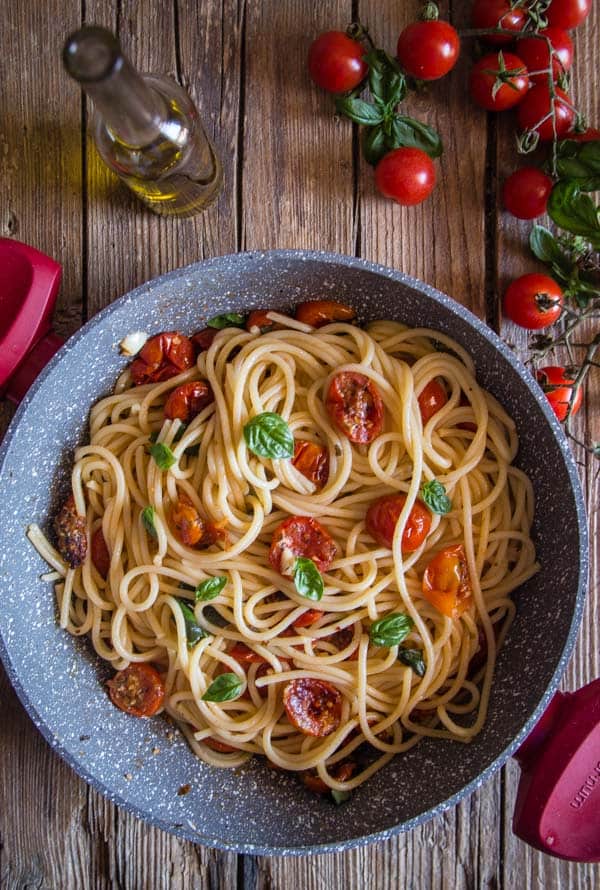 I can eat pasta morning, noon and night, I don't but I could.  And when you mix tomatoes and Parmesan cheese, I believe there is nothing better.
I have been known to have some pasta with my Parmesan Cheese.  I just can't get enough of that delicious amazing cheese.
The best thing about this Spaghetti with Oven Dried Parmesan Tomatoes  dish is that you can dry out your tomatoes however much you want.
A little bit and just brown the Parmesan cheese until golden which I did the first time, but as I have mentioned before the Italian does not like mushy tomatoes.
So needless to say I oven dried mine for almost 40 minutes, leaving just a little juice.
Not a word was mentioned so it was a success!  Italians take their food seriously don't you know?   My daughters liked both of the dishes,  but decided that if they had to choose they preferred the extra drying.
With the extra drying there is more bite to the tomato, which for a tomato in my opinion is a good thing.
With all the tomato plants we have planted this year I think Spaghetti with Oven Dried Parmesan Tomatoes  will become a weekly pasta dish in our house.  Nothing better than Fresh Tomato Recipes!
And don't forget the extra Parmesan cheese.   Buon Appetito!
Spaghetti with Oven Dried Parmesan Tomatoes
Spaghetti with Oven Dried Parmesan Tomatoes, a delicious dried tomato recipe, an easy pasta recipe with oven dried Parmesan cheese tomatoes.
Ingredients
22

cherry tomatoes sliced in half

3

tablespoons

olive oil (divided)

(30 grams)

1/4

teaspoon

salt

1/2 - 1

teaspoon

oregano

pinch or two hot pepper flakes if desired

1/4

cup

Parmesan Cheese

3

cups

cooked spaghetti

TOPPING

Parmesan cheese

leaves

chopped fresh basil
Instructions
Pre-heat oven to 375° (190° celsius), lightly grease a medium-sized baking dish or cookie sheet.

Line the sliced cherry tomatoes (sliced side up) in baking dish, sprinkle with salt, oregano and hot pepper flakes, drizzle with 1 1/2 tablespoons olive oil and sprinkle with Parmesan cheese, bake in hot oven for approximately 20-40 minutes (depending how dried you desire the tomatoes).

Cook spaghetti al dente in salted boiling water, drain.

In large pan add 1 1/2 tablespoons olive oil and oven dried tomatoes, saute on low to medium heat for approximately 1-2 minutes, add spaghetti and toss gently, serve immediately with extra Parmesan cheese and freshly chopped basil. Enjoy!
Nutrition
Calories:
285
kcal
|
Carbohydrates:
33
g
|
Protein:
8
g
|
Fat:
13
g
|
Saturated Fat:
2
g
|
Cholesterol:
4
mg
|
Sodium:
248
mg
|
Potassium:
76
mg
|
Fiber:
1
g
|
Vitamin A:
2.3
%
|
Vitamin C:
3.9
%
|
Calcium:
8.1
%
|
Iron:
8.6
%
Updated from May 20, 2015.