Roasted tomatoes are so good, but candied tomatoes have a more flavourful, crunchy, sweet and sour experience. Served as an appetizer or even as a pasta dish. You are going to love them.
Candied Roasted Tomatoes
I was given a bucketful and I mean bucketful of grape tomatoes and of course I would make the usual Fresh Tomato and Sausage Pasta or one of our new favourites Tomato & Burrata Bruschetta,
but I was also given a delicious new recipe to go with this bucket of grape tomatoes. And what a recipe it is! These Candied Roasted Tomatoes are a sweet and sour version of a tomato.
How to make Candied Roasted Tomatoes
Clean and slice the tomatoes in half length-wise.
Place them on a parchment paper lined cookie sheet slice side up.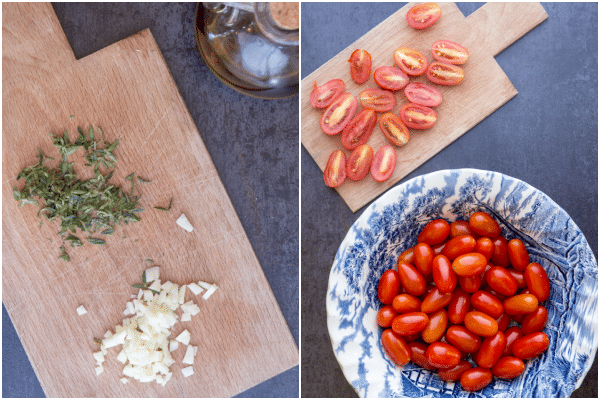 Sprinkle with chopped fresh thyme, salt, garlic and then drizzle with olive oil.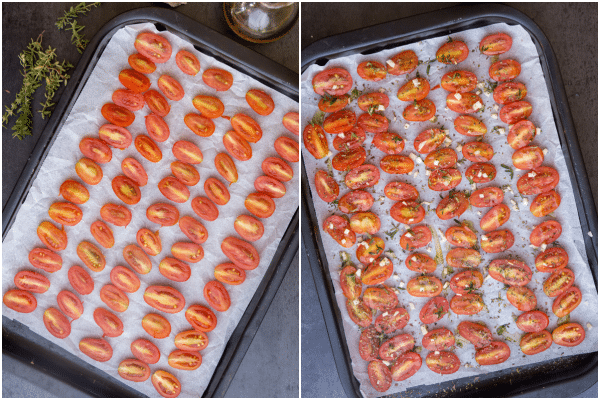 Bake in a slow oven for 30 minutes then sprinkle with about a teaspoon of granulated sugar.
Continue to bake for another 30-40 minutes or until tomatoes are dried.
Let cool.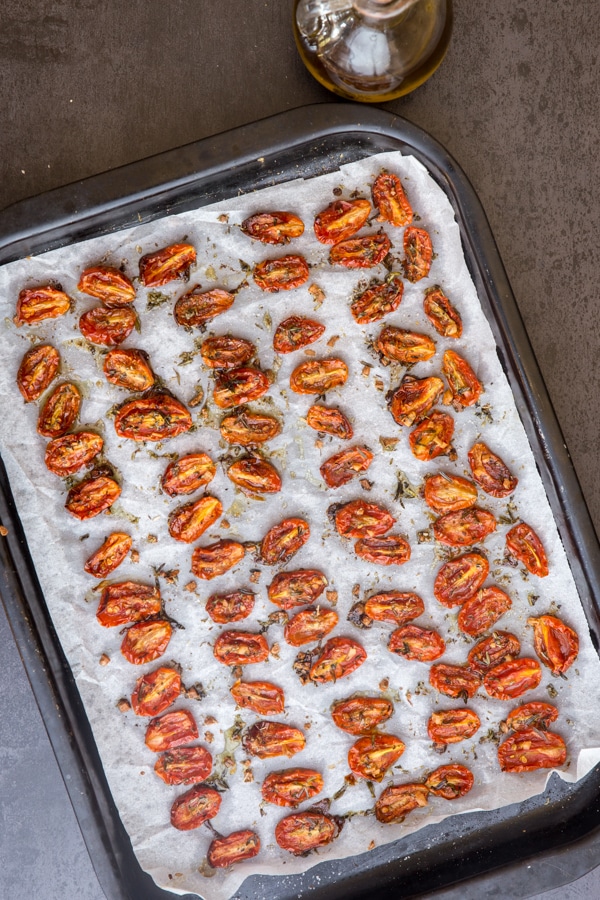 What to make with Candied Roasted Tomatoes
Once the roasted tomatoes are cooled you can either toss them with some al dente pasta. I sauteed a little spicy Italian sausage in a couple of tablespoons of olive oil and then I tossed it all together with spaghetti.
Or grill some day old Italian crust bread, top it with a few roasted tomatoes and a drizzle of olive oil and there you have one delicious Bruschetta.
The remaining batch of tomatoes, I placed in a sterilized jar, filled to the top with olive oil. Make sure you cover the tomatoes completely. I added a couple of sprinkles of hot pepper flakes to add a little heat.
Once the tomatoes have been eaten, the olive oil is wonderful as a condiment in pasta dishes, or even as a dipping sauce.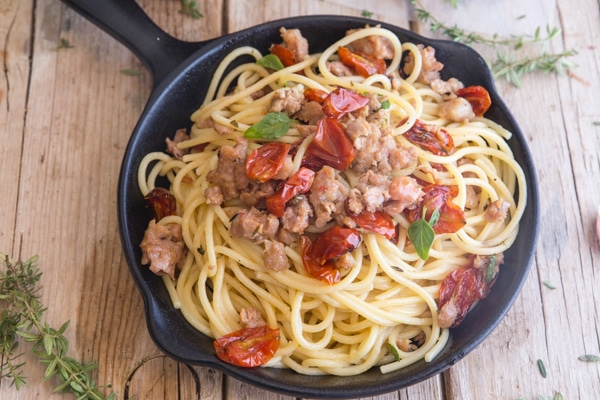 How to store Roasted Tomatoes
The roasted tomatoes should be kept in an air tight container and refrigerated. They will keep 2-3 days in the fridge. The can also be stored under oil in a sterilized jar.
Or you can freeze them in an air tight container or freezer bag. Be sure to freeze them on a cookie tray for about 30 minutes before placing them in the container or bag. They will keep up to two years.
More Roasted Tomato recipes
Bucatini and Oven Roasted Tomatoes
Baked Tomatoes Stuffed with Rice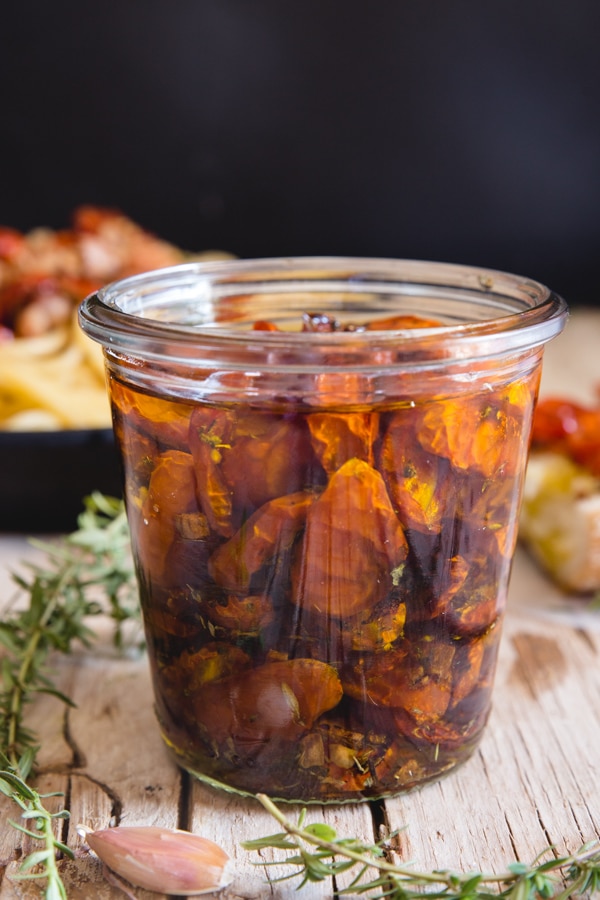 How to sterilize jars
I prefer to use the boiling water method – Wash the jars with hot soapy water before sterilizing. Make sure they are completely clean. Place the jars and lids upright in a large pot.
Fill the pot with water, make sure the water covers the jars by an inch (2.5 cm). Bring the water to a full, strong boil and continue to boil for at least 10 minutes. 
Remove the jars and lids from the hot water (tongs work best) and place them on a couple of paper towels to dry. Make sure the sterilized jars do not come in contact with anything but the paper towels.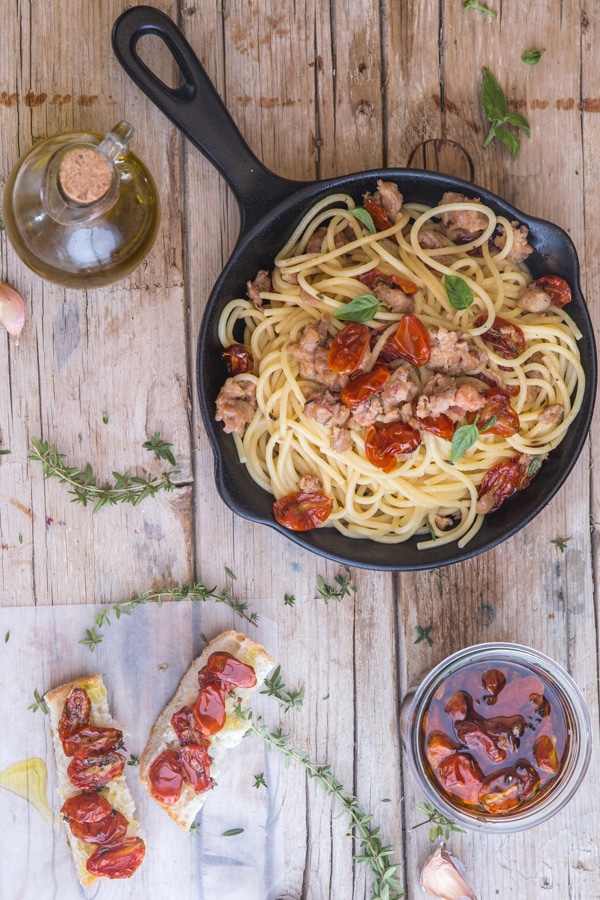 You could also sterilize the jars in your dishwasher on the hot water cycle if you prefer.
Be sure to fill the jars, when they and the tomatoes are both still warm. Adding hot food to cold jars or cold food to hot jars will cause the jars to crack or shatter.
Be sure to leave about 1⁄4 inch of space at the top of each jar, this helps create a vacuum when sealing the jar.
If you are looking for ways to use up your extra grape tomatoes, I hope you give these Candied Roasted Tomatoes a try and let me know what you think. Buon Appetito!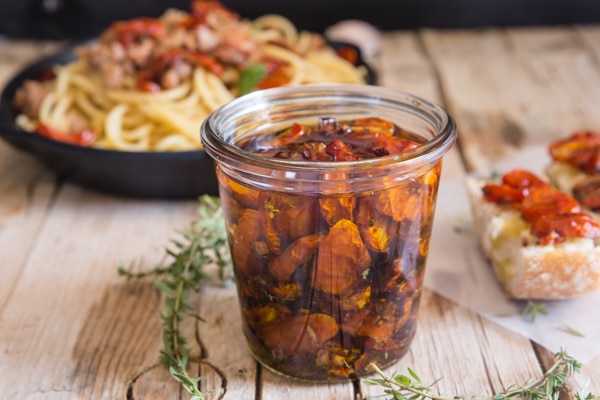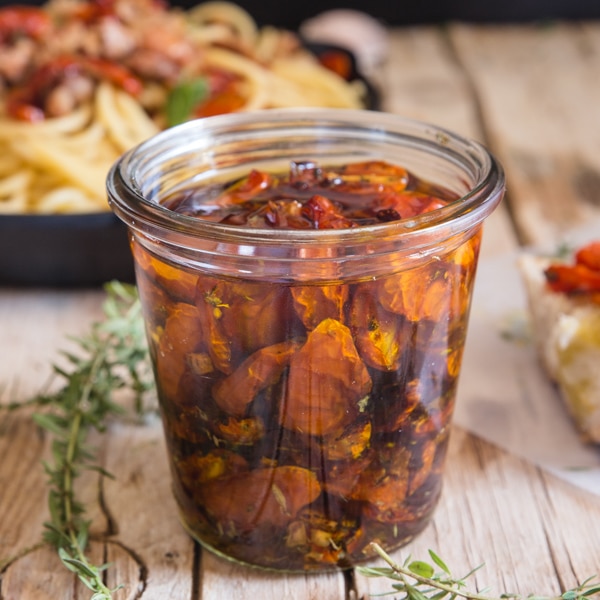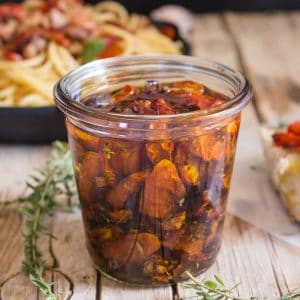 Candied Roasted Tomatoes
Roasted tomatoes are so good, but candied tomatoes have a more flavourful, crunchy, sweet and sour experience.
Ingredients
60-70

grape tomatoes

4-5

sprigs

fresh thyme (chopped)

1 - 1 1/2

teaspoons

oregano

2-3

cloves

garlic (minced)

2-3

pinches

salt

2-3

tablespoons

olive oil

1

teaspoon

granulated sugar
Instructions
Pre-heat oven to 300F (150C), line one or two cookie sheets with parchment paper.

Rinse tomatoes and slice in half lengthwise. Place on prepared cookie sheets, single layer.

Sprinkle with thyme, oregano, garlic and salt. Then drizzle with olive oil. Bake for 30 minutes, then sprinkle with the sugar, continue baking for another 40-50 minutes or until the moisture has evaporated but the tomatoes are not completely dried out. Remove from oven.

The tomatoes can be tossed with pasta, or used as a bruschetta topping. The can be frozen in an airtight container or freezer bags. Or placed in sterilized jars filled with olive oil. Enjoy!
Nutrition
Calories:
236
kcal
Carbohydrates:
25
g
Protein:
5
g
Fat:
15
g
Saturated Fat:
2
g
Sodium:
415
mg
Potassium:
1240
mg
Fiber:
7
g
Sugar:
16
g
Vitamin A:
4386
IU
Vitamin C:
74
mg
Calcium:
104
mg
Iron:
3
mg