Burrata Bruschetta, grilled Italian bread that is spread with a delicious creamy cheese then topped with a tasty tomato mixture. This is sure to become your favourite Summer appetizer.

Living in Italy, Burrata cheese is obviously very well known, it becomes even more popular in the summertime.
So when I saw my friend was selling it in her store, I decided to ask her about it. Because I know strange but true I had never eaten it before and stranger still, neither had the Italian.
Since I have asked her a few times how she makes a few things including a Baked Gnocchi and Potato Gnocchi and now I decided to ask her how to serve or eat Burrata cheese.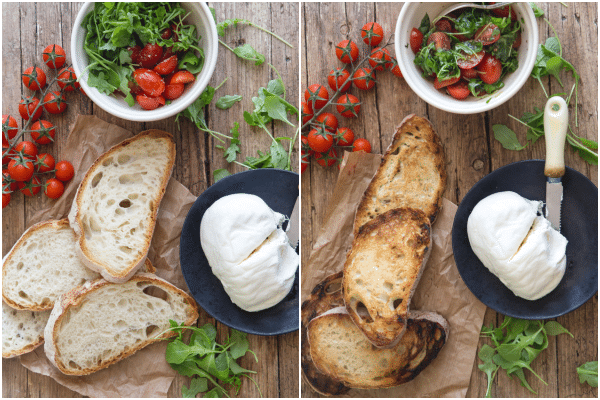 She actually gave me three different ideas:
She loved it plain sprinkled with a little sugar, because as she says you really have to taste the creaminess of the burrata, and by the way she never shares her burrata cheese with anyone!
Spread on a big slice of Italian crusty bread with a little drizzle of olive oil.
or served as an appetizer, as this Tomato Burrata Bruschetta.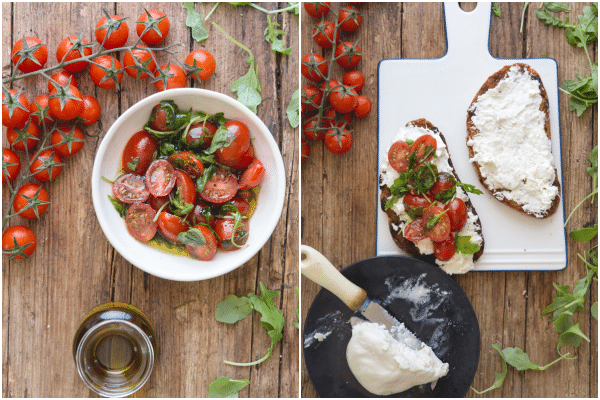 Where does Bruschetta originate?
Bruschetta was considered a poor dish, originally from Tuscany. Often bruschetta was the whole dinner for the lower class. They used stale bread and seasoned it with simple ingredients, such as oil, garlic and ripe tomatoes.
Over time, bruschetta spread to other regions such as Piedmont, Calabria and Puglia and of course the rest of the world.
What is Burrata Cheese?
Burrata cheese, is from the region of Puglia. It is made from cow's milk, and is known for its softer and creamier consistency. Inside the burrata you will discover what is called la stracciatella – which consists of ragged mozzarella and fresh artisanal cream.
While the outside is made of pasta filata (or stretchy cheese, such as mozzarella). Sometimes this cheese is formed to resemble a bag, and tied at the top.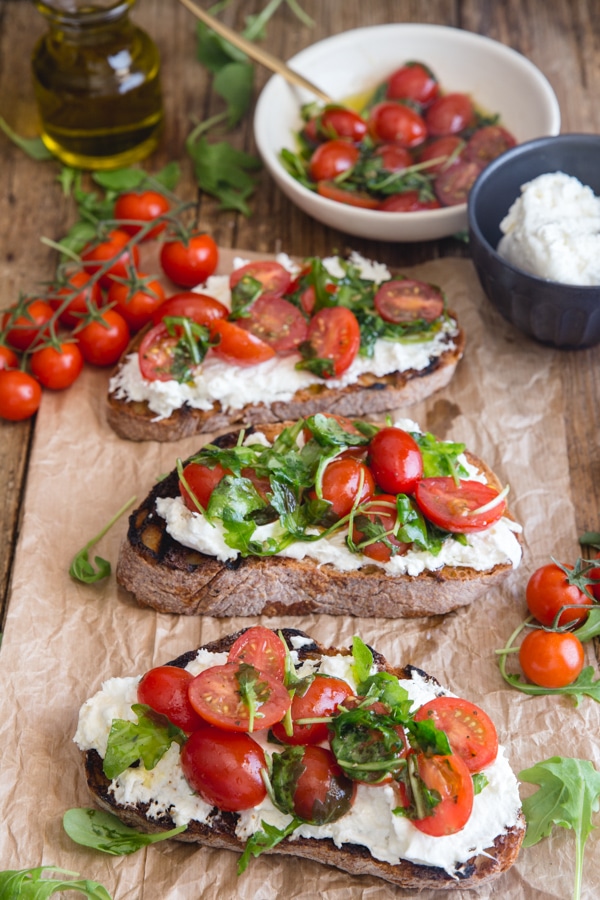 How to make Burrata Bruschetta
Grill or bbq slices of crusty Italian bread until golden.
Spread with a tablespoon or two of the Burrata cheese.
Top with the fresh tomato mixture and a drizzle of olive oil if desired.
Serve immediately.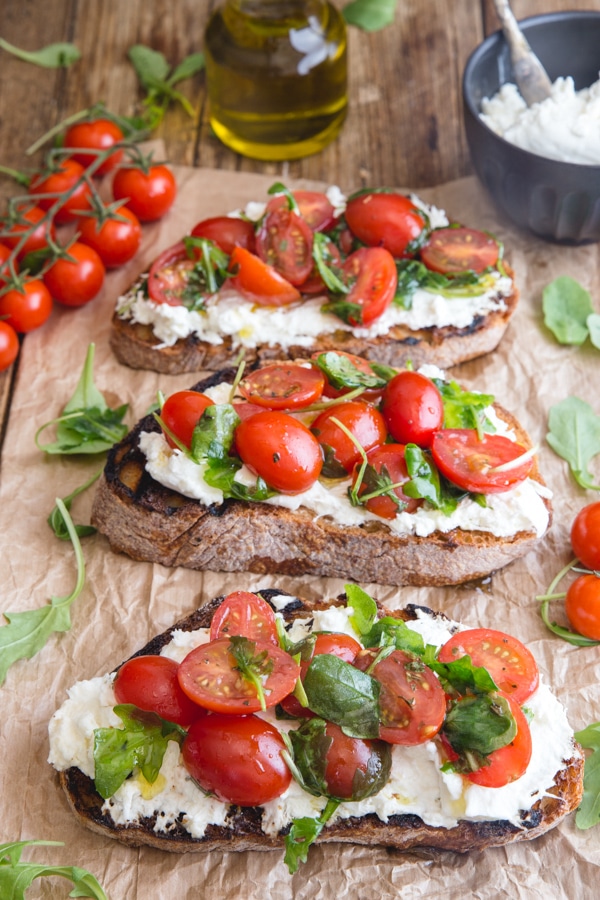 How to store Burrata Cheese
Burrata cheese is a very delicate dairy product, if it undergoes drastic temperature changes, it can tend to sour. This is why it is usually sold in small portions.
The cheese should be consumed the same day it is purchased or stored in the refrigerator between Once purchased, it must be consumed the same day or stored in the refrigerator between 40 – 42F (4 – 6 C) for a maximum of one to two days.
Once you try this cheese you will also understand just how delicious and creamy it really is, and yes plain on a slice of bread or fancied up to share with friends or family! Buon Appetito!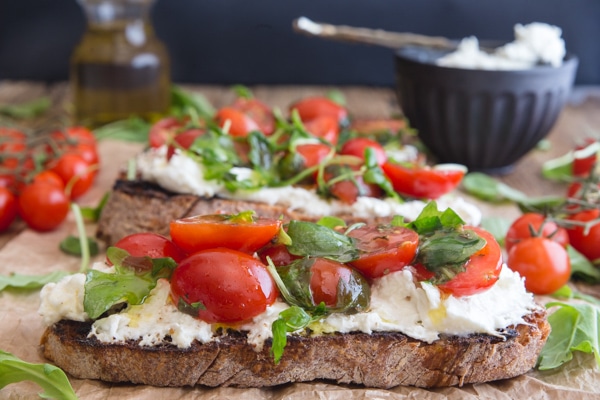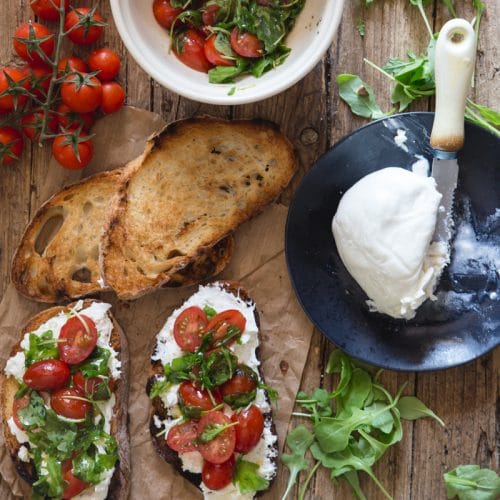 Tomato & Burrata Bruschetta
Burrata Bruschetta, grilled Italian bread, spread with a delicious creamy cheese then topped with a tasty tomato mixture. The perfect Summer appetizer.
Ingredients
1

Burrata cheese

4-6

slices

Italian bread grilled

10-15

cherry or grape tomatoes sliced in half

1/2

teaspoon

salt

1 1/2

teaspoons

oregano

4-5

leaves

fresh basil chopped

3-4

tablespoons

olive oil

1

small

handful of arugula (rocket)
Instructions
Remove the Burrata cheese from the fridge while making the tomato mixture.

In a medium bowl toss together the tomatoes, salt, oregano, fresh basil and olive oil. Let sit 5-10 minutes while grilling the bread.

When all the slices of bread have been grilled, then add the arugula to the tomato mixture and toss gently.

Spread the grilled bread with some burrata cheese and top the tomato mixture. Drizzle with a little extra olive oil if desired.
Nutrition
Calories:
215
kcal
Carbohydrates:
13
g
Protein:
2
g
Fat:
18
g
Saturated Fat:
5
g
Cholesterol:
1
mg
Sodium:
367
mg
Potassium:
154
mg
Fiber:
2
g
Sugar:
7
g
Vitamin A:
395
IU
Vitamin C:
5.9
mg
Calcium:
16
mg
Iron:
0.9
mg