Baked Creamy Cheesy White Sauce Gnocchi, a delicious easy Pasta Dish ready in 20 minutes. The perfect any night dinner meal. Cheesy and Creamy, the perfect Comfort Dish.
Baked Gnocchi
We are a family split down the middle on our love of Gnocchi. Two of us love it and two not so much.
But and this is a big but, Baked Creamy Cheesy White Sauce Gnocchi opened the eyes (and stomachs) of the not so loving Gnocchi family members.
And one member after his third helping muttered "hmm and I didn't like gnocchi!" It is seriously delicious. Not only that but super fast and easy.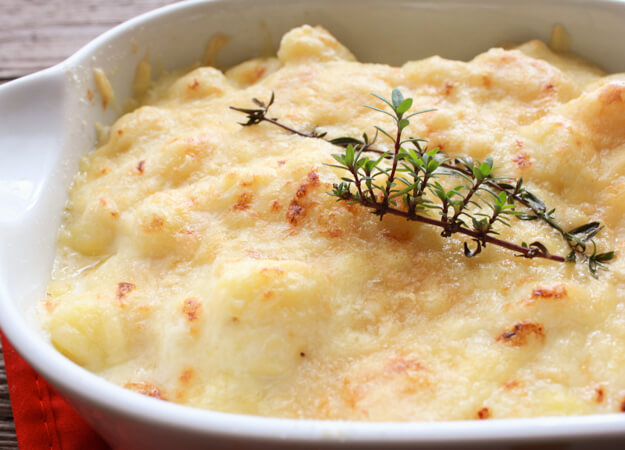 I love sitting down to eat with Italians, not only are you eating absolutely amazing food, but you also talk about other wonderful absolutely amazing food that you have to eat sometime in the very near future. It never ends!
A couple of weekends ago, while having dinner with friends, I brought up the idea of baking Gnocchi. Well that opened the flood gates.
Can you actually bake Gnocchi without them becoming a soggy mess? Red sauce or White sauce? Or no sauce? Boil before baking or not?
How long do you bake them for? And the big question: When are you making Baked Creamy Cheesy White Sauce Gnocchi?
Baked Creamy Cheesy White Sauce Gnocchi
Good questions, so what did I do? I went to see my friend who owns our local family grocery store just down the street from me. Actually it's more than just a grocery store.
If you are looking for something, anything, they probably have it! So I asked her if she had ever baked Gnocchi, and yes she had.
How to make it
Gnocchi should be boiled for about 30 seconds before baking, and then bake them high and fast, basically you want to just melt the cheese, and oh that cheese, broiling it at the end gives you that glorious crunchy cheesy topping.
More Delicious Baked Pasta Recipes
Homemade Creamy Cheesy Baked Pasta
Homemade Creamy Baked Pancetta Macaroni
Baked Gnocchi Double Cheese Tomato Sauce
You can probably be eating this amazing dish in 30 minutes at the most. Sounds good to me. Buon Appetito!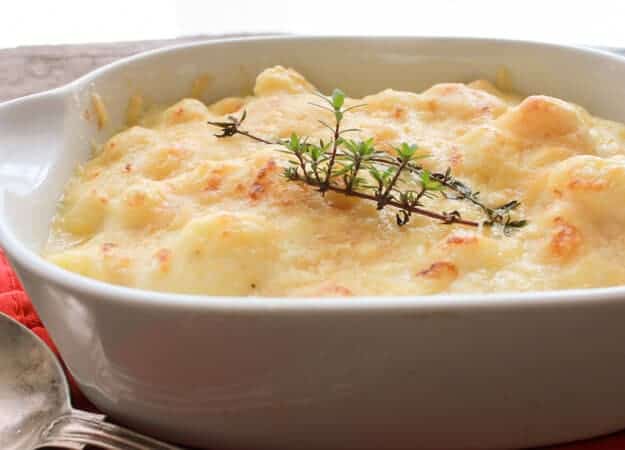 Baked Creamy Cheesy White Sauce Gnocchi
Quick, simple and Delicious, the perfect quick lunch or dinner.
Follow me on Youtube!
Watch the videos and don't forget to subscribe on Youtube!
Ingredients
1

pound

Gnocchi

(homemade or store-bought, my store-bought Gnocchi said cooked in 2 minutes)

1/4

cup

+ 2 tablespoons freshly grated Parmesan cheese

1

cup

grated Fontal cheese

(or Gruyere)

fresh thyme

WHITE SAUCE

1

tablespoon

butter

1

cup

milk

(I used 2%)

1

tablespoon

flour

pinch salt

1/4

teaspoon

basil

1/4

teaspoon

oregano
Instructions
Pre-heat oven to 425°, lightly oil an 8 x 6 inch baking dish.

In a large pot of boiling salted water add the Gnocchi, remove as soon as the Gnocchi float (no more than 30 seconds) and drain well.

In a medium pot over medium heat melt butter, then add flour and salt, combine with a whisk, add milk slowly and continue to stir until thickened (but not too thick, if it becomes too thick add a little extra milk), stir in oregano,basil and pepper. Remove from heat. Stir in half the Fontal (or Gruyere cheese) and 1/2 the Parmesan cheese, then gently add the Gnocchi.

Place in baking dish, sprinkle with remaining Fontal cheese and Parmesan cheese, top with fresh thyme if desired. Bake for 3-5 minutes then broil for another 3-5 minutes. Let sit a couple of minutes before serving. Enjoy!
Notes
Be sure to watch the Video at the top of the post!
Nutrition
Calories:
415
kcal
|
Carbohydrates:
44
g
|
Protein:
18
g
|
Fat:
18
g
|
Saturated Fat:
10
g
|
Cholesterol:
55
mg
|
Sodium:
642
mg
|
Potassium:
107
mg
|
Fiber:
2
g
|
Sugar:
3
g
|
Vitamin A:
555
IU
|
Calcium:
495
mg
|
Iron:
4.3
mg
Updated from November 18, 2015.