THIS POST MAY CONTAIN AFFILIATE LINKS. READ MY DISCLOSURE POLICY HERE
What's better than a quick and easy pasta dish? I would say not much. So here you have my friends, Baked Gnocchi Double Cheese Tomato Sauce. Cheesy and delicious, pasta night is any night.
Baked Gnocchi Double Cheese Tomato Sauce
is the perfect dish when you are craving a fast and easy Pasta dish. A Baked Gnocchi Recipe the whole family will love.
A couple of weeks ago I made a White Sauce Baked Gnocchi that has become one of our favourites. Not only is it delicious but really quick and easy to make.
And believe me if you have never eaten a Pasta dish with White Sauce now is the time to start. Trust me they are really really good.
More Baked Pasta Dishes you may enjoy!
Homemade Creamy Baked Pancetta Macaroni
Creamy Broccoli Bacon Pasta Casserole
Homemade Creamy White Sauce Lasagna
Homemade Baked Macaroni and Double Cheese
What you will need to make this Yummy Baked Gnocchi Double Cheese Tomato Sauce.
Baking Dish – I have quite a few baking dishes and these are the perfect sizes for any dish.
Tomato Puree – This is one of my favourite purees.
Large Pot – You can't cook pasta unless you have a big pot to hold lots of boiling water.
Serving Spoons – I like serving pasta with spoons rather than spatulas.
So needless to say when you make a white sauce pasta dish you automatically have to have a red sauce dish that is just as good if not better. And this Baked Gnocchi is just that!
As per usual we are divided on what is our personal favourite. My husband's favourite hands down is the white sauce gnocchi, of course he prefers White Sauce Lasagna also.
My favourite is this Tomato Sauce Baked Gnocchi with lots of Cheese! I tend to prefer Tomato Sauce baked pastas. My youngest daughter for this first time in forever actually ate Gnocchi and decided "eh this is pretty good".
And if I had to guess I would say my eldest daughter's favourite would be the white sauce. Am I right? And what is your favourite?
Baked Gnocchi Double Cheese Tomato Sauce
While the water is boiling, I made a simple tomato sauce with my favourite spices. Cooked it until it thickened, not too much because when it bakes it may become "sticky" as the Italian says.
I Boiled the gnocchi just until they floated to the top, approximately 30-45 seconds, drained them and then immediately tossed with the thickened tomato sauce.
I sprinkled the top with shredded mozzarella and freshly grated Parmesan cheese. Baked it for 10 minutes and there you have the perfect-cheesy-any-night-of-the-week-dinner-dish, Baked Gnocchi Double Cheese Tomato Sauce, Buon Appetito!
Baked Gnocchi Double Cheese Tomato Sauce
The perfect Comfort Food Pasta Dish.
Follow me on Youtube!
Watch the videos and don't forget to subscribe on Youtube!
Ingredients
1

pound

Gnocchi

(homemade or store-bought store-bought Gnocchmine said cooked in 2 minutes)
TOMATO SAUCE
1 1/2

tablespoons

olive oil

1

cup

tomato purée (passata)

1/4

cup

water

1/2

teaspoon

oregano

1/2

teaspoon

basil

1/4

teaspoon

salt

1

clove

small garlic chopped

TOPPING

3/4 - 1

cup

shredded firm Mozzarella

(Fontina or Gruyere cheese)

1/4

cup

freshly grated Parmesan cheese
Instructions
Pre-heat oven to 425°, lightly oil an 8 x 6 inch baking dish.

In a medium pot, over medium heat add olive oil, garlic, purée, water, oregano,basil, and salt. Stir to combine cook until thickened (not too thick), approximately 15-20 minutes.

While sauce is cooking, boil water and cook gnocchi just until the float to the surface, approximately 30 seconds, drain immediately.

When sauce has thickened add gnocchi and toss gently, place in prepared baking pan, top with first shredded Mozzarella and then grated Parmesan cheese. Bake in oven for approximately 5 minutes then broil for another 5 minutes or until cheese has browned, (watch it doesn't burn). Serve immediately. Enjoy!
Nutrition
Calories:
378
kcal
|
Carbohydrates:
62
g
|
Protein:
10
g
|
Fat:
10
g
|
Saturated Fat:
3
g
|
Cholesterol:
7
mg
|
Sodium:
859
mg
|
Potassium:
383
mg
|
Fiber:
5
g
|
Sugar:
4
g
|
Vitamin A:
515
IU
|
Vitamin C:
9.6
mg
|
Calcium:
144
mg
|
Iron:
7.2
mg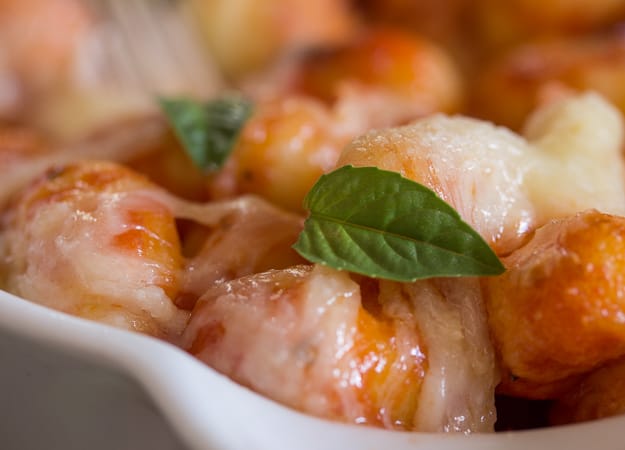 Updated from November 30, 2015.