A delicious Italian Savory Pie made with Fresh Tomatoes, Pancetta and Mozzarella Cheese. The perfect appetizer or make it a main dish and serve with a simple tossed salad.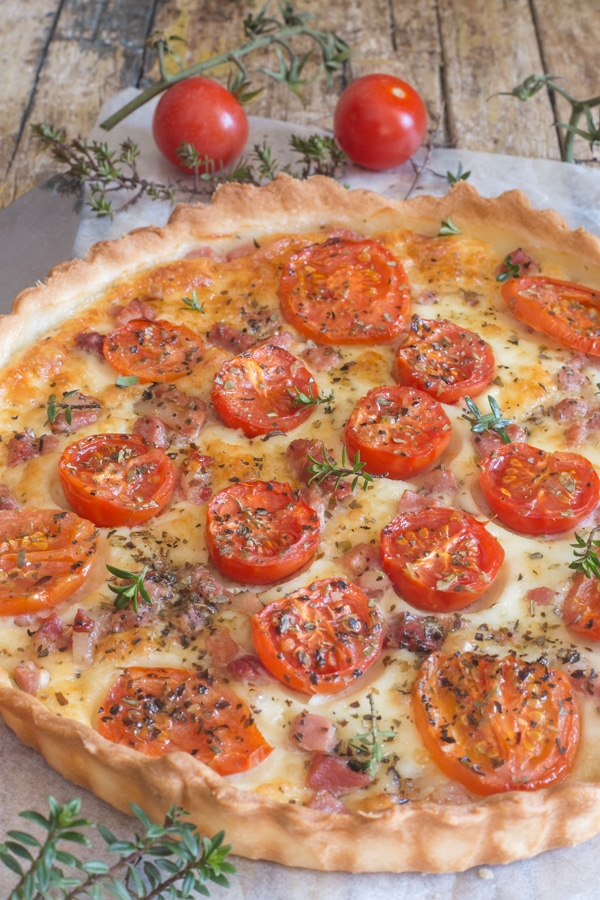 Savory Pie
The other day on the news I heard that Italy was named number two in the world for food. Can I honestly say that I am not surprised. If there is one thing I have learned there's nothing like Italian Food.
And of course the Italian had to comment that Italy should be number one! 🙂 
My eldest daughter came back for a two week visit and as she says "I come home to sleep and eat, because there's nothing like being back home and Mom's cooking.
So naturally we had to discuss does food really taste different in Italy?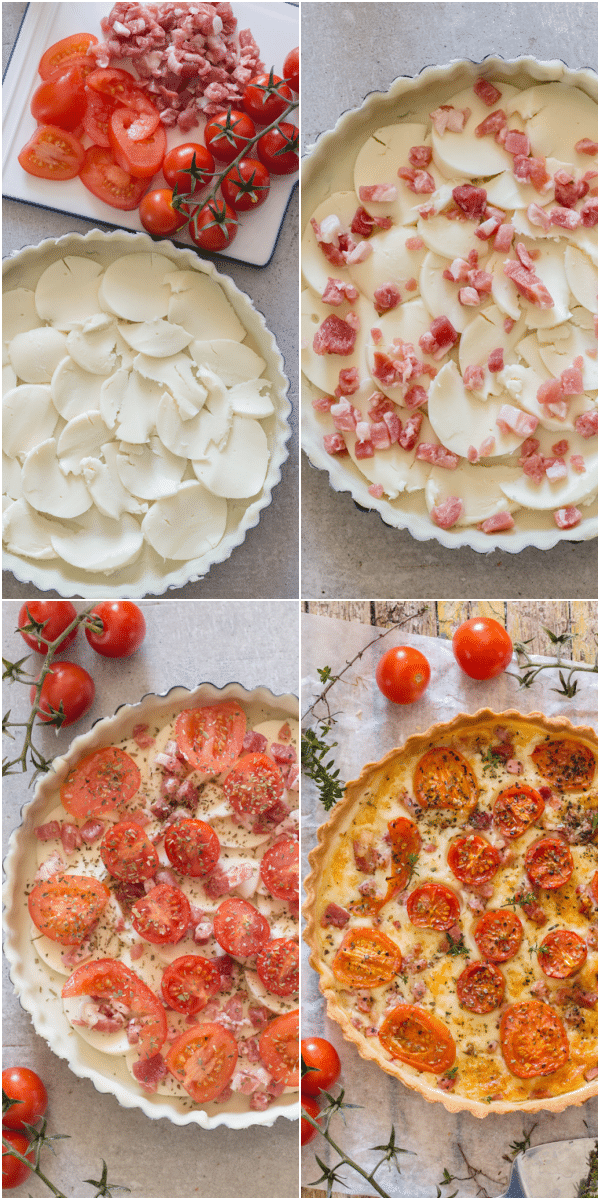 My eldest daughter is convinced it does, and my youngest believes if you know how to cook it can taste just or almost as good as in Italy.
In my opinion I believe if you know where to buy your produce, and I say buying from a local market or even farmer makes a difference. Your food will taste good too.
So the best way to test this theory would be to make a Tomato, Pancetta and Mozzarella Savory Pie. 
What are the best Tomatoes for Baking?
I like to use firm but ripe Roma, Cherry or Grape Tomatoes. In the summer you can use pretty much any type of tomato, but in the wintertime these are the best.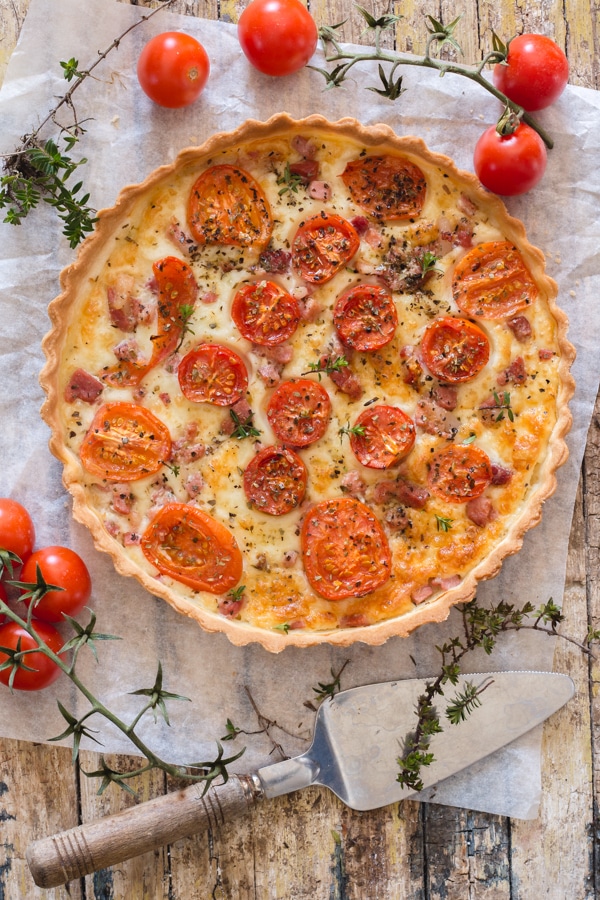 The Best Cheese for a Savory Pie?
Since this is an Italian Savory pie I would recommend using a firm mozzarella, if you use fresh it will be too watery unless you leave it to drain overnight in a sieve (refrigerated).
And be sure to slice or shred your own cheese. Shredded bagged cheese is the worst,  a covering of wax is added to the cheese so it doesn't stick together, not very appetizing!
You could also use a creamy Fontal (Fontina) or Asiago. But be sure to use Pancetta rather than Bacon.
This Italian Pie makes the perfect appetizer although it is delicious also as a quick and easy dinner idea, just serve it with a simple side salad.
Any leftovers should be stored in the refrigerator and can be warmed in the oven to enjoy the next day.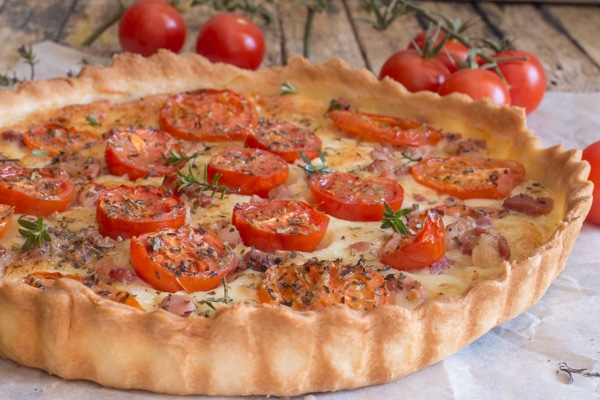 What is the difference between Pancetta and Bacon?
Although both Bacon and Pancetta are made from pork bellies, bacon is brined and smoked whereas pancetta is seasoned with salt and a lot of pepper,.
It is then curled into a tight roll and wrapped in a casing to hold its shape. Unlike bacon, pancetta is cured but not smoked.
More Delicious Recipes with Pancetta
Cheesy Sauteed Mushroom Pancetta Pizza
So if in the middle of winter or during the summer you get the urge for an Italian Savory Pie I hope you give this a try and let me know how you like it. Buon Appetito!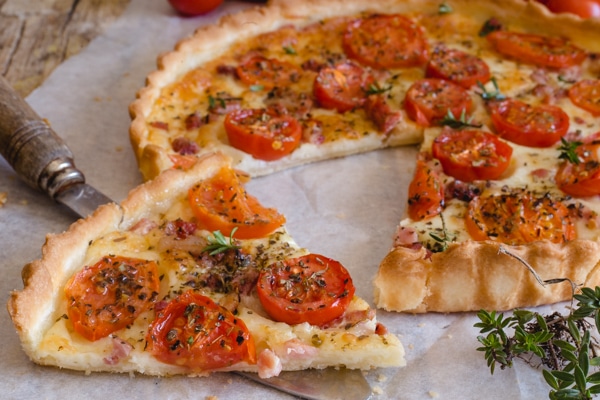 How to Make Tomato Cheese & Pancetta Pie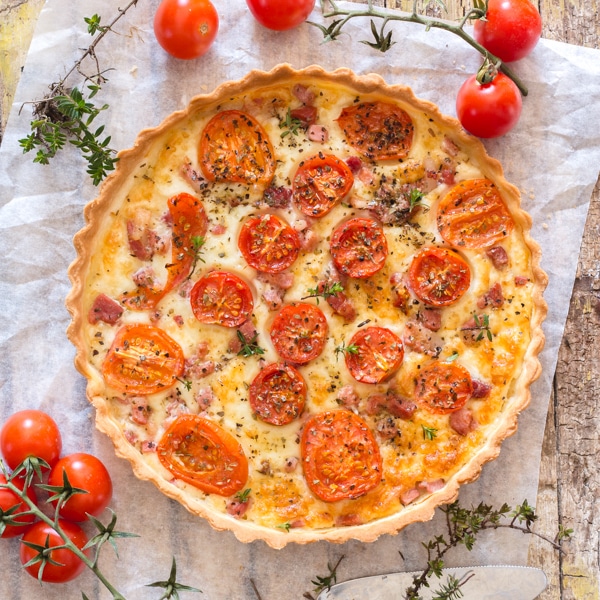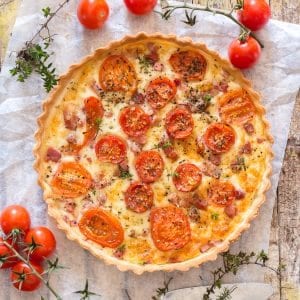 Italian Tomato Cheese & Pancetta Savory Pie
A delicious Italian Savory Pie made with Fresh Tomatoes, Pancetta and Mozzarella Cheese. The perfect appetizer or main dish.
Ingredients
1

pre made pie crust

3/4

cup

chopped pancetta

(75 grams)

6-7

ounces

thinly sliced firm mozzarella

(200 grams)

16

ripe firm small roma, cherry or grape tomatoes

(more if needed)

1

tablespoon

butter melted

1 1/2

teaspoons

oregano

1

teaspoon

basil

1/4

teaspoon

salt

1 - 1 1/4

tablespoons

olive oil for drizzling
Instructions
Pre-heat oven to 375 degrees (190 celsius), lightly grease a medium sized pizza pan or spring form pie plate 8-9 inches (22cm).

Spread the pie pastry on prepared pan then brush the pastry with the melted butter, top with the thinly sliced mozzarella, sprinkle with the cubed pancetta and finally top with the halved grape or cherry tomatoes or sliced Roma tomatoes, sprinkle with salt, oregano and basil, and drizzle with olive oil. Bake in pre-heated over for approximately 30-35 minutes. Let sit 5 minutes before cutting. Enjoy!
Nutrition
Calories:
269
kcal
Carbohydrates:
21
g
Protein:
9
g
Fat:
16
g
Saturated Fat:
7
g
Cholesterol:
28
mg
Sodium:
427
mg
Potassium:
447
mg
Fiber:
2
g
Sugar:
4
g
Vitamin A:
1635
IU
Vitamin C:
22.7
mg
Calcium:
173
mg
Iron:
1.5
mg
 Republished from July 31, 2014.