Creamy Potato Soup and Homemade Crackers, nothing better than a Creamy Soup and Crackers, especially when it is Homemade. The perfect Winter Comfort Food.
My first year in Italy was an amazing culinary adventure and  this Creamy Potato Soup was one of my favourite dishes, introduced to my by my sister-in-law.
I remember the first time she asked me if I liked "Purè", liked it, I didn't even know what the heck it was.
Off I ran to get my dictionary, and what did I find? Yup, "Mashed Potatoes",  hmmm I thought, yeah I liked mashed potatoes, but I had no idea that Italians ate mashed potatoes and if they did what did they do to them to make them Italian?
And an even bigger question would we eat just a bowl of mashed potatoes?
So naturally I watched her make it. Boil the potatoes until tender, so far so good, then she took her blender, added a third of the boiled potatoes and a couple of cups of milk and then I thought "No this is not mashed potatoes, she's making soup".
So there you go, her interpretation of "Purè" was not my dictionary's.
I loved it and I still love this simple Creamy Potato Soup. Fast and easy and perfect for those cold rainy or snowy days. I even decided to fancy it up a bit with these yummy rosemary and Parmesan crackers.
The Italian and his daughter ate almost all of them before I could even get a couple photographed. He even asked me that evening if there were any Rosemary Parmesan Crackers left. That's when you know they were good, and no they ate them all at lunch along with the Creamy Potato Soup! Buon Appetito!
Creamy Potato Soup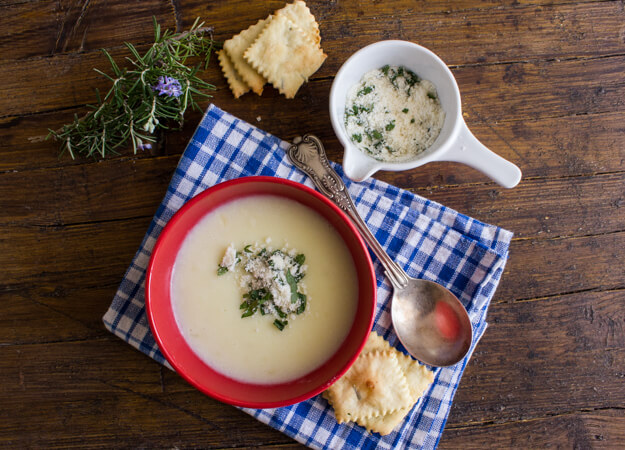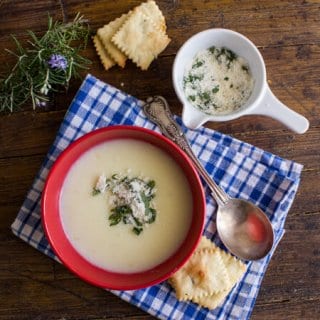 Creamy Potato Soup and Homemade Crackers
Makes approximately 30 crackers. (depending on size)
Ingredients
FOR THE SOUP

6

medium potatoes

4

cups

milk

1/4

cup

butter

1/2

teaspoon

salt

or to taste

TOPPING

1/4

cup

freshly grated Parmesan cheese

1/2-1

tablespoon

fresh chopped Italian parsley

FOR THE CRACKERS

1 1/3

cup

flour

1

teaspoon

baking powder

1/2

teaspoon

salt

1

tablespoon

freshly grated Parmesan cheese

1

tablespoon

fresh chopped rosemary

1/2

cup

milk

2

tablespoons

olive oil
Instructions
FOR THE SOUP

Peel and quarter the potatoes, place in a large pot of water (make sure the water covers the potatoes) boil until tender. Drain.

In a blender add 1/3 of the potatoes and 1/3 of the milk and blend until smooth, pour into a medium/large pot and continue until all the potatoes and milk are blended. Add the butter and salt, stir until well combined and heat on low-medium heat until hot. Top with topping (mix together chopped parsley and Parmesan in a small bowl). Serve immediately with Homemade Crackers.

FOR THE CRACKERS

In a medium bowl whisk together flour, baking powder, salt, Parmesan cheese and rosemary, make a well in the middle add milk and olive oil, stir together, move to a lightly floured flat surface and knead until smooth 1-2 minutes. Cover with a clean towel and let rest 20 minutes.

Pre-heat oven to 400° (200° celsius). Line 2 cookie sheets with parchment paper.

Roll dough very thin and cut into squares, place on prepared cookie sheets and sprinkle with coarse salt if desired. Bake for approximately 8-10 minutes or until golden brown. Serve with soup. Enjoy!
Nutrition
Calories:
516
kcal
Carbohydrates:
46
g
Protein:
16
g
Fat:
30
g
Saturated Fat:
15
g
Trans Fat:
1
g
Cholesterol:
65
mg
Sodium:
918
mg
Potassium:
524
mg
Fiber:
1
g
Sugar:
14
g
Vitamin A:
906
IU
Vitamin C:
1
mg
Calcium:
447
mg
Iron:
2
mg