Italian Vegetable Soup, the perfect winter time comfort food. Full of yummy veggies and just the right amount of pasta. A delicious Family Dinner Recipe.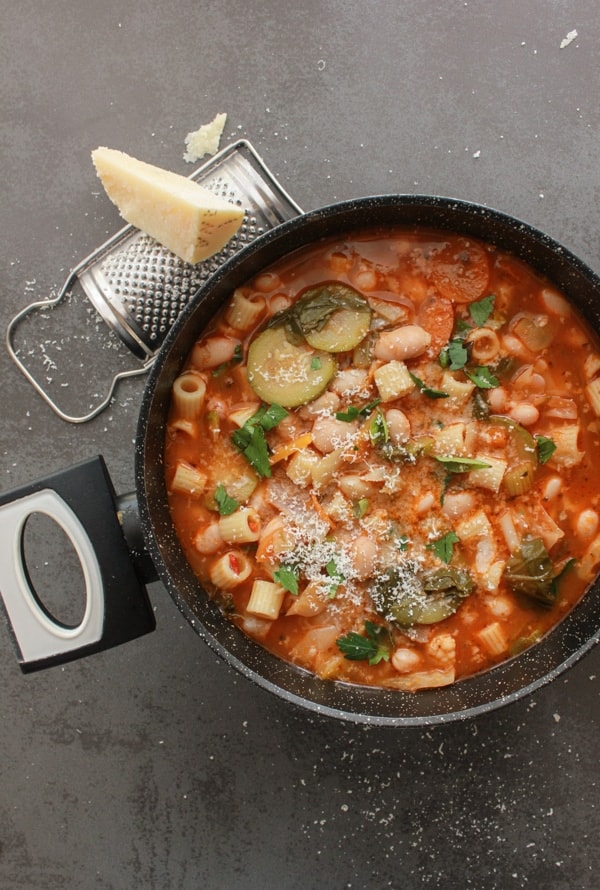 To start off I would like to wish anyone who is celebrating Thanksgiving tomorrow a very Happy day! Whether you are eating Turkey and Stuffing,  mostly Veggies or any and all Pies, I hope you enjoy it all surrounded by family and friends.
Remember eat slowly and enjoy every mouthful! Now back to the Italian Vegetable Soup.To tell the truth I actually had my American friends in mind when I decided to post this soup.
Because I imagined after all that glorious food, soup might just be what you needed for a few days after. And nothing's better than some hearty good-for-you vegetable soup.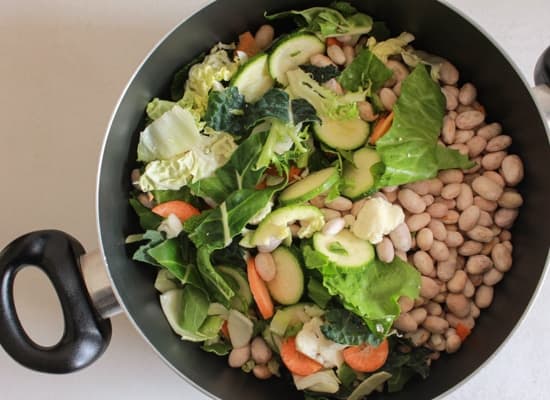 I make this soup at least once a week, forget the meat, sprinkle with lots of Parmesan cheese if you like and  serve with some crusty Italian bread, nothing could be better. I could call it my personal detox soup.
Italian Vegetable Soup
I make a big pot, I add chopped kale, cabbage, carrots, zucchini, celery, broccoli and borlotti beans. We eat it at lunch and finish it up at dinner.
Or you could have it for dinner and leave the leftovers for the next day. Believe me it tastes even better after all those amazing vegetables and spices linger together. Buon Appetito!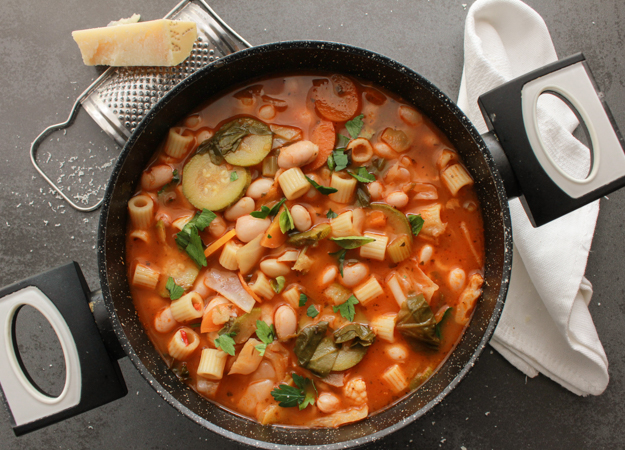 Italian Vegetable Soup
Italian Vegetable Soup, a delicious good for you full of veggies soup recipe, fast, easy,vegan and vegetarian the perfect comfort food soup.
Ingredients
5

cups

mixed chopped vegetables (medium to large chopped / I used kale cabbage, carrots, celery, broccoli and zucchini)

3

cups

frozen Borlotti beans **

1-2

cloves

garlic chopped

2

tablespoons

olive oil

1

teaspoon

basil

1

teaspoon

oregano

2

tablespoons

chopped fresh parsley

1/2

teaspoon

salt

3/4

cup

tomato purée (passata)

7-8

cups

water

1

bouillon cube (if desired)

pinch or 2 hot pepper flakes

1-1 1/4

cups

small pasta (dried)
Instructions
In a large pot add olive oil, garlic, vegetables, beans, spices, tomato purée, water and bouillon cube, stir to combine, bring to a boil and then turn heat down to simmer for approximately 30-45 minutes or until beans are tender (halfway through taste for salt). I would advise making your pasta separately in a pot of boiling salted water and then adding it to the soup (if you are keeping half the soup for later consumption then make half the pasta and only add it to the soup you will be eating or the pasta will get mushy). Enjoy!

**Dried soaked bean are fine too, they may take longer to cook.
Nutrition