This fast and easy Creamy Broccoli Potato Casserole is the perfect side dish. Three layers of Broccoli, Potatoes, a Creamy Sauce and a sprinkling of Parmesan will make this Delicious Bake a Family Favourite.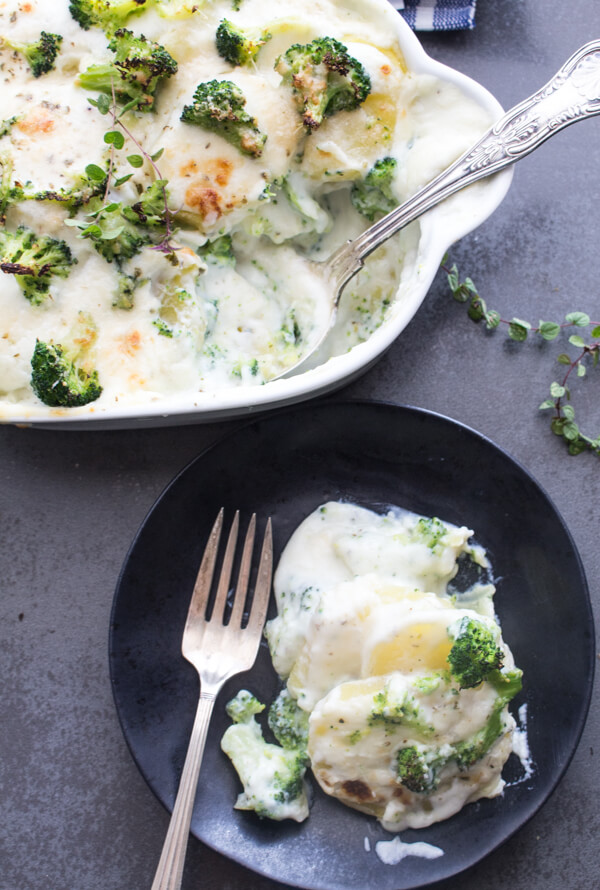 Hello Broccoli Season, we all know How Good Broccoli is for us but we also know that sometimes for some of us it is kind of hard to swallow. Personally I love the stuff.
I love it sautéed with a little olive oil,  garlic and salt. I love Broccolette (Broccoli Rabe) tossed with Spaghetti, or even baked in the oven in a Cheesy White Sauce.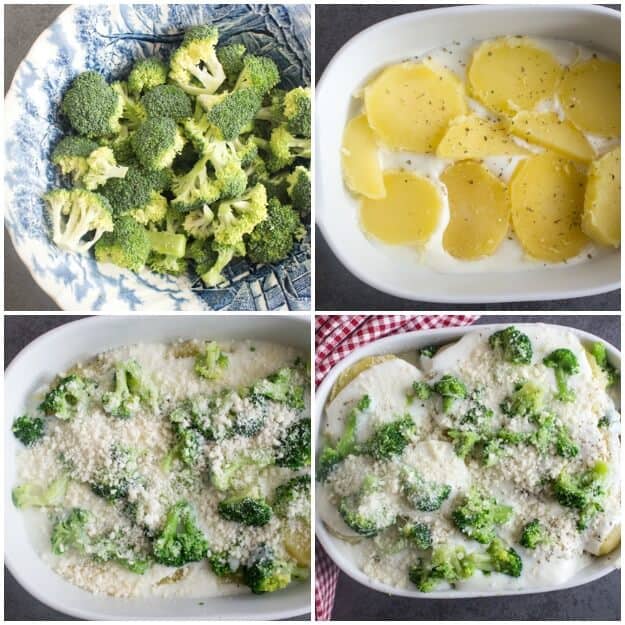 And I know how hard it can be to get the kids and even the grown ups to eat it. Well this side dish should fix that. A perfect combination of potatoes and Broccoli in a creamy white sauce, a few spices and of course a sprinkling of Freshly grated Parmesan Cheese brings it all together.
I started by boiling the potatoes until tender, but not mushy, almost al dente. While I was waiting for the potatoes to cool enough so I could slice them, I cooked the broccoli florets (in the same water) for about 5 minutes and made the white sauce.
Creamy Broccoli Potato Casserole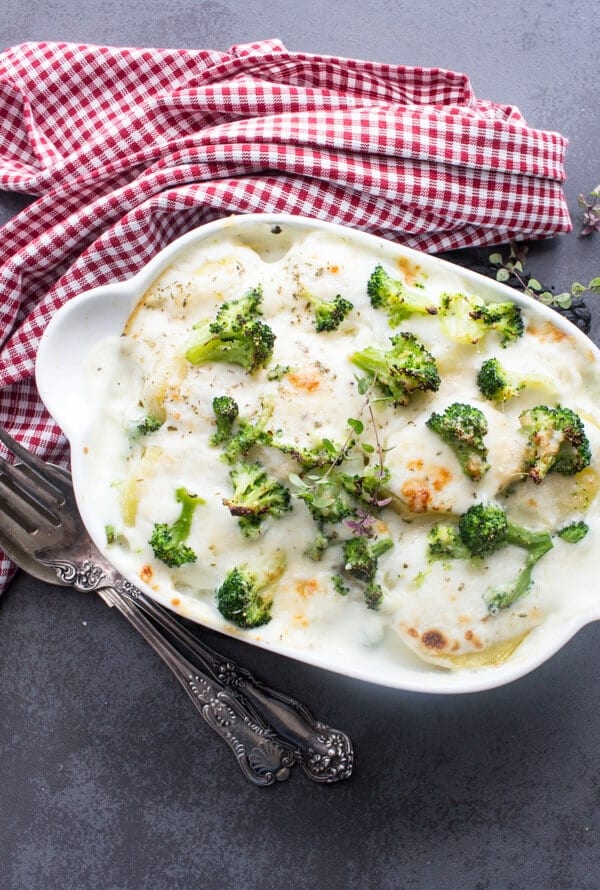 I let the sauce cool a bit while I sliced the potatoes, but don't slice them too thick. I then started to layer, it's a good idea to add a little white sauce to the bottom of the baking dish.
Then add a layer of potatoes, a little sprinkle of salt (if needed) and oregano or whatever spice you prefer, top with white sauce, broccoli florets (if your florets are too large break them into smaller pieces) and a good sprinkling of Parmesan Cheese.
Continue for 3 layers. Bake for about 30 minutes, let it cool for 5 minutes and then serve. I hope you enjoy this Creamy Broccoli Potato Casserole as much as we do. Buon Appetito!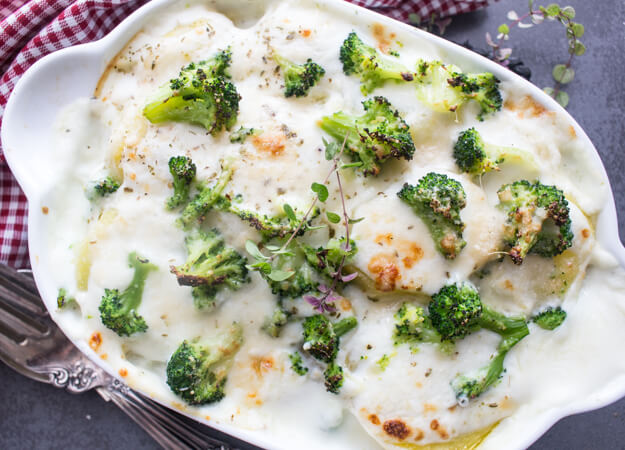 Creamy Broccoli Potato Casserole
Comfort Food at it's best, Creamy Broccoli Potato Casserole a delicious Side Dish or Family meal recipe. The Perfect anytime Comfort Bake.
Ingredients
4

medium potatoes

peeled

1/3

cup

freshly grated Parmesan cheese

(30 grams)

2 1/4

cups

cooked Broccoli florets

(250 grams)

oregano or thyme as you like
WHITE SAUCE
2 3/4

cups

milk

(632.5 grams)

3

tablespoons

butter

(42.54 grams)

3

tablespoons

flour

(24 grams)

pinch

salt
Instructions
Pre-heat oven to 350° (180° celsius).

Boil potatoes in salted water until tender but firm, remove to cool, in the same water add the broccoli florets and cook approximately 5 minutes. Drain well.

While potatoes are cooling, make the white sauce.
WHITE SAUCE
In a medium pot over low heat melt butter, whisk in flour and salt, continue whisking until smooth. Slowly add the milk and continue whisking constantly until thickened and starts to boil. Remove from heat. Let cool slightly.

In a 8x6 inch (20 x 15 centimeter) baking dish, spread a couple of spoonfuls of white sauce on the bottom, make 3 layers, starting with the sliced potatoes, spinkle of oregano, white sauce, broccoli florets (if too large cut into smaller pieces) and a sprinkle of parmesan cheese, continue for three layers. Bake for approximately 30 minutes (test for doneness after 20 minutes). Let cool 5 minutes before serving. Enjoy!
Nutrition