Easy Creamy Tuna Noodle Casserole, one of the most delicious casseroles you will eat. Full of tuna and peas. Or substitute with broccoli or mushrooms, whatever vegetable you want! This delicious Recipe was also featured on Tasty!
This Tuna Casserole will always remain creamy and Yummy. A couple of our favourite creamy Casseroles are Broccoli Cheese Bake or this delicious Simple Scalloped Potatoes.
Tuna Casserole
Nothing like comfort food to make you feel all warm and cozy even when you aren't quite feeling it. From Creamy to Cheesy. Apparently the term Comfort Food was first used in 1966. Eating comfort food was suppose to increase positive feelings and help lift depression. Personally I think it works.
So with that in mind I  thought this would be the perfect time to share one of my family's all-time-favourite-casserole, Creamy Tuna Noodle Casserole.
I love Baked Pasta and Casserole dishes. The Creamier the better. I find the weekend is the best time to make these since most of them need a little more time. And Sunday leftovers can be Monday night's dinner, nothing better than that!
Or you can make it in advance, refrigerate it and then bake it when time is limited, like during the week.
What are the ingredients in a Tuna Noodle Casserole:
egg noodles
Homemade white sauce
spices
milk
Freshly grated parmesan cheese
Frozen peas or you can substitute with broccoli, cauliflower or even mushrooms
Canned tuna
Breadcrumbs
Do you bake Tuna Casserole Covered?
I bake my Tuna Casserole uncovered because of the breadcrumb topping. I like it to bake nice and crunchy. Because the noodles are pre boiled it doesn't take long to bake, therefore no worry of it burning.
What Vegetables can I use in Tuna Noodle Casserole?
I like to use peas only because we love peas in our house, but my Mom always made this with broccoli. Or how about cauliflower, green beans or mushrooms or even peas and carrots mixed.
How to Store your Tuna Casserole:
The Casserole should be stored tightly wrapped in plastic or in an airtight container in the fridge. It will last approximately 2-3 days in the fridge.
Can the Tuna Noodle Casserole be Frozen?
You can freeze this Casserole either baked or unbaked. If it is unbaked then be sure to cover it tightly or with plastic wrap (make sure pan is oven and freezer safe). When you decide to bake it make sure to thaw it overnight in the fridge.
It should be completely thawed before baking to make sure that it cooks completely through.
If you are freezing the baked casserole, be sure to let it cool completely before tightly wrapping with plastic wrap. The casserole whether baked or unbaked will last up to 6 months in the freezer.
More Delicious Casserole Recipes:
This Creamy Tuna Noodle Casserole is full of everything you need, it is a meal in itself. If you want, serve it with your favourite tossed salad and dinner is ready. Buon Appetito!
How to Make Tuna Casserole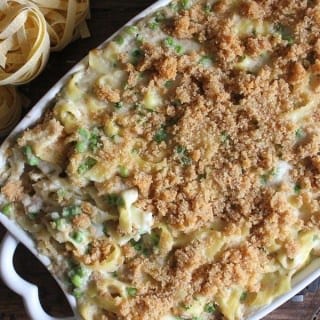 Easy Creamy Tuna Noodle Casserole
A creamy delicious tuna casserole, the perfect comfort food.
Ingredients
7

ounces

dried egg noodles

(3 - 3 1/2 cups cooked)
WHITE SAUCE
1/4

cup

butter

1/4

cup

flour

3/4

teaspoon

oregano

3/4

teaspoon

basil

dash of thyme

1/4

teaspoon

salt

3 1/2

cups

milk

(I use 2%)
EXTRAS
1/2

cup

freshly grated parmesan cheese

1

cup

frozen peas*

2

cans

tuna

(2 x 6 1/2 ounce / 2 x 184 grams, drained and flaked)
FOR THE TOPPING
1/3

cup

bread crumbs

2

tablespoons

butter melted
*You can substitute with broccoli, cauliflower, mushrooms.
Instructions
Pre-heat oven to 350° (180° celsius). Lightly grease a 10 x 8 x 2 inch (27 x 21 x 6 centimeter) baking dish.

In a small bowl with a fork combine melted butter and bread crumbs, set aside.

In a large pot of boiling salted water cook the egg noodles al dente and drain.

In a small pot of boiling water cook the peas till just tender.

In a medium pot over low to medium heat melt 1/4 cup butter, whisk in flour, basil, oregano, thyme and salt. Slowly whisk in the milk and stir constantly until sauce thickens**

Remove from heat and add the parmesan cheese stir to combine.

Fold in the drained noodles, peas and tuna.

Pour into the baking dish and sprinkle with topping. Bake 20 minutes, let sit 5 minutes and serve. Enjoy!

**make sure the sauce starts to boil, then once it starts to boil lower the heat to simmer it whisking constantly until thickened.
Nutrition
Calories:
422
kcal
Carbohydrates:
42
g
Protein:
17
g
Fat:
20
g
Saturated Fat:
11
g
Cholesterol:
83
mg
Sodium:
461
mg
Potassium:
366
mg
Fiber:
2
g
Sugar:
9
g
Vitamin A:
860
IU
Vitamin C:
9.7
mg
Calcium:
288
mg
Iron:
1.9
mg
Updated from February 10, 2015.