Not your average Green Bean Casserole, but even more delicious. Potatoes, Green Beans and Parmesan Cheese make this the perfect side dish for any meal.

For the past few years I have been wanting to make a green bean casserole for the upcoming Holidays. But I wanted something different and yes with an Italian touch to it.
I also wanted something a little healthier, no white sauce or heavy on the cheese.
So after checking out some different ways that Italians use green beans besides one of our favourites, Simple Green Bean Toss I came across this dish that actually made my mouth water.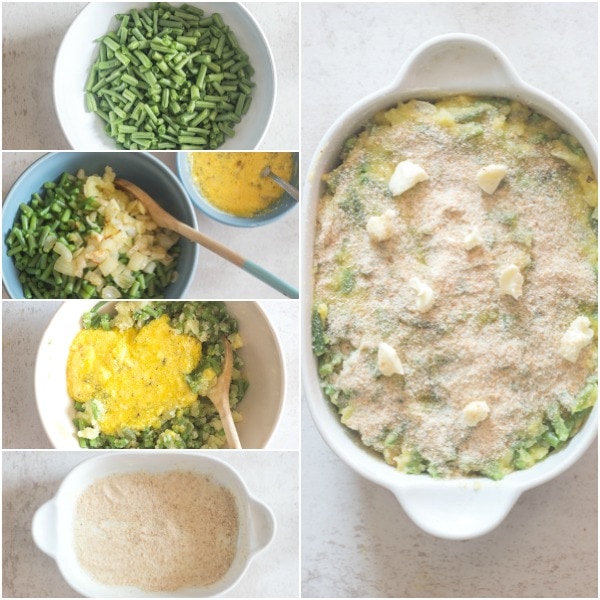 I decided to ask a friend if she had ever heard of it.
This is actually a dish from Liguria, which is situated in Northern Italy.
She told me that her mother used to make it and it was delicious, and very simple to make. Perfect, now I needed the recipe!
Naturally she told me in Italian, meaning yes the language and yes the exact way Italians share a recipe in other words Italian style.
How to Make a Green Bean Casserole Italian Style
Take a few potatoes, boil until tender then pass through a Potato Ricer. This is probably one of the best utensils I have, perfect for mashed potatoes and of course making homemade Gnocchi!
Take 3 or 4 manciate (handfuls) of green beans and boil until tender then chop into small pieces. I decided to chop first and then boil, I didn't want to handle any hot beans.
Chop a small onion and fry in a little olive oil.
Mix together 2 eggs, un po (some) freshly grated parmesan cheese, marjoram or oregano she wasn't sure, so I chose oregano since it's my favourite and of course salt and pepper q.b., which mean quanto basta in other words how much you like.
Mix everything together, pour into a buttered baking dish, sprinkle with bread crumbs and a little butter on top and bake for about 20-25 minutes.
Italian Green Bean Casserole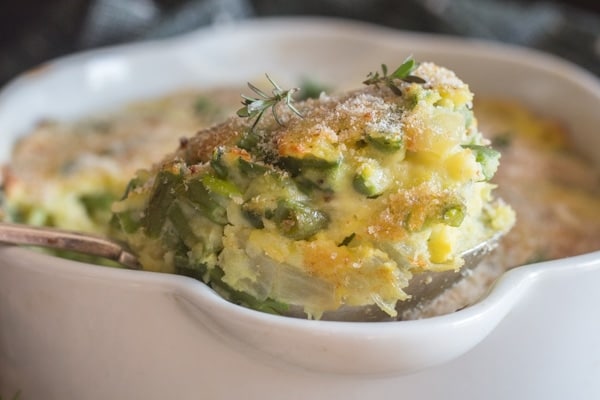 So there you go, after experimenting a bit I got the ingredients down to measurements.
And after tasting this Green Bean Casserole, I realized why my mouth watered when I first discovered it. Fast, easy and the perfect side dish. The Italian thinks so too.
In Liquria this dish is actually eaten at room temperature or even cold. I let it sit for 5 minutes before serving. I think a dish like this tastes better hot.
Although I did taste it at room temperature and let me tell you, they may be on to something!
But warm, lukewarm or hot I hope you enjoy it. Buon Appetito!
More Delicious Italian Side Dishes
The Best Creamy Simple Scalloped Potatoes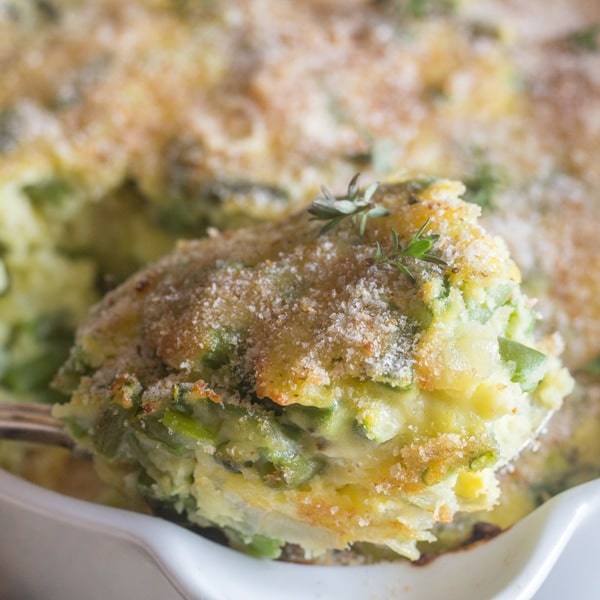 Italian Green Bean Casserole
Not your average Green Bean Casserole, but even more delicious. Potatoes, Green Beans and Parmesan Cheese make this the perfect side dish for any meal.
Ingredients
1 1/2

tablespoons

butter

(divided / softened)

4

tablespoons

bread crumbs

(divided)

1

small

onion

1 1/2

tablespoons

olive oil

3

medium

potatoes

10 1/2

ounces

green beans

2

large

eggs

1/3

cup

freshly grated Parmesan Cheese

1/2

teaspoon

oregano or marjoram

1/4-1/2

teaspoon

salt

1-2

dashes

pepper
Instructions
Pre-heat oven to 350F (180 C), lightly butter a small 8 x 6 inch (20 x 15 cm) baking dish and sprinkle with 2 tablespoons of bead crumbs.

Chop the onion and fry in 1 1/2 tablespoons of olive oil until lightly golden, remove and place in a large bowl.

In a medium pot add peeled potatoes (whole), cover with water and boil until tender, remove from water with a slotted spoon. Either mash or pass through a potato ricer (which is what I did) into the bowl containing the cooked onion.

Clean and trim the green beans, cut into 1/4 inch (.6cm) size pieces and set aside. Once the potatoes are cooked and removed from the water add the chopped green beans and cook just until tender (they should still have a bite to them). Then drain well and place in the large bowl with the potato and onion.

In a small bowl add the eggs and beat with a fork, then add the parmesan cheese, oregano, salt and pepper, and combine. Then add to the large bowl and gently combine all the ingredients.

Spoon into the prepared baking dish, sprinkle with remaining 2 tablespoons of bread crumbs, dot with 1 tablespoon of butter and bake for approximately 20 -25 minutes, the last couple of minutes raise the heat to 400F (200C) and let brown lightly. Let sit 5 minutes before serving. Enjoy!
Nutrition
Calories:
183
kcal
Carbohydrates:
12
g
Protein:
5
g
Fat:
12
g
Saturated Fat:
5
g
Cholesterol:
18
mg
Sodium:
485
mg
Potassium:
187
mg
Fiber:
2
g
Sugar:
3
g
Vitamin A:
715
IU
Vitamin C:
9.1
mg
Calcium:
138
mg
Iron:
1.3
mg
The following are affiliate links. We are a participant in the Amazon Services LLC Associates Program, an affiliate advertising program designed to provide a means for us to earn fees by linking to Amazon.com and affiliated sites.
.