Italian Fried Chicken, pan fried in a little olive oil and a few Italian spices, makes this a quick and easy chicken dinner idea for any day of the week! Everyone will love it.
Pan Fried Chicken
Italian Fried Chicken, one of my family's favourite dinners. If you are looking for something quick and easy and so good, then this is it. No need for any heavy bread covered chicken, just a few spices and pan frying!
What a wonderful Saturday I spent with my husband and my two daughters. After much planning, almost 10 years, we finally got our act together and went to visit some friends in one of the most beautiful provinces in Italy. A place called Viterbo and the town we visited is called Soriano once again I put on my walking shoes and played tourist to take in this "take your breath away"  beautiful town.
Ahhh but one thing I love about Italy is that Italians love to stop two or three times during their walk for a cold drink or better yet a gelato. And gelato I ate. It never seems to amaze me that in Italy even an abandoned building has its beauty. These small towns are wonderful, there were so many people out and about and so many different festivals, music, magic shows, take your pick.
If you ever visit Italy be sure to take a side trip to Viterbo! It is not a big secret that besides gelato I absolutely love Pasta. But I have to admit there are some meat dishes that I enjoy making and eating almost as much as pasta, and this Italian Fried Chicken is one of them.
Is Pan Fried Chicken Healthy?
Pan fried Chicken is healthier than deep fried with a bread or flour coating, so frying especially in a little olive oil with fresh spices is not unhealthy at all in my opinion.
How to make Italian Pan Fried Chicken
Place a little olive oil in a pan,
Add the chicken pieces legs, thighs or breasts you decide, you can remove the skin if you want.
Sprinkle with a few spices including fresh rosemary, thyme and oregano.
Add a little water and simmer covered for about 20 minutes.
Then remove the lid turn up the heat and let it fry to perfection! So good.
How do you know when Chicken is cooked?
Chicken is cooked when it reaches an internal temperature of 160 F using a meat thermometer be sure to check in the thickest part of the breast, they also say if you slice the meat and the juice runs clear it's done.
What  Side Dishes to serve with Fried Chicken?
Simple Italian Green Bean Toss
A simple Salad
This quick and easy Fried Chicken Recipe makes the perfect any night of the week meal. Buon Appetito!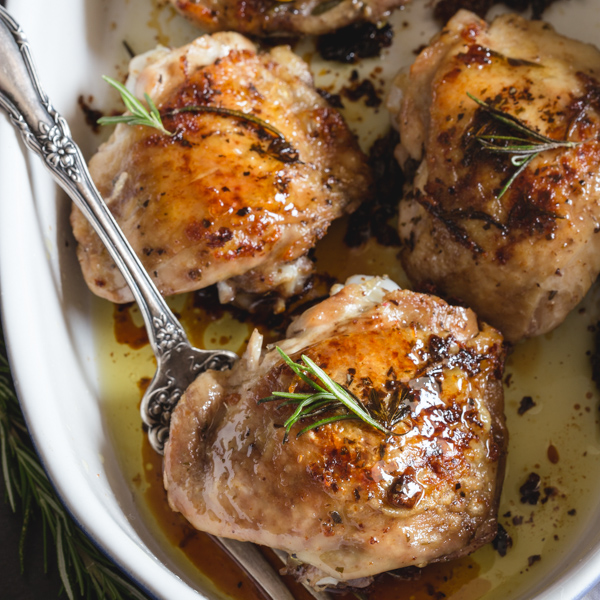 Italian Pan Fried Chicken
Italian Fried Chicken,a delicious moist and tender chicken dish. Made with fresh Italian spices, fast and easy, the perfect weeknight recipe.
Ingredients
4

chicken legs, thighs or breasts

1 1/2

teaspoons

oregano

pinch of thyme

3/4

teaspoon

salt

3

sprigs rosemary (remove the leaves)

1

clove

garlic chopped

2

tablespoons

olive oil

1/2

cup

water (more if needed)
Instructions
In a medium to large-sized frying pan add 2 tablespoons olive oil, then add the chicken, sprinkle with half of the ingredients oregano, thyme, salt, rosemary leaves and chopped garlic turn the legs and sprinkle with the remaining ingredients. 

Add the water and cover cook on high heat until boiling then lower heat to low / medium for approximately 35 minutes (check occasionally), check for doneness after 30 minutes**, if cooked remove cover raise the heat and cook until water has evaporated. Turning to brown on both sides. Serve immediately. Enjoy!

** you can check to make sure they are done by using an instant-read thermometer (the chicken should be at least 165°F when cooked)
Nutrition
Calories:
340
kcal
Protein:
21
g
Fat:
27
g
Saturated Fat:
6
g
Cholesterol:
119
mg
Sodium:
546
mg
Potassium:
270
mg
Vitamin A:
130
IU
Vitamin C:
0.5
mg
Calcium:
24
mg
Iron:
1.2
mg
Republished from August 2014