Double Cheese Mashed Potatoes, creamy mashed potatoes with the perfect combination of Mozzarella and Parmesan and then baked. Delicious.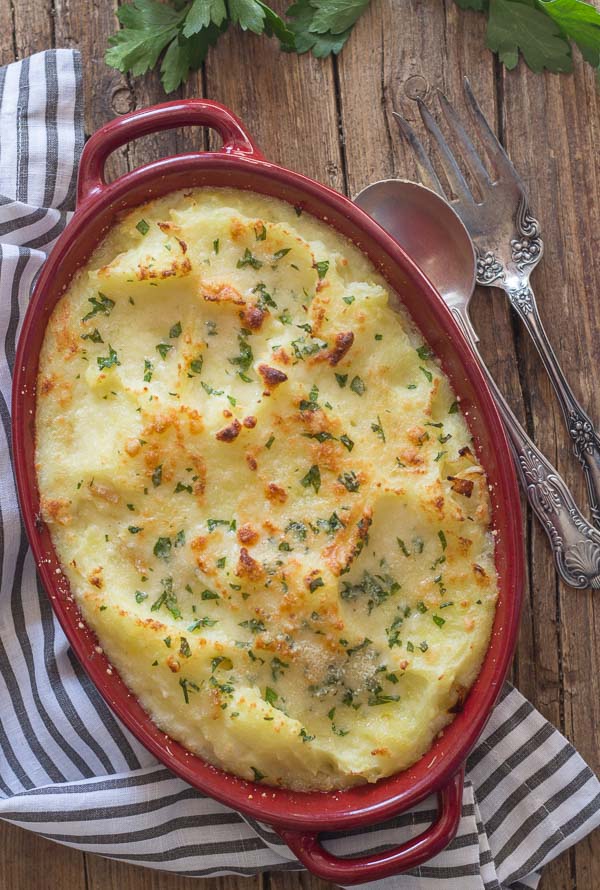 Baked Double Cheese Mashed Potatoes, these have become one of our favourite baked side dishes. They go great with anything.
I have a husband who is not that crazy about potatoes. He never liked them boiled.
Actually I kind of like the Italian way, warm boiled potatoes tossed with some olive oil and chopped parsley and a sprinkling of salt, pretty darn good in my opinion!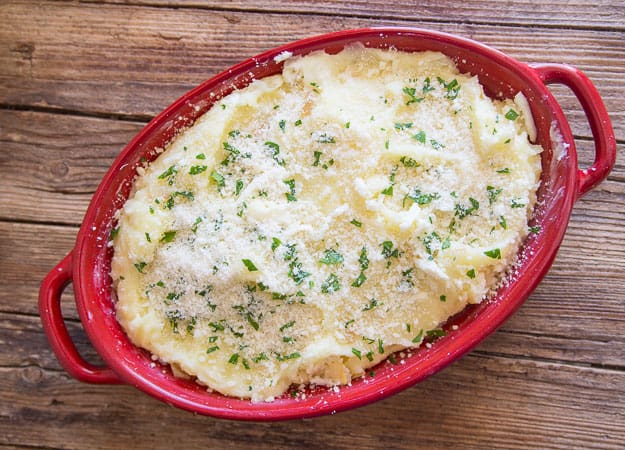 As long as they are baked and a little crunchy on top he's happy. And sometimes he has a mad desire for Roast Beef, Yorkshire Pudding and Mashed Potatoes and Gravy!
Since I am always looking for some way to add some of my favourite cheese, Parmesan to recipes I thought why not bake it with some mashed potatoes. This way everyone is happy!
More Side Dishes you may Enjoy!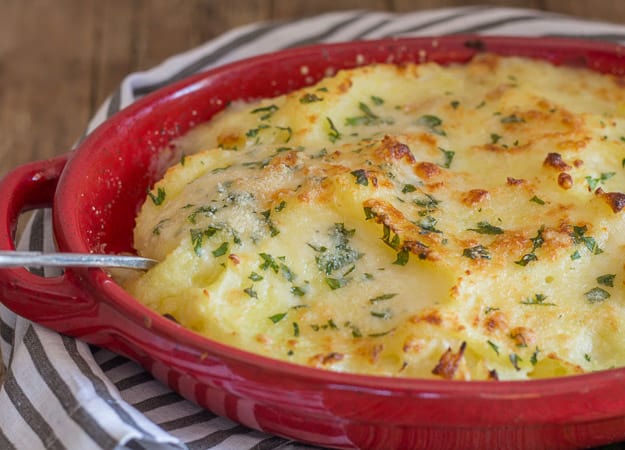 My youngest liked the idea of adding some stretchy cheese, so we decided that adding some firm Mozzarella to the mix would be perfect and the Italian decided some chopped onions wouldn't be such a bad idea either.
So if you are a mashed potato cheese lover I hope you try out this Baked Double Cheese Mashed Potatoes and let me know if you. Buon Appetito!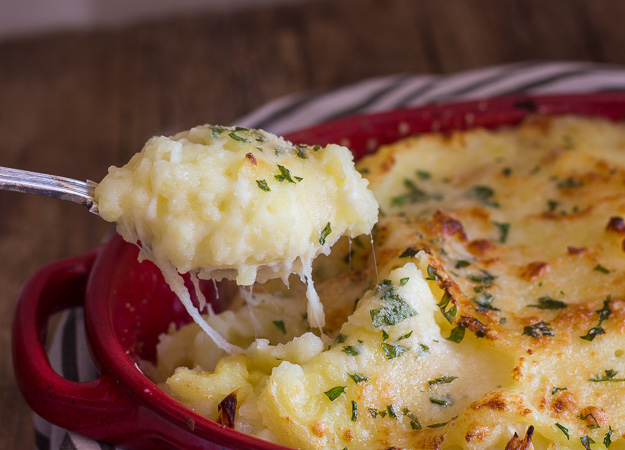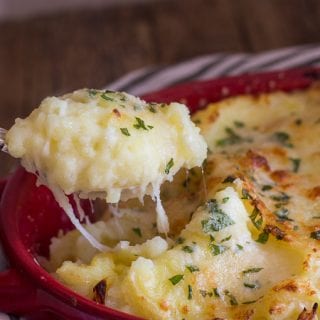 Baked Double Cheese Mashed Potatoes
Double Cheese Mashed Potatoes, baked with mozzarella & parmesan cheese, Italian parsley the perfect side dish for Thanksgiving & Christmas.
Ingredients
5-6

medium potatoes

(peeled and chopped large)

1/2

onion

(chopped)

4

tablespoons

butter

(divided)

1/4

cup

+ 2 tablespoons milk

3/4

cup

grated firm mozzarella

1/2

teaspoon

salt

pepper to taste
TOPPING
1/4

cup

freshly grated parmesan cheese

1-2

tablespoons

finely chopped Italian Parsley
Instructions
In a large pot of boiling water cook potatoes until tender, drain well.

In a small frying pan add 1 tablespoon of butter and chopped onion sauté until slightly golden.

Pre heat oven to 350°. Lightly butter a 10 x 7 inch baking dish (approximately).

Place drained potatoes in a large bowl and mash with a potato masher, then add 3 tablespoons of butter and milk and beat until creamy.(If needed add a little more butter and or milk). Fold in onion butter mixture and shredded mozzarella cheese.

Spoon into prepared baking dish. Top with Parmesan and chopped parsley. Bake for approximately 10 – 15 minutes (I broiled it for the last 5 minutes to brown the top). Let sit a couple of minutes before serving. Enjoy!
Nutrition
Calories:
256
kcal
Carbohydrates:
27
g
Protein:
10
g
Fat:
12
g
Saturated Fat:
7
g
Cholesterol:
35
mg
Sodium:
437
mg
Potassium:
903
mg
Fiber:
5
g
Vitamin A:
380
IU
Vitamin C:
24.3
mg
Calcium:
195
mg
Iron:
7
mg