This fast and easy Fresh Asparagus Pesto Recipe is perfect on pasta or spread on sandwiches or how about dipping with some Italian Crusty Bread? Since now is Asparagus Season don't miss out on making some Pesto!

When Asparagus Season hits, the question is what else can I make with a bunch of Asparagus? Since I am always looking for a new delicious Recipe for Pasta. I decided this Easy Asparagus Pesto would be perfect.
What is Pesto?
Pesto is a cold sauce, originally from Genoa, the region of Liguria. When we think of Pesto we usually think of Fresh Basil, Parmesan Cheese, Olive Oil and Pine Nuts. It is probably one of the most popular sauces in the world.
If you want to make a Traditional Genovese Pesto you will need a marble mortar and a wooden pestle and a lot of patience.
Although Pesto comes in many forms from this Easy Fresh Asparagus Pesto to Eggplant to Pepper Pesto and everything in between.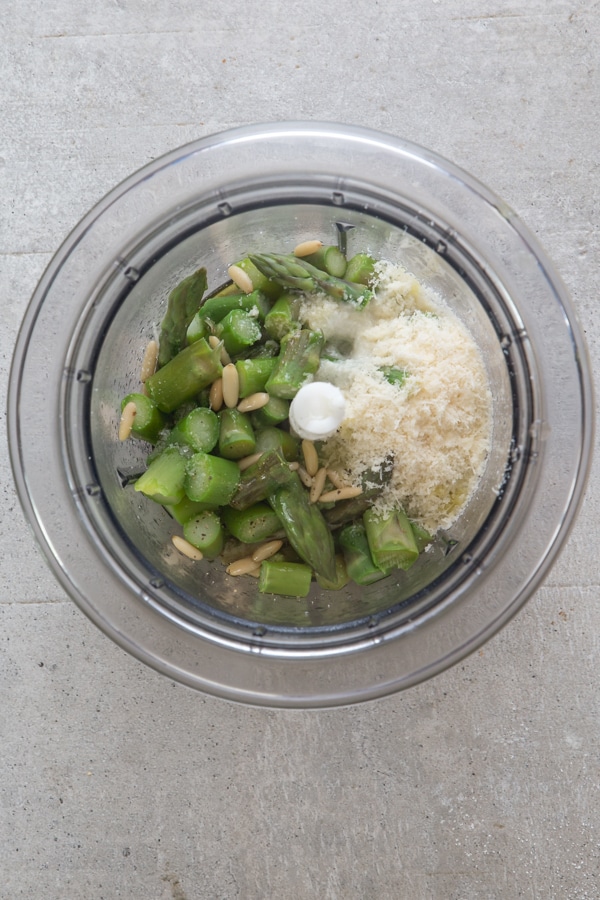 How to Clean Asparagus:
Under cool water rinse the asparagus spears in order to remove any dirt.
Sometimes really thick asparagus will have a tough outer skin. It can be removed (if you want) with a vegetable peeler.
Then snap off the bottom (an inch or so should be enough) by using your fingers, the stem will break naturally where the tough woody part ends and the tender stem begins.
Dry the spears by gently towel drying.
Your spears are now ready for using in a recipe either leaving them whole or cut up
How to Make Asparagus Pesto:
Cook the cleaned Asparagus until just tender but not mushy.
In a blender add the asparagus, parmesan cheese (it's always best to grate your own parmesan, don't use the bagged stuff), pine nuts, salt, pepper, lemon juice, a little asparagus water and olive oil and blend on low.
I add the olive oil a little at a time until I reach the constituency I am looking for.
Different Ways to Use Pesto:
I have recently just started experimenting with different types of Pesto, they weren't really my favourite condiment. But I have to admit I have opened my mind and my tastebuds.
We really enjoyed this Pesto Pizza with fresh Tomatoes & Mozzarella and of course these Homemade Pesto Dinner Rolls were a hit.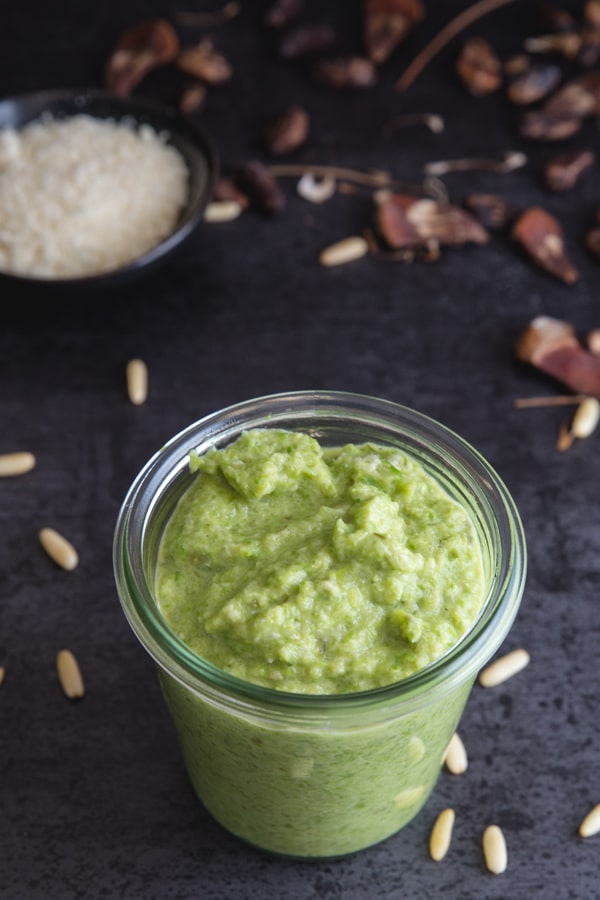 How to Make Pesto and Pasta:
Toss your Asparagus Pesto with al dente Pasta of choice, add a drizzle of olive oil if needed and a sprinkle of Parmesan Cheese and dinner is ready.
How to store Pesto:
Keep the freshly prepared pesto in the fridge, in an airtight container, cover the sauce with a thin layer of olive oil (to keep it from drying out). It will last up to 2-3 days.
Pesto can also be frozen. Freeze it in small freezer safe jars. Defrost the pesto in the refrigerator when ready to use.
More Pesto Recipes:
I hope this Spring when you are looking for ways to use up some Asparagus you decide to give this Delicious Pesto a try. Buon Appetito!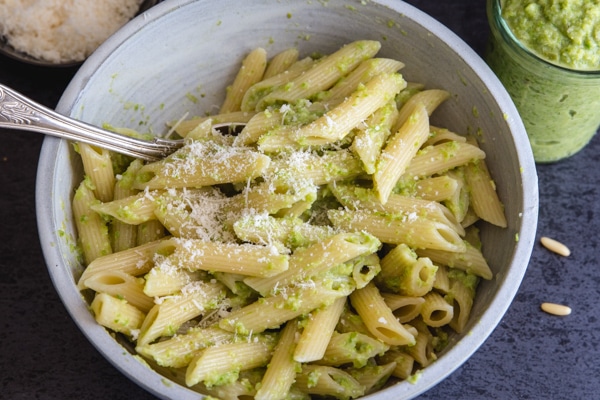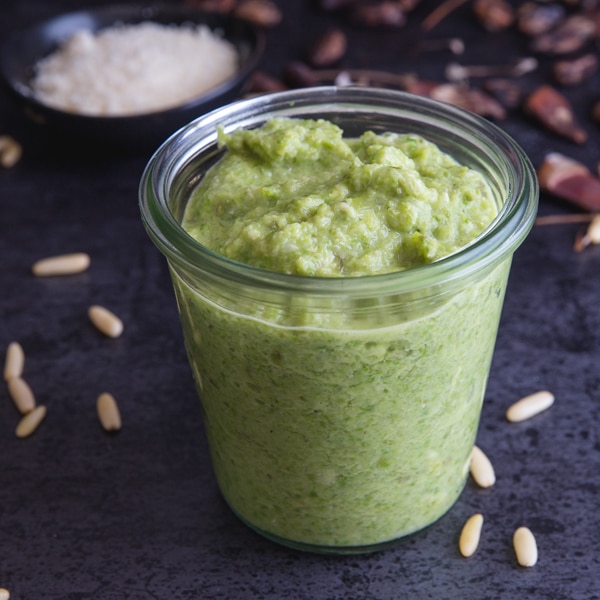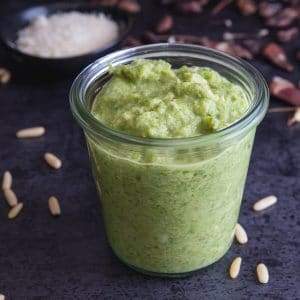 Easy Asparagus Pesto
This fast and easy Fresh Asparagus Pesto Recipe is perfect on pasta in sandwiches or how about dipping with some Italian Crusty Bread?
Ingredients
½

pound

fresh asparagus (cleaned and chopped 1 inch slices)

¼

cup

freshly grated Parmesan cheese

¾-1

tablespoon

pine nuts

¼

teaspoon

salt

1-2

dashes

pepper

½

teaspoon

lemon juice

1-2

tablespoon

asparagus water

3

tablespoons

olive oil
Instructions
In a pot of boiling water cook asparagus until tender (about 10 minutes). Drain but keep 2-3 tablespoons of the water.

In a blender or food processor add the cooked asparagus, freshly grated parmesan cheese, pine nuts, salt, pepper, lemon juice. Start by adding one tablespoon of asparagus water and two tablespoons of olive oil. Blend, gradually add the remaining olive oil and if needed more asparagus water until you reach desired thickness. Toss with cooked al dente pasta and a sprinkle of freshly grated Parmesan Cheese. Enjoy!
Notes
Any leftover Pesto should be placed in an airtight container (add a light covering of olive oil over the pesto) and refrigerate for up to 3 days.
Nutrition
Calories:
578
kcal
|
Carbohydrates:
12
g
|
Protein:
16
g
|
Fat:
55
g
|
Saturated Fat:
11
g
|
Cholesterol:
22
mg
|
Sodium:
969
mg
|
Potassium:
503
mg
|
Fiber:
5
g
|
Sugar:
5
g
|
Vitamin A:
1930
IU
|
Vitamin C:
13.7
mg
|
Calcium:
332
mg
|
Iron:
5.7
mg
Did You Make This Recipe?
Please leave a comment below or pin it to your Pinterest account!