This delicious and easy Oven Roasted Asparagus, is made with a few simple ingredients. The perfect side dish to any meal.
As we are in the midst of Asparagus Season, another quick and easy recipe that we love is this Asparagus Frittata.
Roasted Asparagus
Finally it's Spring! And since we have fresh Asparagus in the market and grocery stores now, I love it because it's such a simple and easy vegetable to cook. Tastes delicious even steamed with a couple of dots of butter and a sprinkle of salt.
But why stop there when you can make this delicious Roasted Asparagus with Parmesan!
How to make Roasted Asparagus Italian Style:
In Italy Italians love to fancy up Asparagus as a side dish, alla Parmigiano. In other words not one layer of asparagus but two. Each Layer has a sprinkle of salt and a tablespoon of butter dotted on top and a generous sprinkle of freshly grated Parmesan Cheese. Then baked to perfection.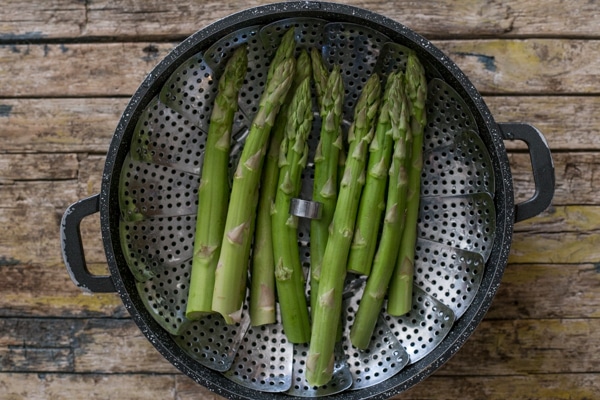 How to Clean Asparagus:
Under cool water rinse the asparagus spears in order to remove any dirt.
Sometimes really thick asparagus will have a tough outer skin. It can be removed (if you want) with a vegetable peeler.
Then snap off the bottom (an inch or so should be enough) by using your fingers, the stem will break naturally where the tough woody part ends and the tender stem begins.
Dry the spears by gently towel drying.
Your spears are now ready for using in a recipe either leaving them whole or cut up.
How to store Asparagus:
Fresh asparagus should be kept refrigerated until cooking time.
To help raw asparagus last longer, wrap the bottom of the stalks in a damp paper towel, then refrigerate in an unsealed plastic bag.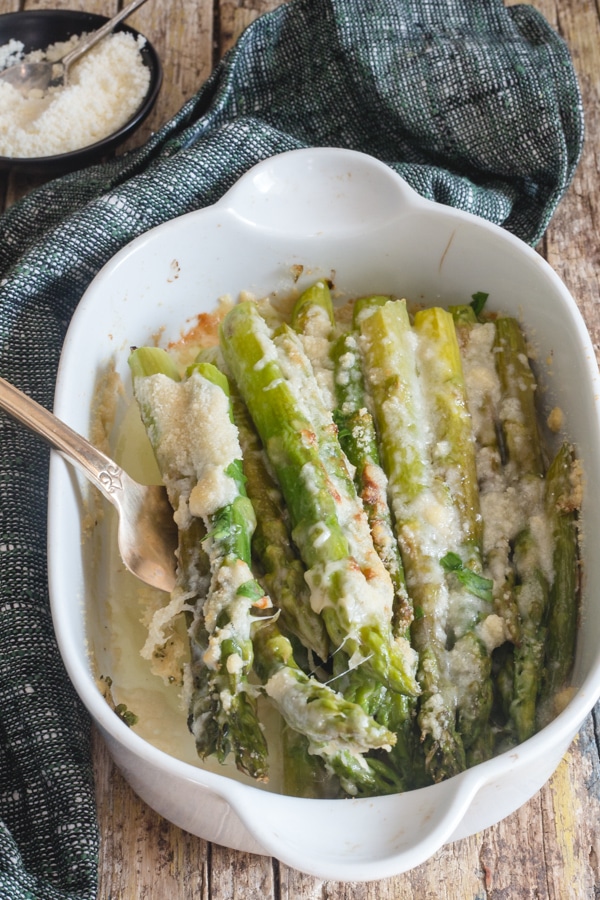 How long does raw asparagus last in the fridge?
Stored properly raw asparagus should keep for approximately 3-4 days in the fridge.
How to Tell if Asparagus has gone bad:
Asparagus that is going bad or is bad will usually become soft and discoloured. The tips of the vegetable will start to darken. Throw away any asparagus that has an off smell or appearance.
More Delicious Italian Side Dishes:
If you are a lover of Asparagus as we are I hope you enjoy this Oven Roasted Asparagus with Parmesan Cheese. Buon Appetito!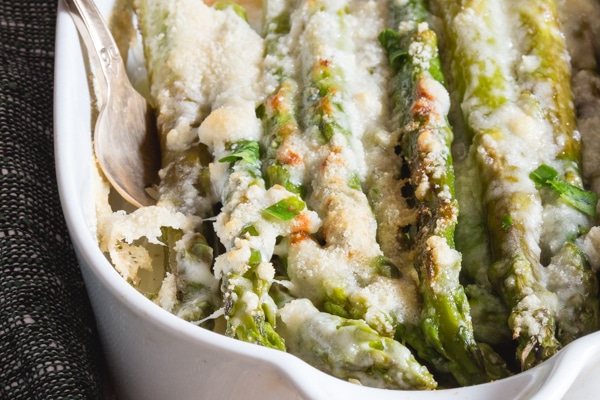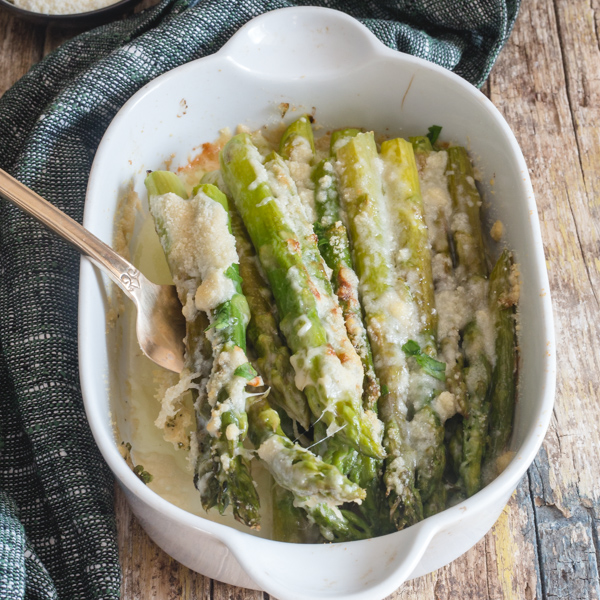 Oven Roasted Asparagus with Parmesan
This delicious and easy Oven Roasted Asparagus, made with a few simple ingredients makes this the perfect side dish to any meal.
Ingredients
22

stalks

fresh asparagus (cleaned)

3

tablespoons

butter (room temperature) divided

2-3

pinches

salt

1-2

dashes

black pepper

1/2

cup

freshly grated parmesan cheese (divided)

(50 grams)
Instructions
Pre-heat oven to 350F (180C).

Steam the fresh (cleaned)* asparagus for 3-5 minutes. Remove with a slotted spoon and pat dry.

Butter an 8x6 inch (20x15 cm) baking dish. Place half the steamed asparagus on the bottom of the baking dish, sprinkle with salt and pepper, add 1 tablespoon of butter dotted on top of the asparagus and sprinkle with half the parmesan cheese, repeat layer with remaining asparagus. Bake for approximately 8-10 minutes then broil (to brown the top) for about 2 minutes. Serve immediately.
*See blog post on how to clean asparagus.
Nutrition
Calories:
142
kcal
Carbohydrates:
3
g
Protein:
6
g
Fat:
11
g
Saturated Fat:
7
g
Cholesterol:
31
mg
Sodium:
470
mg
Potassium:
189
mg
Fiber:
1
g
Sugar:
1
g
Vitamin A:
1025
IU
Vitamin C:
5
mg
Calcium:
172
mg
Iron:
2
mg