Sauteed Chicory Greens, a fast and easy side dish. Cooked Greens sauteed in olive oil, garlic and a sprinkle of salt. 
Chicory Greens
Living in Italy I have discovered so many vegetables that I never imagined I would eat and others that I didn't even know existed.
And while in Canada I have been  in search for some of these vegetables,  I also found some new ones that I have never seen in Italy (just to let you know this is an updated post from June 25, 2014).
Now I can say that yes I can find sweet potatoes, beets and corn on the cob just to name a few.
Who would have thought that I would be craving black beans and not fudgee-o cookies! Although  chocolate cheese cake is another story.
What do Chicory Greens Taste like?
It has a bitter and spicy taste but mellows once cooked.
Chicory in Italian is called cicoria, which can be planted or is picked in the middle of patches of grass.
You really have to know what you are looking for because what you think may be chicory might not be, that being said,
my mother-in-law has been known to search for cicoria in the pouring rain, believe me there is nothing like wild chicory.
Although now she just sticks to planting her own, or she did, now her daughter has taken over.
More Greens that taste delicious Sauteed.
spinach
swiss chard
cabbage
Italians steam or boil the greens until tender then either sautee with olive oil, chopped garlic and a little salt or just toss without sauteing.
So if you ever come across these amazing greens  in your local market or farmer's market, pick up a bunch and sautee yourself some greens. Buon Appetito!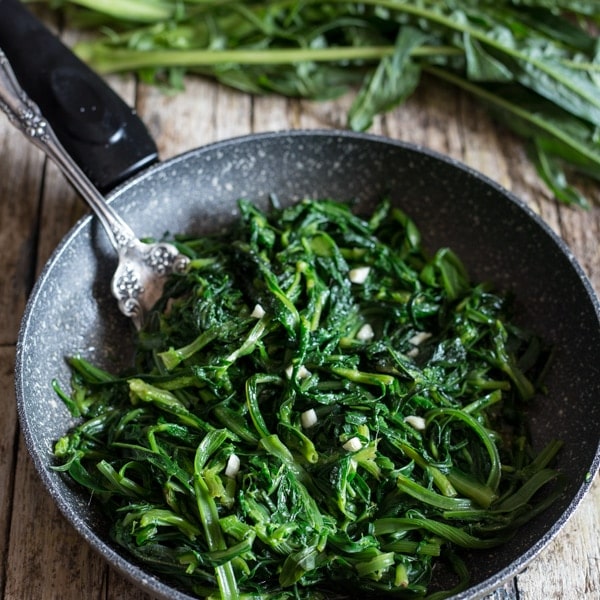 Sauteed Chicory Greens
A delicious way of making greens, sauteed chicory.
Ingredients
1

bunch

chicory

(1 pound /500-600 grams)

2-3

tablespoons

olive oil

(26-39 grams)

1-2

cloves

garlic chopped

1/2

teaspoon

salt

(2 1/2 grams)

pinch of hot pepper flakes

(if desired)
Instructions
Wash leaves and cut in half (or leave whole), cook in boiling water (unsalted) until tender but not mushy, drain well.

In medium frying pan add olive oil and garlic, then add the chicory, salt and hot pepper flakes, toss gently, heat 1 -2 minutes on medium heat. Serve immediately, with a squeeze of lemon if desired. Enjoy!
Nutrition
Calories:
109
kcal
Carbohydrates:
5
g
Protein:
1
g
Fat:
9
g
Saturated Fat:
1
g
Sodium:
421
mg
Potassium:
474
mg
Fiber:
4
g
Vitamin A:
3275
IU
Vitamin C:
10.1
mg
Calcium:
79
mg
Iron:
1.3
mg