Italian Chocolate Chip Bundt Cake, the addition of Ricotta Cheese makes this cake nice and moist and lots of chocolate chips makes it super Delicious.
Christmas is over and so is my 2 or 3 months of cookie baking, from Crescents to Thumbprints to even Mint Chocolates. Now it is time to move on.
Even though our Christmas tree is still up and will be until January 6th, when the last of the Italian Christmas Holidays is over.
I have now started to make some regular desserts. I also have to mention that the Italian is happy with the baking of Cakes, Simple Cakes, nothing overly frosted or filled, as he says.
He loves something homemade in the morning, or even in the afternoon.
I was going through an old Recipe Book that belonged to my friend's mother, which she let me borrow. And I found a great recipe for this Easy Chocolate Chip Bundt Cake with mini chocolate chips.
I have made another Cake kind of similar, also with Ricotta Cheese but a little more work. This one was actually so perfect for this house.
To put it mildly our house is on the cooler side and therefore whipping softened butter is pretty well out of the question during this time of year.
Unfortunately the butter never seems to soften. But in this recipe the butter is melted so I knew it would be perfect.
Chocolate Chip Bundt Cake
As with most Italian Cakes there is no buttery frostings or creamy glazes. Just the usual dusting with Icing sugar. I decided to dress it up a bit with a drizzling of dark melted chocolate.
And Please don't say "oh I can't eat this, I can't stand Ricotta Cheese". Well to tell the truth I'm not crazy about it either but for baking it is amazing.
And in this Italian Chocolate Chip Bundt Cake you don't even notice it.
And trust me it is the perfect addition to making a cake deliciously moist.
I used vanilla flavouring in this cake but my friend's mother used orange flavouring. So whichever you choose it really is delicious. The Perfect Chocolate Bundt Cake for breakfast, snack or even dessert.
Exactly what Italian Cakes are made for. Enjoy!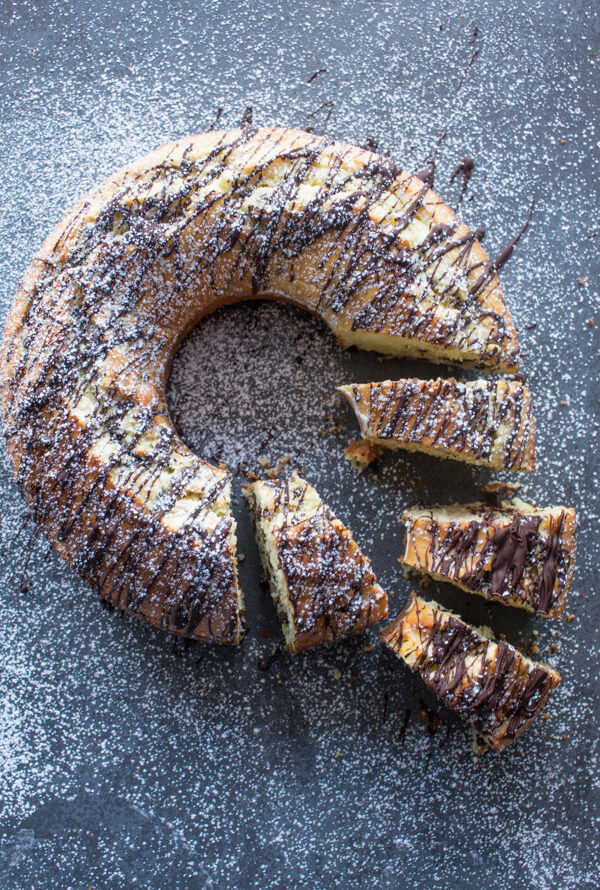 Italian Chocolate Chip Bundt Cake
Italian Chocolate Chip Bundt Cake, an easy made from scratch moist cake recipe. The perfect breakfast, snack or dessert cake.
Ingredients
2

cups

flour

250 grams

1

cup

ricotta cheese

250 grams

3/4

cup

+ 1 tablespoon dark mini chocolate chips

150 grams

1/4

cup

butter melted

60 grams

3

eggs (large)

3/4

cup

sugar (granulated)

170 grams

2

teaspoons

baking powder

14 grams

1

teaspoon

vanilla

4.2 grams

icing sugar/powdered sugar for dusting

melted dark chocolate for drizzling

1/4

teaspoon

salt
Instructions
Pre-heat oven to 350° (180° celsius). Grease and flour a 9 inch (22 centimeter) bundt pan.

In a medium bowl whisk together flour, baking powder and salt.

In a medium mixing bowl beat together melted butter, sugar and eggs for one minute. Add ricotta cheese, flour mixture and vanilla and beat for one minute. Fold in chocolate chips.

Spoon batter (which will be thick) into prepared cake pan and bake for approximately 30-35 minutes. Let cool, remove from pan, drizzle with chocolate and or dust with icing sugar/powdered sugar if desired. Enjoy!
Nutrition