Italian Eggplant Ricotta Bake, a creamy delicious Italian Oven Baked dish, filled with a perfectly spiced sautéed eggplant and a Ricotta topping. The perfect side dish.
Italian Eggplant Ricotta Bake
I guess you can't get more Italian than eggplants and ricotta cheese. This easy, simple Italian Eggplant Ricotta Bake is a perfect summertime comfort food. Because sometimes we do need some summertime comfort.
Before I came to Italy I rarely ate eggplant and I never ate ricotta cheese, that is until I arrived at my mother-in-law's table. I must admit though that I still don't eat ricotta cheese on its own.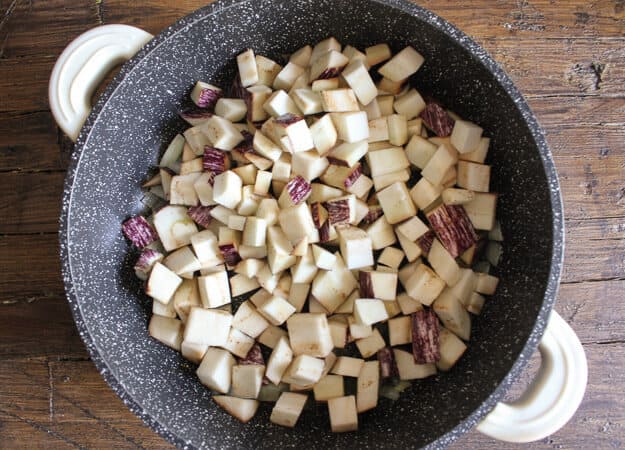 Ask my father-in-law what his favourite pasta is and without a doubt he will respond "a little pasta tossed with a lot of ricotta cheese". Of course it will have to be spaghetti, none of that short pasta for him! Haha at least we agree on one thing!
So needless to say I rarely cook with ricotta. I make the occasional Ricotta and Spinach Stuffed Pasta Shells and a tasty Ricotta and Chocolate Chip Cake recipe that I was lucky enough to get from a friend's mother. But bake Eggplant and Ricotta as in casserole, nope never, until now.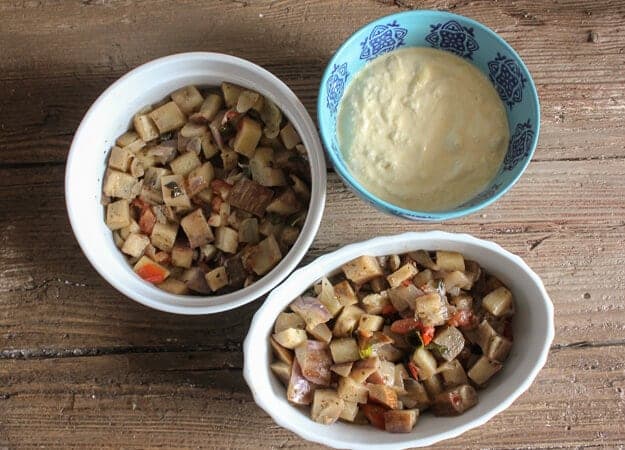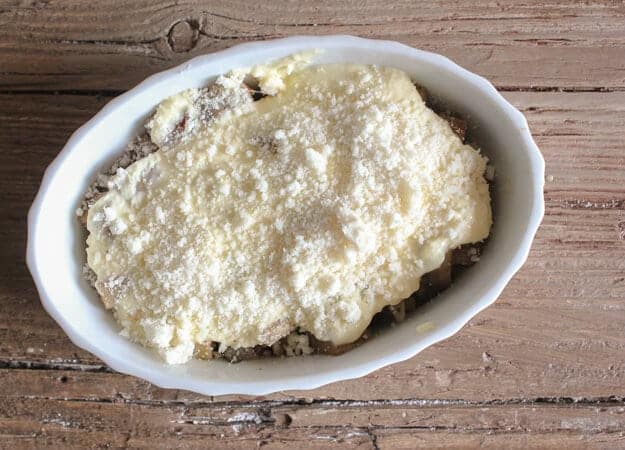 Ricotta cheese is quite the amazing cheese, it doesn't become watery, it doesn't become stretchy, which can be a little embarrassing at times to eat!
It just becomes the perfect sort of soft, golden and a little bit crunchy, just the right cheesy topping.
Italian Eggplant Ricotta Bake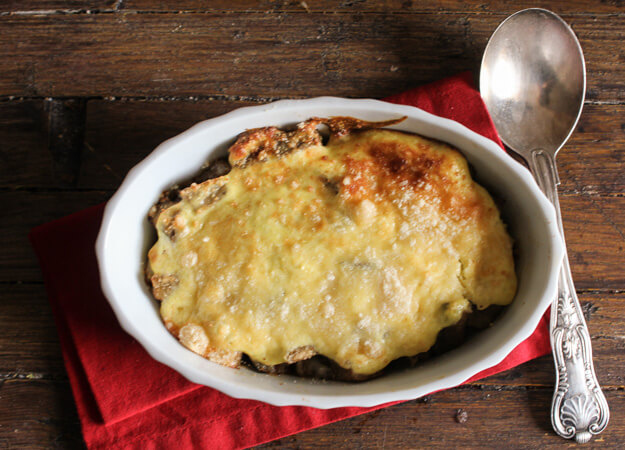 Even my youngest daughter who is a real picky eater, had two helpings of this Eggplant Ricotta Bake. Needless to say the Italian loved it. Like father like son I guess. Buon Appetito!
Italian Eggplant Ricotta Bake
Italian Eggplant Ricotta Bake the perfect summertime baked dish, a delicious vegetarian casserole. Easy, yummy and gluten free.
Ingredients
FILLING
3

tablespoons

olive oil

(45 grams)

1

small onion diced

1

clove

garlic minced

1

large eggplant diced

(or 2 medium)

1

large tomato seeded and diced

1

teaspoon

oregano

1/4

teaspoon

salt

4

leaves

fresh basil chopped

1

pinch

thyme

1-2

pinches

hot pepper flakes if desired

1/4

cup

water

(60 grams)

TOPPING

1/2

cup

ricotta

(125 grams)

1

egg

1/4

cup

freshly grated Parmesan Cheese

(25 grams)
Instructions
In a medium bowl toss together diced eggplant and 1/2 teaspoon salt let sit for approximately 20 minutes, drain but do not rinse. 
FILLING
In a large frying pan on medium heat add oil, onion and garlic, cook until transparent approximately 5 minutes, add drained eggplant and water cook until soft, approximately 5 minutes.

Add chopped tomatoes, oregano, salt, basil, thyme & hot pepper flakes if using lower heat and simmer half covered for approximately 20-30 minutes until almost all the water has evaporated. Pre-heat oven to 350° (180° celsius), lightly grease 2 small baking dishes or 1 medium.
TOPPING
In a small bowl mix together ricotta cheese and egg.

Place filling in baking dish and top with ricotta cheese topping and sprinkle with Parmesan cheese. Bake for approximately 20 minutes or until ricotta cheese is soft and golden. Enjoy!
Nutrition