It's Mother's day and I was feeling a little sad. My eldest daughter is in Canada studying for her 3rd and final year and I miss her.
I miss our early morning chats before she runs off to school, I miss our hours-long chats, I miss her being the only one who catches my jokes, and us laughing so hard we have tears running down our faces, (and her father and sister just shaking their heads because they think for sure this time we have totally lost it), I miss watching (well, her watching since I would fall asleep, and no, it has nothing to do with age!) Vampire Diaries.
I basically miss everything about her, but I will be seeing her soon, and I cannot wait. My daughter graduates.
So now you are asking what does this have to do with stuffed pasta shells, well a few things really, since it's  Mother's Day, I thought I could use a pick-me-up-dish, so what better than something delicious and comforting? Plus my daughter loves ricotta.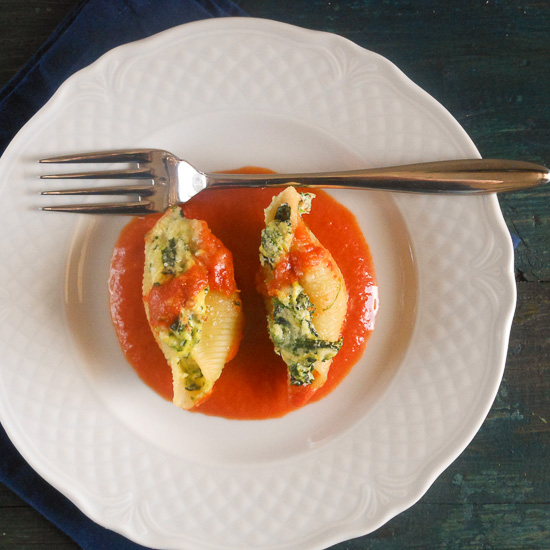 This pasta dish is full of ricotta cheese. And the  pasta combined with this to-die-for sauce makes me ask myself, what could be better than this? Oh yes! sharing it with my daughter,  soon!
Next big question is what am I going to do when daughter number 2 decides she is flying the coup? Woe is me. Well there is always Ricky to keep me company and pasta. Buon Appetito!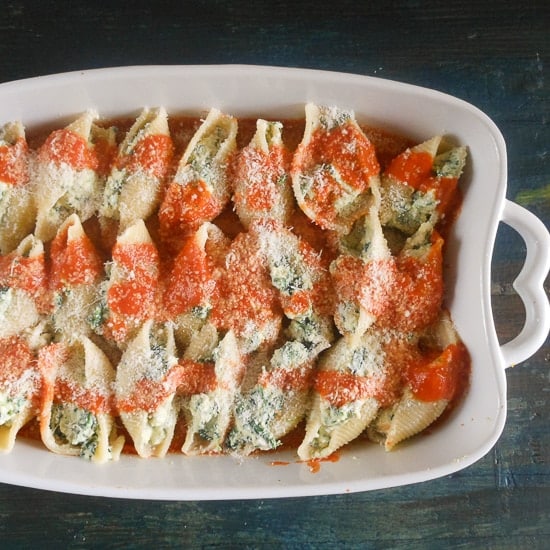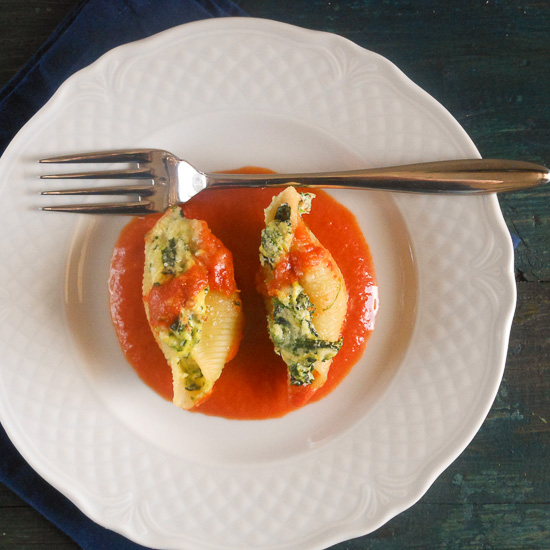 Stuffed pasta shells
You will probably have sauce left over and it is delicious even with ordinary pasta.
Ingredients
1

cup

ricotta (if ricotta is really watery

drain in sieve for an hour), 250 grams

4 1/2

cups

fresh spinach

150 grams, before cooked

1/4

cup

+ 2 tablespoons freshly grated parmesan cheese

, 40 grams

2

tablespoons

freshly grated parmesan cheese for topping

10 grams

1

egg

pinch of salt

pinch of nutmeg

24

large pasta shells

FOR THE SAUCE

2 1/2

cups

tomato puree (passata)

680 gram bottle

1/2

in

onion cut half

1

carrot quartered

2

tablespoons

olive oil

26 grams

1/2

teaspoon

salt

2 1/2 grams

2-3

leaves

fresh basil

1 1/2

cups

water

345 grams

1/4

cup

whole cream

60 grams
Instructions
Pre-heat oven to 350° (180° celsius)

Start the sauce first, in a medium pot add olive oil, tomato puree, onion, carrot, water, salt and basil leaves (cut in half), stir and cook on medium heat, half covered till thickened, for approximately 30 minutes, stirring occasionally, once thickened add the cream, stir to combine and cook for about 1 minute, turn off heat.

Cook pasta shells in boiling salted water till al dente. Drain and set aside.

While sauce is cooking, in boiling salted water (1 inch of water (2 1/2 centimeters) cook spinach till very tender, drain, and let cool, once the spinach is cool, squeeze out excess moisture, then finely chop the spinach. Place cut spinach in a medium size bowl, add ricotta, egg, pinch of salt and nutmeg and then the parmesan cheese, mix gently together.

In a medium size baking pan spread 1 1/2 to 2 ladles of sauce on the bottom, fill shells with ricotta mixture (I used about a heaping teaspoon and a bit per shell) and place in pan,( the mixture fills 24 shells and they fit perfectly in the pan, I used a an 11x7 " (28x18 cent.)). Top the shells with sauce, but don't cover completely, then sprinkle with the 2 tablespoons of parmesan cheese (or more or less, how desired), bake in pre-heated oven for 20 minutes. Serve immediately and Enjoy!