Italian Breaded Eggplant, a fast and easy Italian appetizer. Nothing like sliced eggplant in a delicious Parmesan and bread crumb coating. The perfect side dish to any meal.
Breaded Eggplant
Finally after all the Zucchini we are finally getting some eggplant. After I become bombarded with a certain vegetable and we all get darn sick of it, the next one that arrives all of a sudden becomes my new favourite.
So now it is eggplant's turn to shine. And shine it does. From Eggplant Parmesan to a delicious Italian Eggplant Ricotta Bake  to this simple Italian Breaded Eggplant.
It has always amazed me what an Italian can do with just a few ingredients to turn any dish into something incredibly delicious. Especially my mother-in-law!
When she needed to do a fast dish, not only was it quick and simple but absolutely delicious. She loved eggplant and some of her best dishes were made with this vegetable.
For example she would slice the eggplant (let it sit in a little salt for about 20 minutes), fry it in a little oil, garlic, oregano and a pinch or two of hot pepper flakes, and there you have a tasty vegetable side dish,  pretty good for an easy dish!
When she wanted to make it a little more than just a vegetable side dish, a perfect light main dish,  she would add two or three eggs. When the eggplant was almost cooked she would scramble it all together. One of my husband's favourites.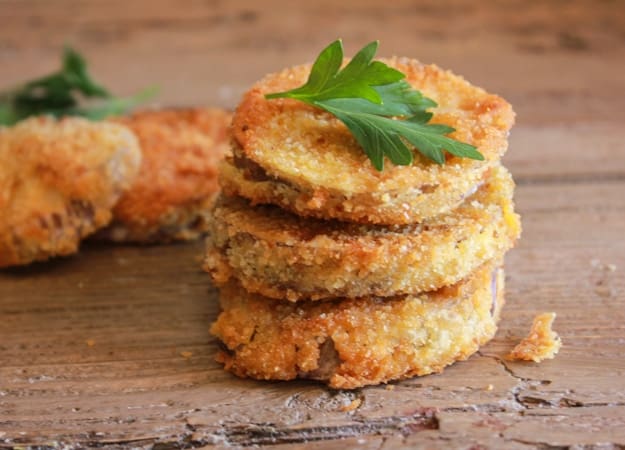 But once in a while you have to make this delicious breaded eggplant. Fast and easy. A delicious side dish. I know , I know, but they are fried!
More Eggplant Recipes
Easy Double Cheese Grilled Tomato Eggplant Stacks
Tomato Eggplant & Sausage Pasta
Not deep-fried mind you, we'll say lightly fried. As the Italian says if you are going to eat them, you might as well eat them right. Buon Appetito!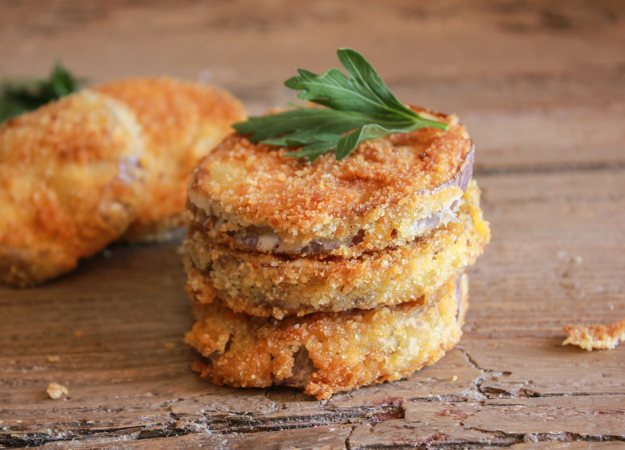 Italian Breaded Eggplant
Italian Breaded Eggplant, an easy and so delicious side dish or appetizer, sliced eggplant lightly fried in a yummy Parmesan breadcrumb mix.
Ingredients
2-3

round or long eggplant (young and firm), slice into 1/4 inch more less thick, (no need to peel)

1

teaspoon

salt

5.64 grams

2/3

cup

bread crumbs

60 grams

1 1/2

tablespoons

freshly grated Parmesan cheese

7 1/2 grams

2/3

cup

flour

80 grams

2

eggs

1/4

cup

vegetable oil for frying

50 grams
Instructions
Place sliced eggplant in a large bowl and toss with salt, let sit for 20 minutes. Then drain, but do not rinse.

In a small plate mix bread crumbs and parmesan cheese, in another plate beat eggs well, in a third plate add flour.

Dip slices of eggplant first in flour, then egg, then coat well with breadcrumb mixture.

Fry in hot oil a couple of minutes on each side until golden. Drain on a paper towel lined plate. Serve. (sprinkle with additional salt if desired). Enjoy!
Nutrition
Calories:
326
kcal
Carbohydrates:
32
g
Protein:
7
g
Fat:
19
g
Saturated Fat:
13
g
Cholesterol:
101
mg
Sodium:
258
mg
Potassium:
587
mg
Fiber:
7
g
Sugar:
9
g
Vitamin A:
230
IU
Vitamin C:
5
mg
Calcium:
98
mg
Iron:
2
mg