Easy Double Cheese Grilled Tomato Eggplant Stacks, mile high Eggplant Stacks filled with grilled tomatoes, Fontal, Gruyere or Mozzarella Cheese and of course freshly grated Parmesan Cheese and of course some fresh herbs. The perfect summertime meal.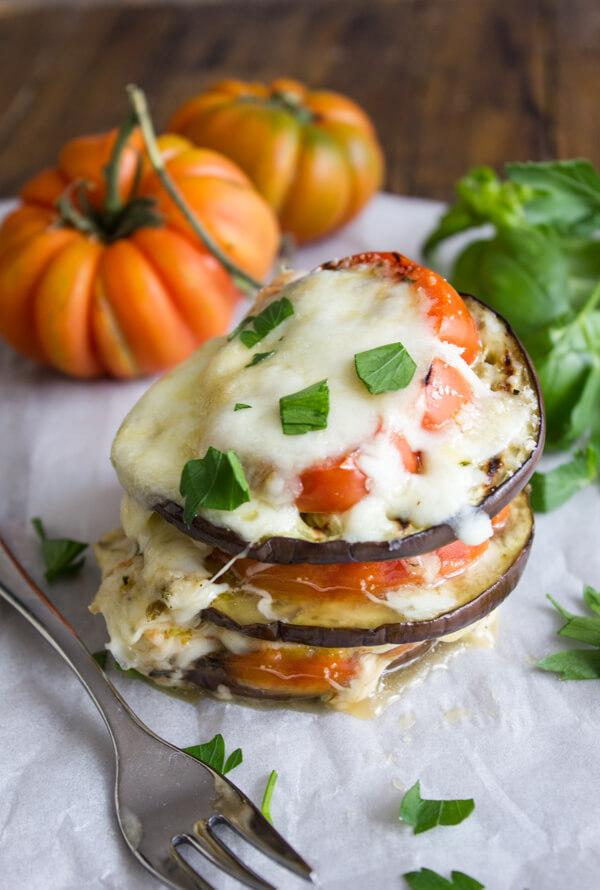 Who doesn't love the summer if it is only for the thought of eating and making all those delicious Tomato Recipes. And I know there are some of you who eat them right off the vine, my sister included. It always amazed me that she could eat a tomato like an apple.
The last couple of months we have shared our love for Salad,  Chocolate and Coffee . This month as we head into the middle of Summer and all that heat there can't be anything better than tomatoes.
Whether eaten fresh, baked or made into a Sauce.
For my tomato recipe I decided to include one of my favourite vegetables, Eggplant. I have been buying an absurd amount of eggplants this year.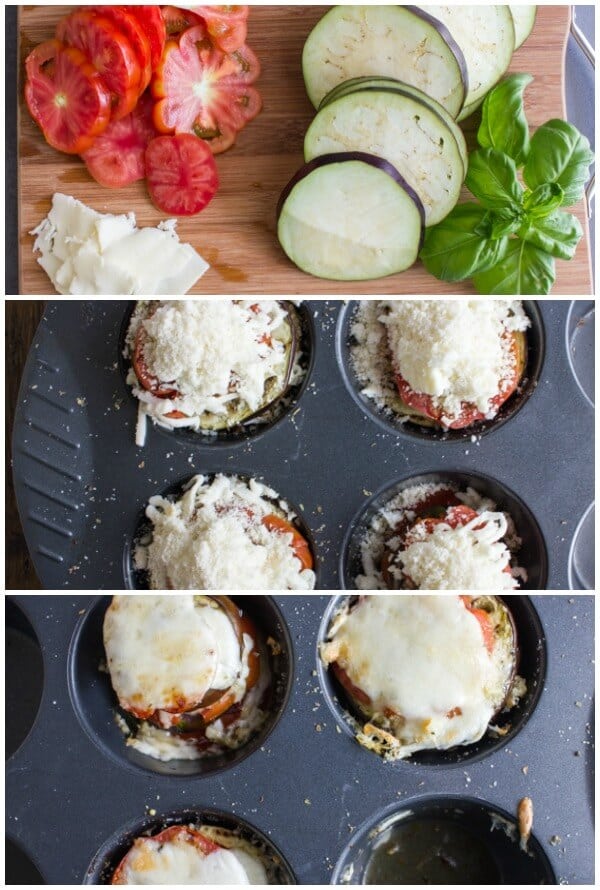 Last summer I was throwing Zucchini recipes at you. Well since the Italian and I have not done very much with our garden this year, except for planting an over abundance of tomatoes and lettuce, I have been stocking up at your weekly farmer's market. 
I love Eggplant, from Grilling to Baking to even Breaded. The other day a friend of ours was talking about how his mother would make Eggplant Parmesan, the old-fashioned way. Not the grilled or baked way, the Real Way, as he says.
Breaded, fried and loaded with cheese and sauce. Sounds good to me!
But back to my Eggplant Stacks, this time I grilled round slices of eggplant and nice firm ripe tomatoes. I have a made these a few times.
After the first time I decided a large muffin tin would be perfect for holding the stacks in place and in shape.
Easy Double Cheese Grilled Tomato Eggplant Stacks

I lightly greased the pan and starting with a grilled slice of eggplant a little sprinkle of oregano and salt, then I added a slice of grilled tomato, this time I sprinkled a little basil and Freshly Grated Parmesan Cheese.
I then topped it with a slice of  Fontal Cheese, although you could substitute it with either Gruyere or firm Mozzarella. I repeated this for 3 levels.
The Eggplant Stacks were baked in a pre-heated oven for about 5 minutes and then broiled for another 2 to 3 minutes. Cheesy and delicious. Fast, easy and perfect for the hot summer evening dinners or a  delicious side dish for your week-end BBQ. Buon Appetito!
Easy Double Cheese Grilled Eggplant Stacks
An easy healthy grilled Eggplant and Tomato Recipe. Baked Eggplant Stacks made with Parmesan and Mozzarella, the perfect dinner meal.
Ingredients
1

round eggplant thinly sliced and grilled

3-4

ripe firm tomatoes sliced and grilled

10-15

thin slices of Fontal, Gruyere Cheese or Firm Mozzarella

1/4

cup

freshly grated Parmesan Cheese

1/2

teaspoon

basil

1/2

teaspoon

oregano

1

teaspoon

salt

olive oil

leaves

fresh basil
Instructions
Pre-heat oven to 350°. Grease a 6 large size muffin tin. (I made 4 eggplant stacks)

Slice eggplant and toss with one teaspoon of salt for 20 minutes, drain and grill.

Starting with the grilled eggplant, top with a sprinkle of oregano, then top with one slice grilled tomato, sprinkle of basil Parmesan Cheese, cheese slice, repeat, the last level add sliced cheese and then sprinkle with Parmesan Cheese and drizzle with a little olive oil. Bake for approximately 5 minutes and broil for 2-3 minutes. Serve immediately with chopped fresh basil. Enjoy!
Nutrition