Mediterranean Rice Salad Bowl, is a simple, Easy Rice Salad that is perfect for a Picnic, Summer Weeknight Meal or even a BBQ get together. Artichokes, olives, corn and tuna makes this a tasty cold rice salad recipe.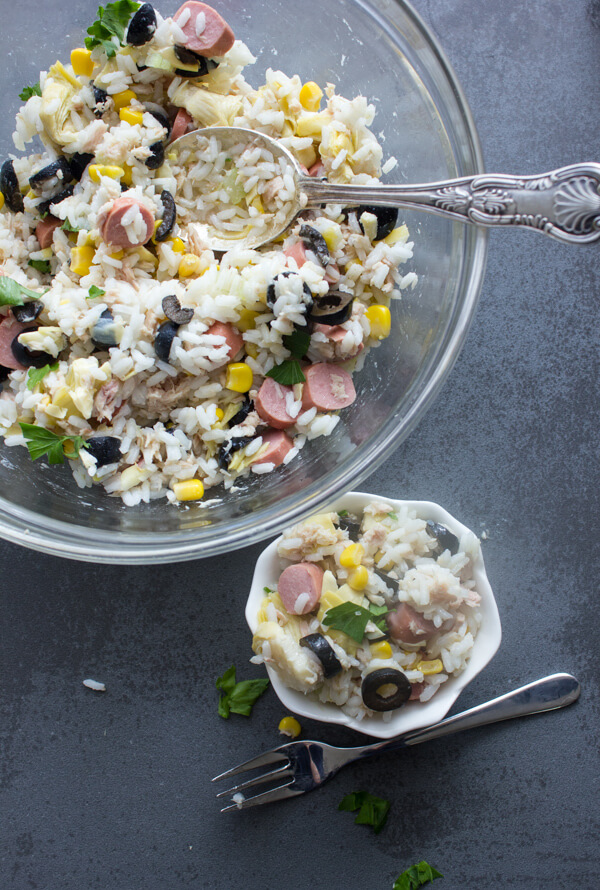 For the month of June our little group of 4 amazing bloggers are sharing recipes which are perfect for the next few hot and humid days of Summer! Yes we are sharing our favourite keep your cool Cold Salads. The last couple of months we have shared our love for  Chocolate and Coffee .
During the hot summer months who the heck wants to turn on the oven or even eat something hot? I love making simple cold salads. Whether it is a Cold Pasta Salad or this delicious and Simple Cold Rice Salad.
Whenever there is a get-together here in Italy,  someone is bound to make a Rice Salad. Depending on who makes it, it always has a different yummy taste. Some people prefer making it with only vegetables, some add tuna, and some add tomatoes.
To tell the truth I never put tomatoes in my Mediterranean Rice Salad Bowl. I love the flavour combination of the tuna, artichokes, olives, corn and sliced mini hot dogs. Mix in some fresh basil and parsley, a little olive oil and this is the perfect Picnic, or BBQ side dish.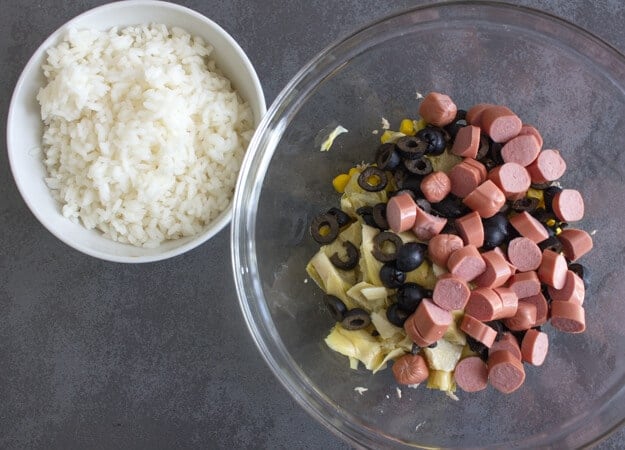 The first time I tried this dish I was at a family birthday party. My sister-in-law served it with mayonnaise mixed in and I think she left out the corn. We really like corn in salads so I decided to throw some of that in too!
Personally I really like it with the addition of a little mayo, but the Italian and my kids do not. Plain with olive oil is what they want. So mayo on the side is how I serve it. Try it both ways and see what you prefer.
 Mediterranean Rice Salad Bowl
I also have a trick on making the best rice, cook it like pasta. Meaning boil a big pot of water, add some salt and then toss in the rice and cook it al dente, drain well and serve. Works every time, whether you are making this  Mediterranean Rice Salad Bowl, a stir fry or even a skillet of Lazy Cabbage Rolls. Buon Appetito!
Mediterranean Rice Salad Bowl
Mediterranean Rice Salad Bowl is a simple, fast cold Italian summer salad recipe. Full of veggies, tuna and fresh herbs. Healthy & Delicious.
Ingredients
1 1/4

cups

dry Rice

230 grams

1

can tuna drained

(3 - 4 ounces / 85 - 115 grams

1

small jar artichokes under oil

drained and sliced

15-20

black olives sliced

4-5

mini hot dogs sliced

1

small can sweet corn

drained and rinse(approximately 2/3 cup or 140 grams

2-3

tablespoons

chopped fresh basil and Italian parsley to taste

1/2 - 3/4

teaspoon

oregano

1/2 - 3/4 gram

1/4

teaspoon

salt or to taste

1.4 grams

2-3

tablespoons

olive oil

26 - 39 grams

mayonnaise

if desired
Instructions
In a large pot of boiling salted water cook rice al dente. Drain and rinse under cold water. Set aside.

In a large bowl gently mix together tuna,artichokes, olives, hot dogs, corn chopped basil and parsley, oregano and salt. Gently fold in rice and olive oil. Refrigerate for 2 hours and serve. Serve mayonnaise on the side. Enjoy!
Nutrition
Welcome to this month's Taste Creations Blog Hop where we will be sharing our Summer Salad Recipes!  The Taste Creations Blog Hop happens on the 1st Monday of Every Month! Every month, myself and 3 other bloggers challenge ourselves to make something with a chosen ingredient. Hope you will check out these recipes too. And Happy Summer Everyone.
Mom Home Guide –   Basil Watermelon Feta Strawberry Salad
Our Good Life –  Garden Bowl Salad Creations