Parmesan Crusted Burgers with Grilled Onions and Tomatoes, a delicious burger coated in freshly grated Parmesan cheese and cooked to perfection. Top it with these amazing grilled veggies and it becomes one of the best Summer Burgers. Try it!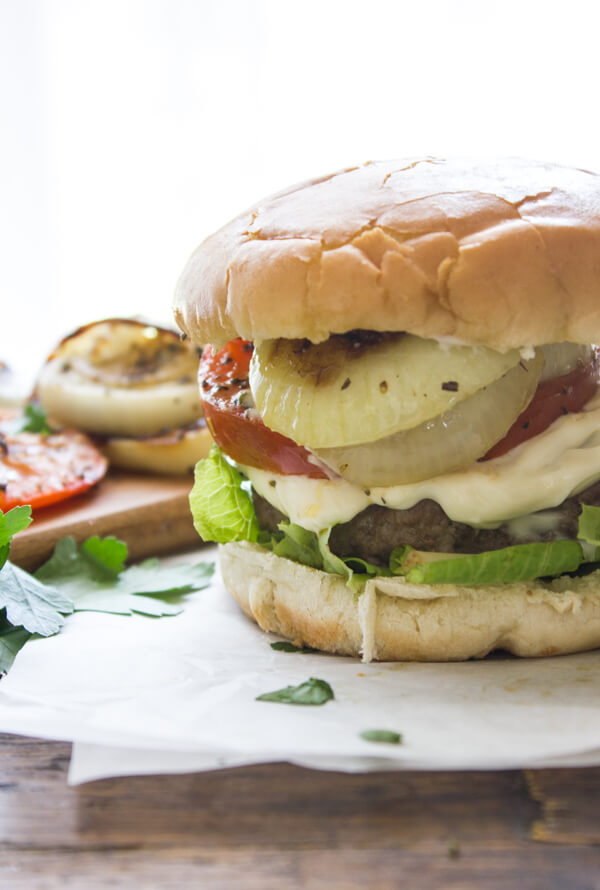 As we head into one of the busiest weekends in the year, Canada Day and the 4th of July I decided why not share one of the tastiest burgers I have ever made. Burgers are the best Summer foods.
We are not the fast-food-joint-going-family,  so needless to say when we get the urge for a Burger, it's homemade for us. I can't say I mind, because to tell the truth I would rather have a big juicy meaty hamburger then one that looks like someone sat on it.
I have made a few burgers in my time, from Salmon Burger to a Tuna Burger and A Veggie Burger to an Italian Stuffed Burger but now …..
I present my Parmesan Crusted Burgers with Grilled Onions and Tomatoes. Sometimes what I love most about a really good burger is the stuff you can put on it. I'm talking about some fresh tomato or onion slices and some lettuce leaves.
So I thought why not do the next best thing and grill those slices. If you have never grilled an onion or a tomato before, you must trust me it is amazing.
Parmesan Crusted Burgers with Grilled Onions and Tomatoes
Unlike Grilled Zucchini or Eggplant I drizzle some olive oil and sprinkle some basil and oregano on the onion and tomato while they are on the grill. Flip them over and drizzle and sprinkle some more.
While you are grilling your onion and tomato slices, cook up your Parmesan Crusted Burgers. And if you really want an even better burger, why not toast the Hamburger Buns on the grill too.
Put it all together and then have yourself a Wonderful Holiday Weekend. And if you are looking for a Dessert these Patriotic Fruit Tarts would be perfect. Have a good one, Buon Appetito!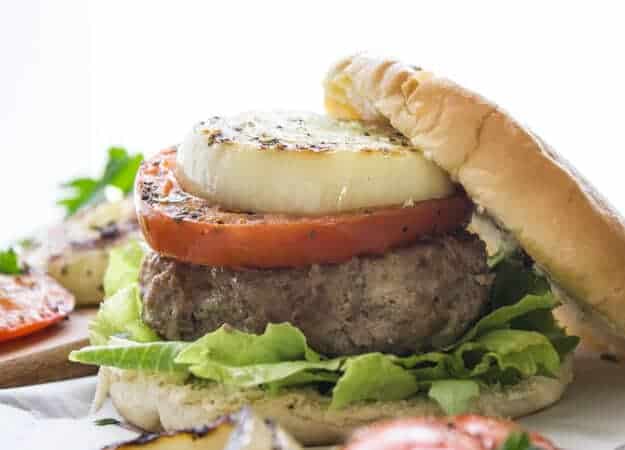 Parmesan Crusted Burgers with Grilled Onions and Tomatoes
Parmesan Crusted Burgers with Grilled Onions and Tomatoes, your next burger just got amazing, delicious juicy patties and grilled veggies.
Ingredients
BURGERS
1

pound

lean ground beef

500 grams

1

egg

8

tablespoons

freshly grated parmesan cheese divided

40 grams

3-4

sprigs freshly chopped Italian parsley

salt and pepper to taste
GRILLED VEGGIES
1

onion sliced

1

large firm ripe tomato sliced

oregano

basil

salt
Instructions
BURGERS
In a medium bowl combine ground beef, egg, 3 tablespoons parmesan cheese (15 grams), chopped parsley, salt and pepper, and form into 4 patties.

In a small dish add 5 tablespoons parmesan cheese (25 grams), and coat patties one at a time.

In a medium frying pan add 1 tablespoon olive oil heat and then add patties and cook until no long pink and browned.
GRILLED VEGGIES
On either an indoor pan grill or BBQ grill place tomato and onion slices, drizzle tomato slices with olive oil and sprinkle with salt, oregano and basil, do the same with the onions except no basil. Flip them over and repeat. Grill until cooked. (the onion slices will take longer than the tomatoes to cook). If you want place open hamburger buns on the grill to toast.

On every bun place a beef patty, a slice of tomato, onion, some lettuce and mayonnaise or even an extra slice of parmesan cheese if desired. Enjoy!
Nutrition
Calories:
226
kcal
Carbohydrates:
4
g
Protein:
29
g
Fat:
9
g
Saturated Fat:
4
g
Cholesterol:
118
mg
Sodium:
253
mg
Potassium:
529
mg
Sugar:
2
g
Vitamin A:
395
IU
Vitamin C:
6.3
mg
Calcium:
144
mg
Iron:
3.1
mg