Pizza Topped Skillet Hamburger Pie, a delicious ground beef and veggie filling topped with a cheesy pinwheel pizza. The perfect any day of the week dinner recipe.
Pizza Topped Skillet Hamburger Pie
has become one of our favourite easy dinner meals, full of delicious veggies and a sprinkle of hot pepper flakes that gives it a little kick.
Sometimes I like to go back to my childhood in Canada and remake some of the good stuff that I loved when I was a kid.
One of my all time favourites was Sloppy Joe. I am the youngest of 4 girls, I was what you would call a surprise, my two oldest sisters are 12 and 10 1/2 years older than I am.
Skillet Hamburger Pie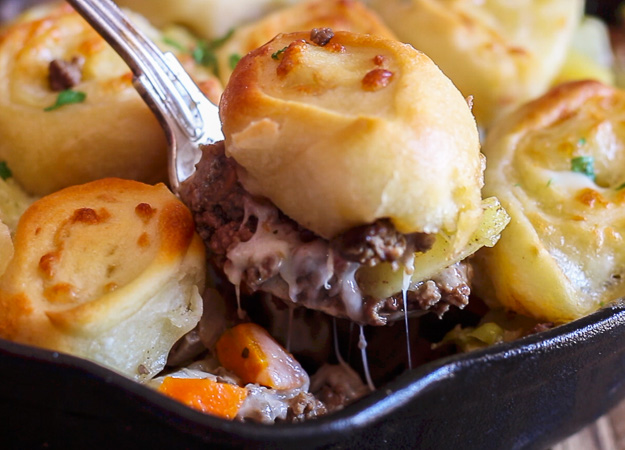 When I was about 8 my Mom decided to go back to work part-time and left my 7 years older than me sister in charge of feeding me and my Dad.
So what did we choose? Thursday night became Sloppy Joe and Whip and Chill dinner and dessert, yes every single Thursday! We loved it.
As it turned out,  years later when we were all sitting around the table laughing and talking about "those days", my sister and I started remembering our omg-didn't-you-just-love-Thursday-night-dinner?
Well we did but our Dad did not! That wonderful man kept us happy for years eating our favourite dinner and dessert as he probably thought about my Mom's cooking.
So every now and then I have this desire for a sloppy Sloppy Joe Burger.
I think it's the comfort food time of the year that brings it on, I also get the urge for a delicious casserole or pot pie.
Delicious Casseroles you may enjoy!
Easy Creamy Tuna Noodle Casserole
Italian Easter Bread Breakfast Casserole
Creamy Broccoli Potato Casserole
Baked Gnocchi Double Cheese Tomato Sauce
Creamy Broccoli Bacon Casserole
The Italian isn't big on doughy toppings so I thought I could spruce up the ground beef with veggies, some tomato puree and remembering my Pizza Pinwheels I thought that would make an amazing topping.
But instead of using Parmesan cheese I would give it more of a Pizza topping and use a firm mozzarella.
Yup it was really good and cheesy, and if you really like cheese, then just add some shredded before you add the pinwheels. Buon Appetito!
Pizza Topped Skillet Hamburger Pie
Pizza Topped Skillet Hamburger Pie, a delicious one pot, comfort food recipe, the perfect dinner recipe for the whole family.
Follow me on Youtube!
Watch the videos and don't forget to subscribe on Youtube!
Ingredients
GROUND BEEF FILLING
1 1/2

pounds

ground beef

2

tablespoons

olive oil

1

onion chopped

2

carrots

chopped

2

large

potatoes chopped

1

cup

peas

1/2

cup

tomato puree

1/2

bouillon cube

(vegetable)

3/4

cup

water

1

clove

garlic chopped

1/2

teaspoon

oregano

1/2

teaspoon

basil

1/4 - 1/2

teaspoon

salt

hot pepper flakes if desired
PIZZA PINWHEEL TOPPING
1

pre-made pizza dough

1 1/2

cups

shredded firm mozzarella
Instructions
GROUND BEEF FILLING
In a 10 inch cast iron pan add olive oil, ground beef, garlic and onion, mix to combine, brown over medium heat then add carrots, potatoes, peas, bouillon cube, puree, spices and water.

Heat to boiling, then cover and simmer until vegetables are tender and liquid has evaporated, approximately 30-45 minutes ** (leave just a very small amount of liquid).

Pour into a lightly oiled medium size casserole dish, top with pizza pinwheels, brush them with a little olive oil and bake in a pre-heated 425° oven for approximately 15 minutes. Enjoy!
PIZZA PINWHEEL TOPPING
Roll out pizza crust, top with shredded mozzarella cheese and roll up from the short end. Thinly slice approximately 17 or 18 slices.

** If needed remove cover and raise the heat if the veggies are tender but there is still too much liquid.
Nutrition
Calories:
363
kcal
|
Carbohydrates:
23
g
|
Protein:
19
g
|
Fat:
21
g
|
Saturated Fat:
8
g
|
Cholesterol:
61
mg
|
Sodium:
497
mg
|
Potassium:
297
mg
|
Fiber:
1
g
|
Sugar:
3
g
|
Vitamin A:
1510
IU
|
Vitamin C:
3.9
mg
|
Calcium:
107
mg
|
Iron:
2.9
mg