Homemade Potato Chips, fast, easy, and baked! Healthy, crunchy Baked Potato Chips made in the oven and seasoned with rosemary and white pepper. The perfect snack or side dish, everyone is going to love these.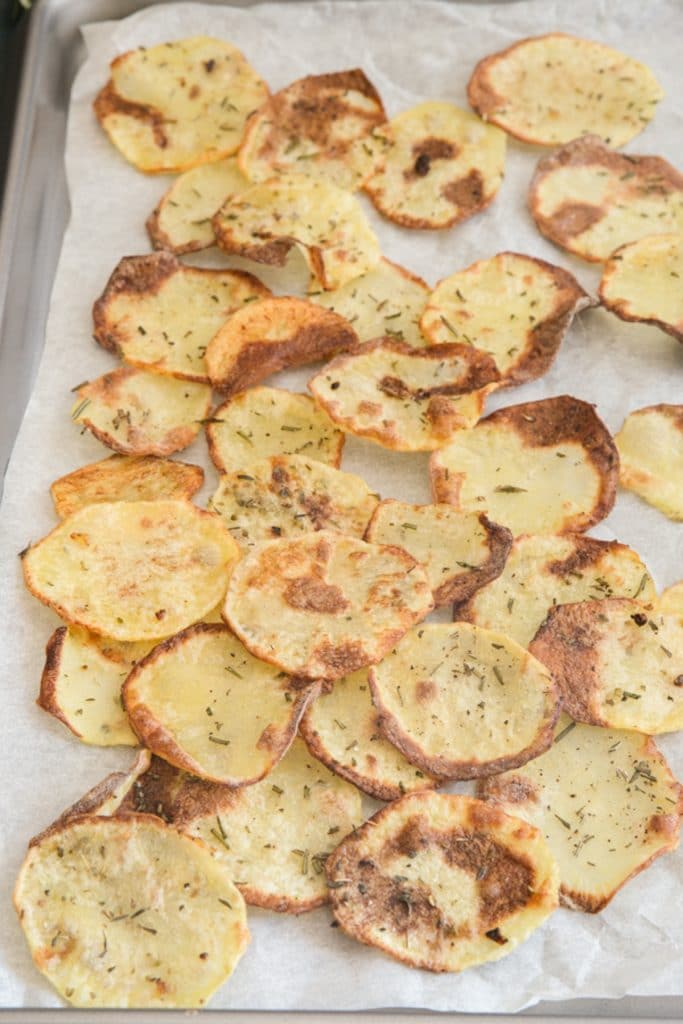 The big question of the day is do you prefer sweet or salty? As I always respond "Depends on my mood". This week my mood has been salty. My kids and husband aren't big potato chip lovers so thank goodness I rarely have a bag in the house.
I started making these easy Homemade Oven Baked Potato Chips from some leftover potato slices I had from another recipe I have been working on and I'm so glad I did. These baked chips are crunchy and not at all greasy like fried chips.
They're also versatile and can be seasoned with many different flavors but, for me, there is nothing better than rosemary. The perfect match.
Recipe Ingredients
Potatoes – for this recipe russet potatoes or Yukon Golds work very well.
Olive oil
White pepper – this is less strong than black pepper and I like that you can't see it when you add it to the chips.
Salt
Chopped fresh rosemary – you can use dried if you prefer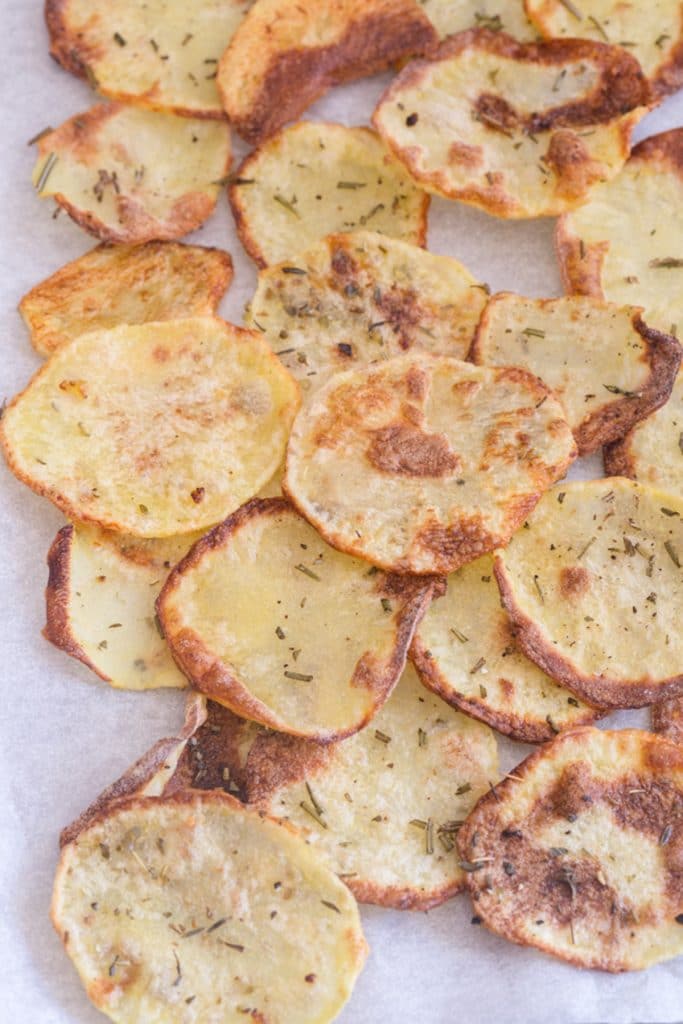 How to Make Crispy Potato Chips in the Oven
To make this recipe, I sliced the potatoes really thin almost transparent. There are several ways you can do this:
You can use a very sharp knife to thinly slice them. It can be difficult to get even slices this way.
I've used by stand-up cheese grater to make very thin slices and it works well, but does take some time.
If you have a food processor, you can use the slicing blade to slice the potatoes. It works fast, but they slices may be uneven.
I think the easiest way is to use a mandolin. It's fast and makes really thin slices.
Once you have your sliced potatoes, you will need to soak them in cold water for 20 to 30 minutes. This is the key to getting crispy chips. Soaking removes the excess starch. If you skip this step, your chips will have that sticky feeling, I don't like that and I'm sure you won't either.
After they have soaked you will want to dry them really well. This is also important because any excess moisture will make it hard for the chips to crisp up in the oven. You can lay them in an even layer on a towel and then cover them with another towel. Lightly press to remove the moisture.
Then all you have to do is place them on a lightly greased parchment paper-lined cookie sheet. Brush or spritz the slices with some olive oil,  sprinkle with a little salt to taste, a sprinkle or two of white pepper, and some freshly chopped rosemary.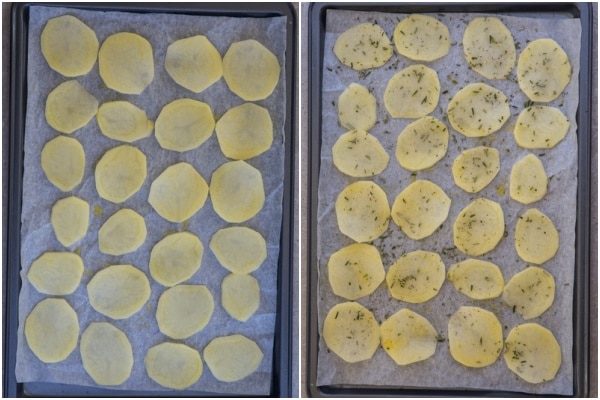 Bake the potato chips for 15 to 20 minutes at 400°F (200°F). Be sure to keep an eye on them because after about 10 minutes they can start to brown quickly. If some are cooking quicker, take them off the pan and continue baking the others.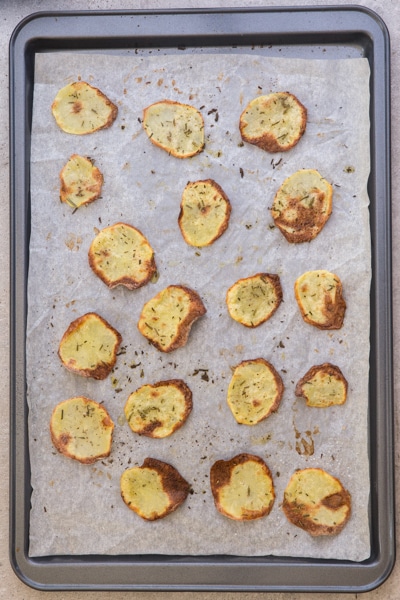 Once they are done, cool them on a wire rack, this helps prevent them being soggy, and then enjoy! I love them plain, but you can also serve them with dips.
Recipe Tips
The best potatoes to use in this recipe are either Russet or Yukon gold. 
These chips are best enjoyed once they are cooled. You can store them in an airtight container, but they will soften.
Try different herbs and seasonings like parsley, thyme, or sprinkle your favorite dry herbs or seasonings over the top before you bake them. There are many ways to customize the flavors.
The first time I made these easy baked chips I asked myself, "so how many calories did that save you?" I'm pretty sure it's a lot! I love how crunchy they are and I love that they're baked and not fried. Healthy and delicious!
These homemade potato chips are the perfect snack or side dish with your favourite burger, sandwich, or just munch on them with a glass of wine. Buon Appetito!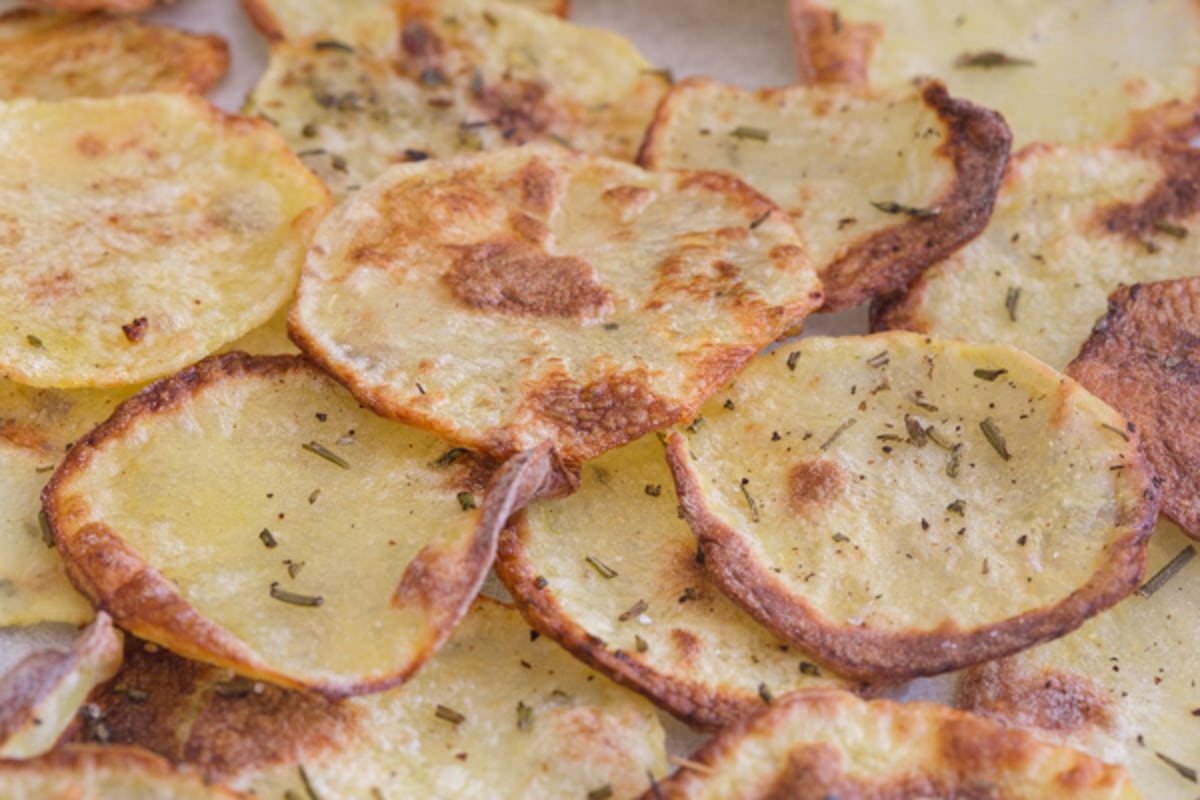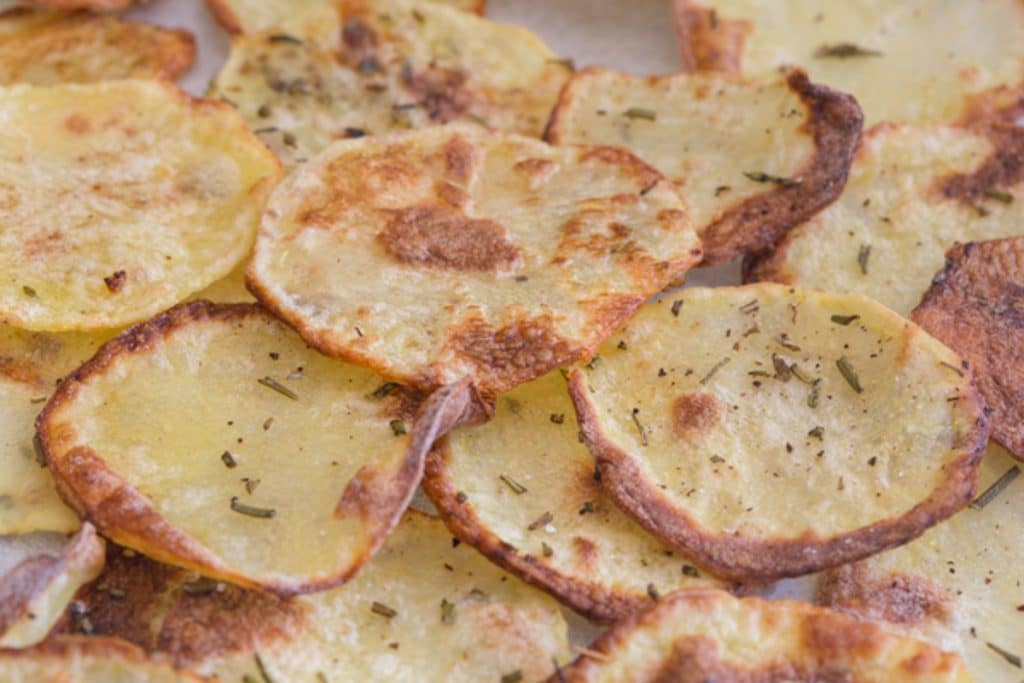 More easy snack recipes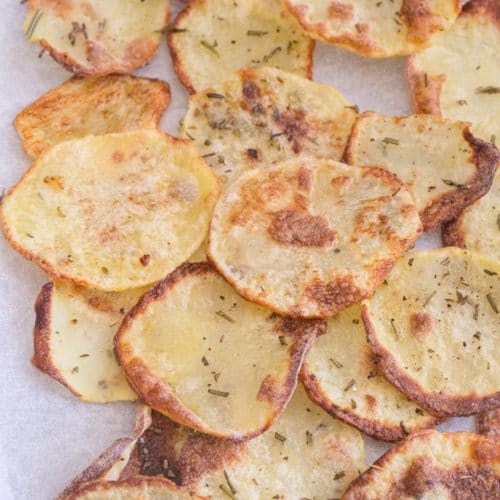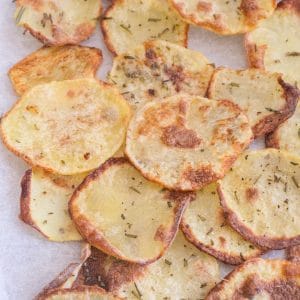 A Taste of Italian Baked Potato Chips
Homemade Baked Potato chips an easy crispy oven baked potato chip recipe. The perfect side dish or snack, kids will love them.
Ingredients
2-3

medium potatoes (very thinly sliced)

3

tablespoons

olive oil (divided)

2-3

dashes

white pepper (or to taste)

¼-½

teaspoon

salt (or to taste)

2-3

sprigs fresh rosemary (chopped)
Instructions
In a large bowl of cold water soak the sliced potatoes for approximately 20-30 minutes. Drain and towel dry really well.

Pre-heat oven to 400° (200° celsius) Line 2-3 cookie sheets with lightly oiled parchment paper (approximately 1 tablespoon).

Place sliced potatoes on lined cookie sheets, single layer, not overlapping.

Brush or spritz sliced potatoes with olive oil, just the top.(approximately 2 tablespoons).

Sprinkle with salt and pepper (I used white pepper), and rosemary.

Bake for approximately 15-20 minutes or until potatoes are golden brown. Enjoy!

* Watch closely because the potatoes will start to brown quickly after approximately 10 minutes.

** If some are ready, remove from pan and continue baking the remaining chips.

Move the chips immediately to wire rack to cool.
Notes
The best potatoes to use in this recipe are either Russet or Yukon gold. 
Moving the chips to a wire rack to cool, will keep them from getting soggy.
Store in an airtight container for up to 1-2 days.
Nutrition
Calories:
176
kcal
Carbohydrates:
19
g
Protein:
2
g
Fat:
11
g
Saturated Fat:
1
g
Polyunsaturated Fat:
1
g
Monounsaturated Fat:
8
g
Sodium:
152
mg
Potassium:
449
mg
Fiber:
2
g
Sugar:
1
g
Vitamin A:
4
IU
Vitamin C:
21
mg
Calcium:
15
mg
Iron:
1
mg
Updated from May 28, 2015.