Pancetta Frittata Sandwich, the perfect bacon and egg Sandwich, perfect for Breakfast or Lunch.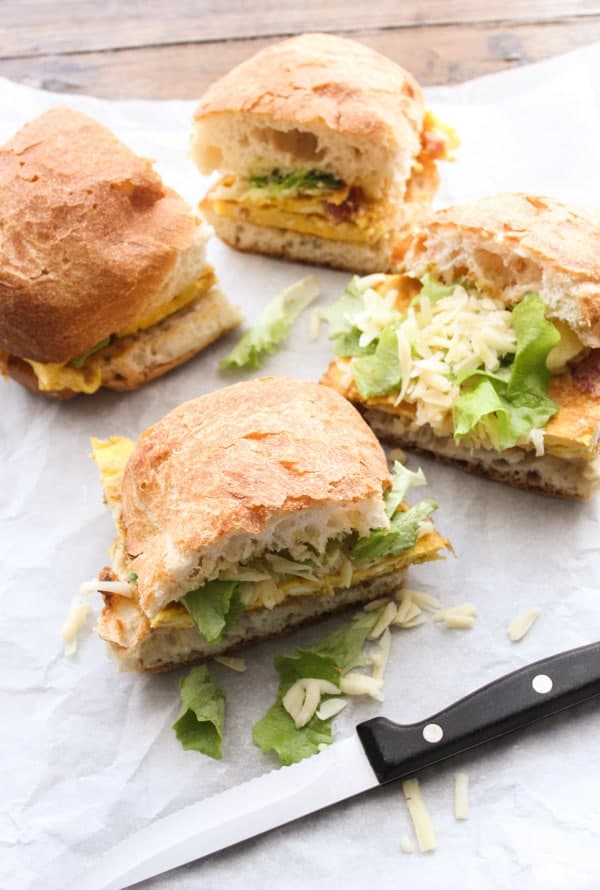 Whenever I make a sandwich it becomes the talk of the table. My husband jokes that there is no one that can make a sandwich like me. Especially, he says, my own sandwiches.
And to tell you the truth there isn't anything really special about them. A couple of slices of prosciutto, some lettuce, maybe mayo or mustard, a slice or two of cheese.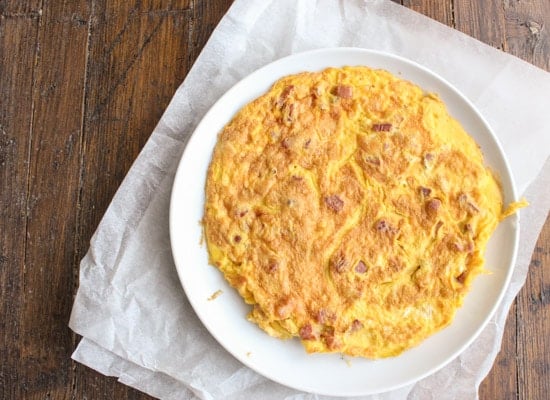 But I guess for an Italian they are. So I decided to dedicate this Pancetta Frittata Sandwich to the Italian.
I think I actually went into shock the first time I saw my husband make a sandwich, he grabbed two slices of bread a couple of slices of prosciutto and my friends that was that.
What?! No mayo, no mustard? That was the sorriest excuse for a sandwich I had ever seen.
Ok, I thought he's lazy, but no, that is the Italian way of making a sandwich. I kid you not. You need a gallon of wine to wash that thing down. After a few of my sandwiches no more naked Panini for him.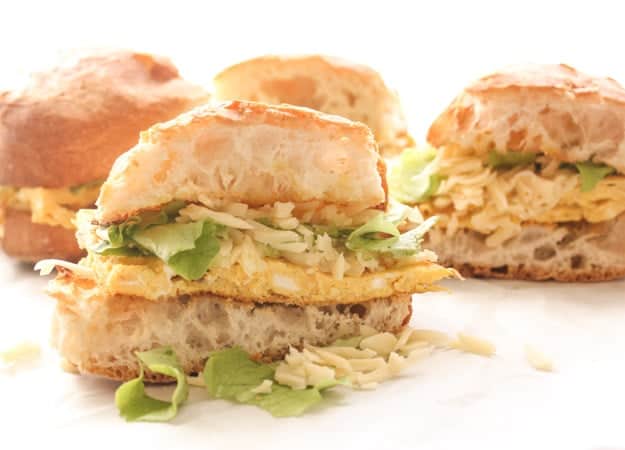 I thought a warm sandwich would make a perfect breakfast / brunch sandwich. So I came up with this Pancetta Frittata Sandwich. I decided to grill the bun so I could get that nice and crunchy effect.
So while the bread is grilling, you can cook up your frittata, if you don't like Pancetta any type of Frittata would be delicious.
Cut up some lettuce and shred some cheese, I decided to use a little Swiss Cheese this time. Drizzle a little olive oil on your grilled bread, think Bruschetta and add a nice big slice of Frittata, some shredded cheese lettuce and a little more cheese and there you have a Pancetta Frittata Sandwich. Buon Appetito!
Pancetta Frittata Sandwich
Pancetta Frittata Sandwich, a fast easy and delicious Toasted Italian Sandwich recipe, perfect for breakfast,brunch, lunch and even dinner.
Ingredients
1/3

cup

small cubed pancetta

or bacon if you prefer

4

or 5 large eggs

I used 4 but 1 egg had a double yolk!

pinch salt

1

tablespoon

olive oil

3

Italian buns

or sliced Italian crusty bread

shredded lettuce

1/2

cup

shredded swiss cheese

or cheese of preference

2-3

tablespoons

olive oil for drizzling
Instructions
In a small bowl add eggs and a pinch of salt, beat well with a fork, set aside.

In a medium size frying pan (the best non stick you have) add 1 tablespoon olive oil, and cubed pancetta, cook on low to medium heat until pancetta starts to brown. Add egg mixture, and with a wooden spoon mix egg with pancetta to combine. Let cook for approximately 7-10 minutes, with a plastic spatula carefully lift frittata on all sides and underneath to unstick. Using a large dish place it over the frying pan and flip the frittata onto the plate.

Drizzle a little olive oil onto the frying pan and slide the frittata back into the frying pan, cook for approximately another 7-10 minutes, check underneath to make sure it doesn't burn. Remove from heat.

While frittata is cooking, slice in half the buns (length wise) or use crusty Italian bread and toast on a pan grill, once the buns/bread are toasted remove and drizzle with olive oil and sprinkle with a little salt.

Place a slice or two of frittata on the bottom slice of bun or on slice of bread, top with shredded cheese, shredded lettuce (or prepared salad if you prefer), another bit of shredded cheese and top with remaining half of the bun or slice of bread. Serve immediately. Enjoy!
Nutrition
Calories:
449
kcal
Carbohydrates:
31
g
Protein:
18
g
Fat:
27
g
Saturated Fat:
7
g
Cholesterol:
235
mg
Sodium:
438
mg
Potassium:
156
mg
Fiber:
1
g
Sugar:
1
g
Vitamin A:
465
IU
Calcium:
229
mg
Iron:
2.9
mg