Mushroom Puff Pastry Appetizers, a fast and easy finger food that will be gone in minutes. The perfect Bite Size Appetizer  for family dinners or get togethers.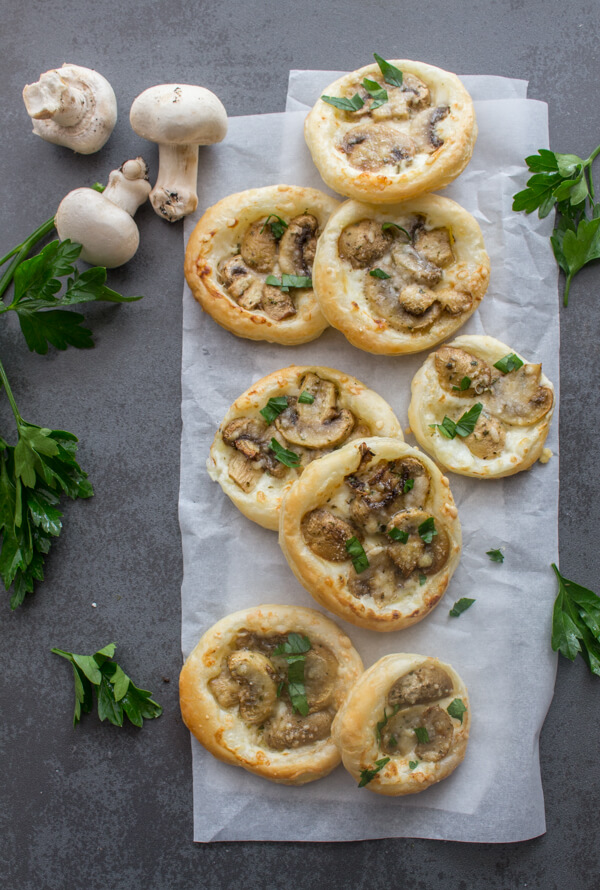 The other day I decided to make one of our favourite lasagna, White Sauce Lasagna, if you haven't tried it, believe me you must give it a taste.
It's rich and delicious and filled with the best of everything. From Italian Sausages, to Peas and Mushrooms to a fast and easy Homemade White Sauce.
And that is how I came up with these Simple Appetizers. I had some leftover White Sauce, you don't need much about half a cup maybe less. You could add a little extra extra milk,  flour and butter when making the white sauce just to make sure you have some left over.
Or you could always make a smaller amount just to try these! A cup of milk, one tablespoon of flour and butter with a pinch of salt would probably work.
I had a roll of Puff Pastry in the fridge, so I rolled it out and using my two and a half-inch round cookie cutter I cut out about 10 rounds.
I topped each round with a teaspoon or two of White Sauce a few mushroom slices, which I was already using in the Lasagna so I sliced up a few extra and sautéed them in a little olive oil with some spices.
Mushroom Puff Pastry Appetizers
And of course topped with a generous sprinkle of Fresh Parmesan Cheese, or your preferred cheese. They baked up in about 20 minutes and I can tell you they were gone in less!
I think these Mushroom Puff Pastry Appetizers would make a great addition to any dinner or get together where you want to serve an Antipasto, something everyone will enjoy!
Related Recipes
Italian Savory Stuffed Puff Pastry Pockets
Witches' Brooms Puff Pastry Recipe
Baked Italian Sausage & Parmesan Stuffed Mushrooms
These will definitely be on my Holiday Table this year. Buon Appetito!
Mushroom Puff Pastry Appetizers
A delicious, fast and easy vegetarian finger food, makes the perfect addition to any dinner or get together.
Follow me on Youtube!
Watch the videos and don't forget to subscribe on Youtube!
Ingredients
1

roll

puff pastry

1

tablespoon

olive oil

(15 ml)

5

mushrooms

sliced

pinch

salt

1/4

teaspoon

oregano

(.4 grams)

1/2

tablespoon

fresh Italian Parsley

chopped

1/2

cup

left over white sauce

(125 grams)

1/3

cup

grated Parmesan Cheese or Cheese of choice

(30 grams)
Instructions
Pre-heat oven to 350° (180° celsius). Line a cookie sheet or 2 with parchment paper.

In a small frying pan add olive oil, sliced mushrooms, salt, oregano and parsley, cook on medium, stirring occasionally until mushroom have browned slightly and are tender. Remove from heat.

Roll out Puff Pastry (if frozen thaw completely), and cut out circles with a round cookie cutter (2.5 inch / 6.5 centimeter) top each round with a teaspoon or 2 of white sauce, spread with the back of the spoon, top with 2 or 3 mushroom slices and sprinkle with grated Parmesan cheese or cheese of choice. Bake for approximately 20 minutes. Serve warm. Enjoy!
Nutrition
If Lasagna isn't for you (What?!) then one of these White Sauce Dishes are always great to try!
Baked Creamy Cheesy White Sauce Gnocchi
Creamy Broccoli Potato Casserole
Broccoli Bacon Pasta Casserole
Grilled Zucchini Double Cheese Tuna Bake
Easy Italian Savory Rustic Pie
Creamy Cheesy Scalloped Potatoes