These Witches' Brooms are a fast and easy last minute Halloween Puff Pastry Recipe. Two ingredients is all you need. Not only delicious but the kids will have a great time helping you make them!
Witches' Brooms Puff Pastry Recipe
When I was a kid in Canada, next to Christmas, Halloween was my favourite Holiday. I loved dressing up, grabbing my bag and going door to door with my friends.
And then of course coming home and checking out my loot! I think my father liked that part too.
So when I came to Italy and discovered that Halloween was not celebrated (it is now though) I was devastated. But I decided that I would celebrate with my kids.
Sometimes I would make a Halloween Cookie that they could take to school and of course we would have a special Halloween Dinner at home.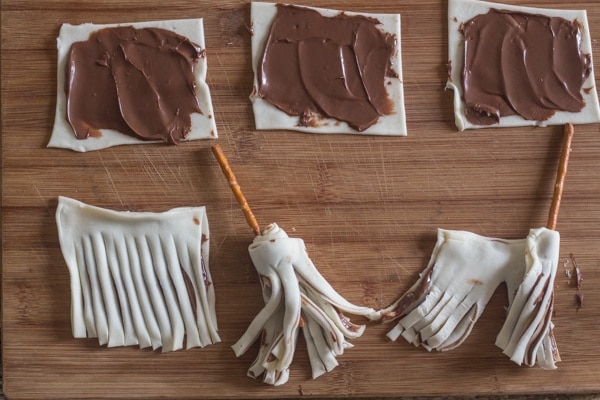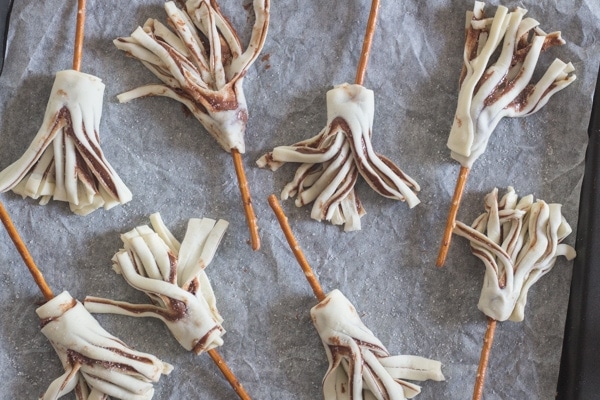 My eldest daughter when she first arrived in Toronto to attend college, and her new Canadian friends discovered that she had never trick or treated, they decided to all get dressed up and take her for her first door to door.
Fun times and good memories!
Needless to say with the last weekend before Halloween I thought I would share these cute and easy Witches' Brooms Puff Pastry treats.
These are actually quite popular in Italy during La Befana, but why not share for Halloween? And they are the perfect recipe that the kids can help with making too.
Let the adults do the cutting and the kids can wrap the dough around the pretzel stick!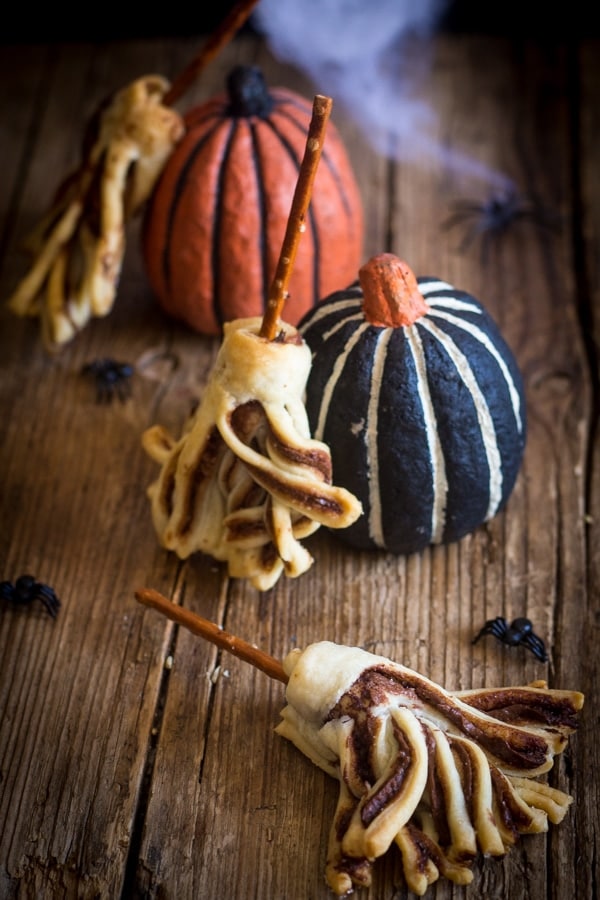 What is the best temperature for baking puff pastry
I have baked quite a bit with puff pastry, because yes I love the stuff! And over time I have discovered that the best temperature is 350F (180C), yes I know it is lower than what most people say,
but I find 400 much too high, it seems the pastry browns too quickly without completely baking. Especially when you have added a hazelnut spread.
There's nothing worse than a burnt taste to some lovely golden puff pastry.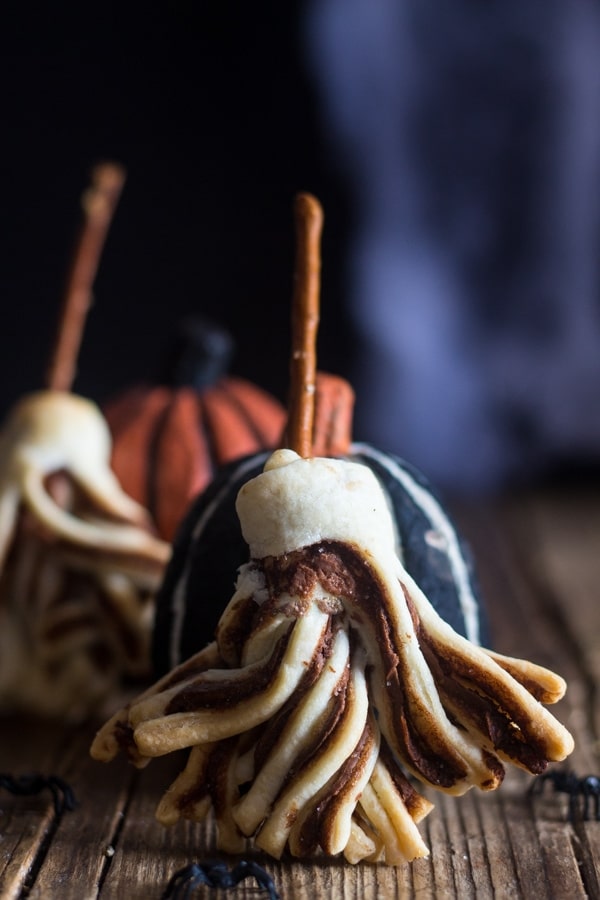 More Easy Puff Pastry Recipes you may Enjoy!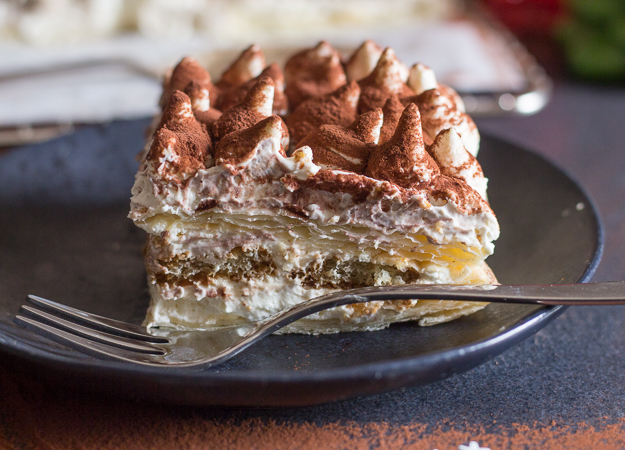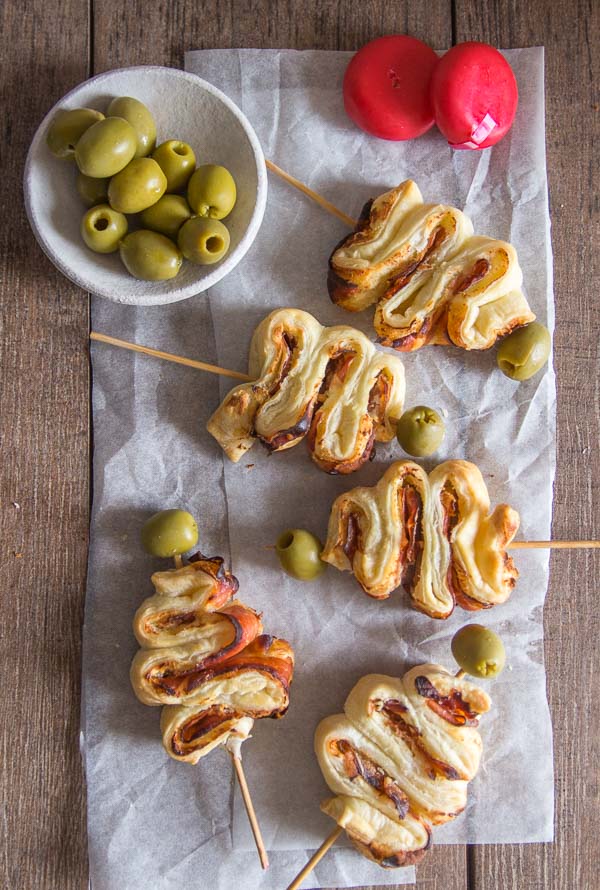 Sporcamuss Italian Cream Filled Pastries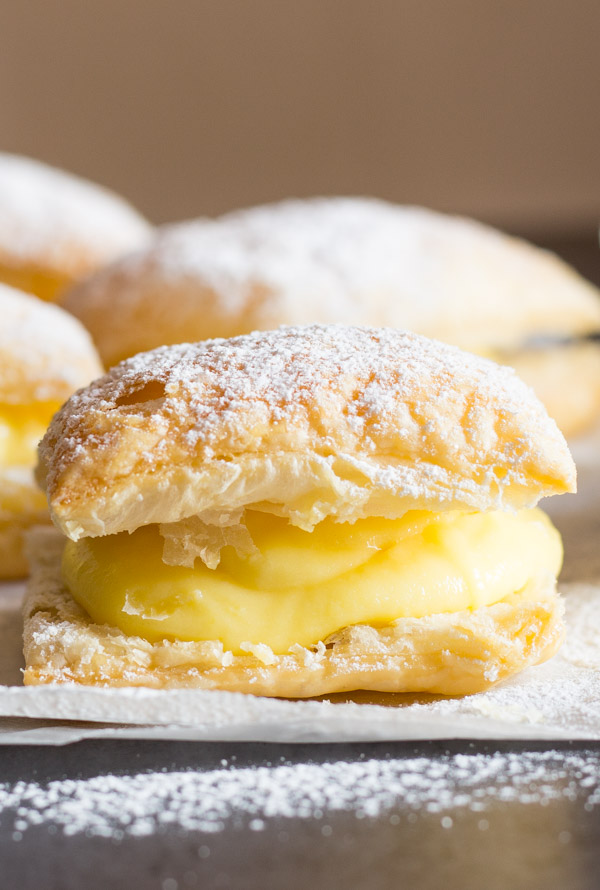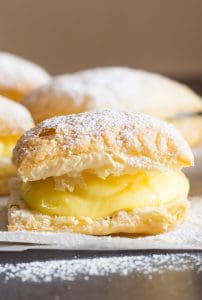 Happy Halloween and I hope you enjoy these Witches' Brooms Puff Pastries.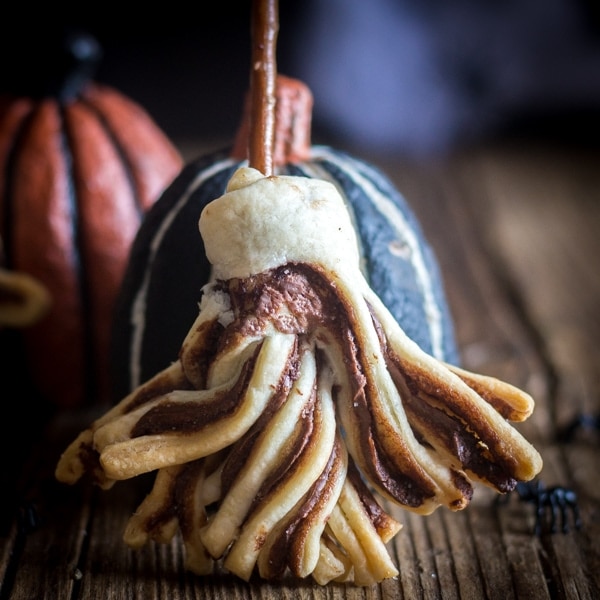 Witches' Brooms Puff Pastry Recipe
These Witches' Brooms are a fast and easy kid friendly last minute Halloween Puff Pastry Recipe. Two ingredients is all you need.
Ingredients
1

roll

Puff Pastry

1/4

cup

hazelnut spread

(Nutella/more or less)

8

pretzel sticks

2

tablespoons

sugar

(brown or granulated, your choice)
Instructions
Pre-heat oven to 350F (180C). Line a cookie sheet with parchment paper.

Roll out puff pastry and lightly flatten with a rolling pin. Cut the dough into 16* pieces measuring 2 3/4 x 3 inches (7 x 8 cm).

Place a teaspoon full of Nutella on only 8 of the pieces and spread evenly, cover each piece with the remaining 8 pieces, turn them vertically and make thin slits in the dough, leave approximately 1/4 - 1/3 inch (1/2 - 3/4 cm) boarder on the top.

Gently wrap the dough around the top of pretzel stick, place on prepared cooke sheet and gently spread the slits. Sprinkle with sugar and bake for approximately 15 - 20 minutes. Let cool completely before serving. Enjoy.
*This of course depends on how large your puff pastry sheet is, you may get more or less squares.
See Video at the top of the post for instructions.
Nutrition
Calories:
65
kcal
Carbohydrates:
9
g
Fat:
2
g
Saturated Fat:
2
g
Sodium:
10
mg
Potassium:
38
mg
Sugar:
8
g
Calcium:
10
mg
Iron:
0.4
mg
Adapted from Il Mio Saper Fare.