Baked Italian Sausage and Parmesan Stuffed Mushrooms, a fast and easy appetizer. Baked in a little white wine,  so delicious.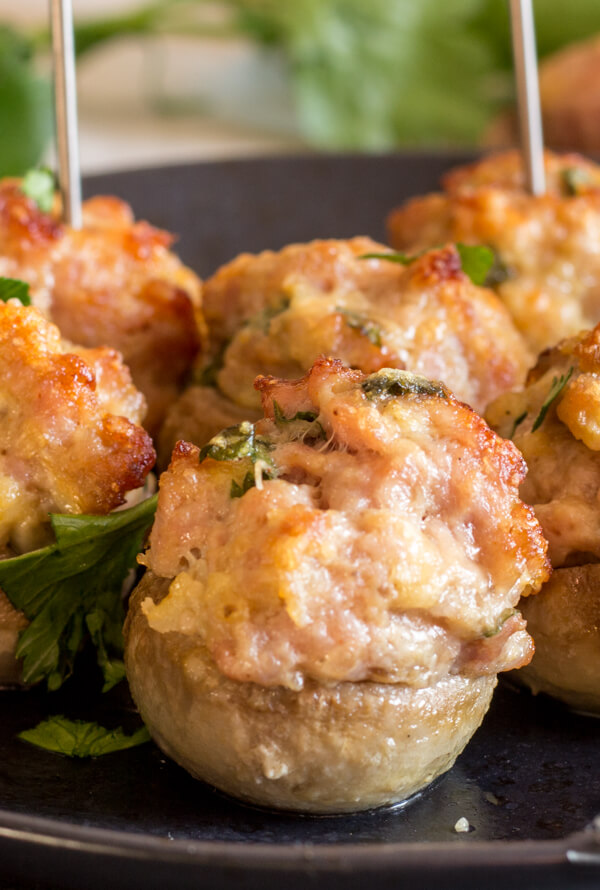 I first tried Stuffed Mushrooms when my friend made them in Canada and I was hooked. To tell the truth we love mushrooms in this family.
From stir fries to Pizza to Fast and Easy Appetizers and even a Delicious Mushroom Spread to even in our Lasagna and Roast Pork.
I was at the checkout the other day flipping through a magazine and this Baked Italian Sausage and Parmesan Stuffed Mushrooms caught my eye.
I loved the idea of not having to cook the ingredients before baking and the idea of Parmesan Cheese was perfect.
I have made these mushrooms three times now, with two different mushrooms. The first time I made them with the Classic White Champignon Mushrooms and the other two times with a Brown Champignon Mushroom.
Naturally we are split on the preferred mushroom. I like the Classic White and the Italian and our daughter prefer the Brown.
If you like a stronger more pronounced taste then go with the Brown. I prefer the softer more delicate taste. Either one and they are delicious.
Start by cleaning the mushrooms, not a good idea to clean them with water because they absorb the water it can make them soggy.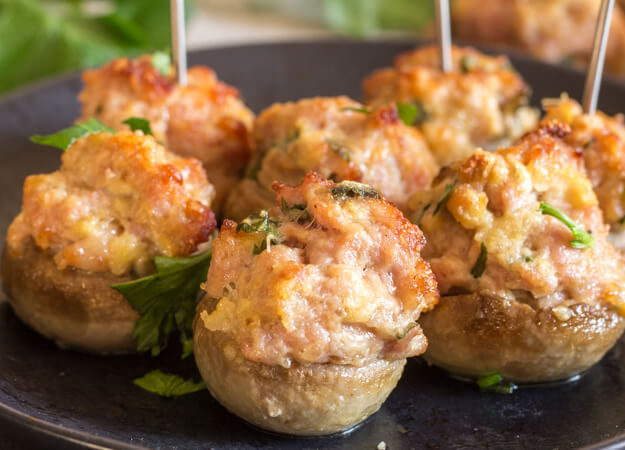 But if they are very dirty and water is a must make sure to lay them on paper towels in order to absorb as much water as possible and then cook them almost immediately.
If they aren't that dirty then just clean them with a paper towel or a pastry brush. Then remove the stems, chop them up, throw them in a blender with a little salt and pepper and blend it all until almost smooth but still a little lumpy.
Combine the mixture with the Italian sausage, some Parmesan Cheese, a little olive oil, garlic and spices. Stuff the mushrooms, line them up in a baking dish add your 1/4 cup of white wine and bake.
And there you have delicious Baked Italian Sausage and Parmesan Stuffed Mushrooms. Buon Appetito!
Baked Italian Sausage and Parmesan Stuffed Mushrooms
Baked Italian Sausage and Parmesan Stuffed Mushrooms, fast and easy stuffed mushroom recipe, Sausage & Parmesan make them irresistible.
Ingredients
14

whole fresh button or cremini mushrooms

¼

teaspoon

salt

1.4 grams

1-2

dashes

pepper (black or white)

2

Italian Sausages (spicy or mild)

180 grams

4

tablespoons

freshly grated parmesan Cheese (divided)

20 grams

4½

tablespoons

olive oil (divided)

54.8 grams

1

clove

garlic minced

¼

cup

fresh parsley minced
Instructions
Pre-heat oven to 375F (190C).  Line a baking pan with parchment paper, lightly brush with 1-2 teaspoons olive oil.

Clean and hollow out mushrooms, chop the stems into small pieces.

In a blender add the chopped stems and the salt and pepper. Blend until almost smooth but still a little lumpy.

Remove sausage from casing and break into small pieces, place in a medium bowl add the mushroom mixture, 3 tablespoons freshly grated Parmesan Cheese, 2 tablespoons olive oil, garlic and chopped parsley.  Mix to combine well.

Fill mushrooms with mixture, place on prepared baking pan.  Drizzle with remaining olive oil and sprinkle with remaining Parmesan Cheese.  Pour the white wine on the bottom of the pan and bake for approximately 20 minutes. Serve immediately.  Enjoy!
Nutrition
This recipe has been adapted from (il giornale)  La Cucina di Grand Hotel (La Cucina Invernale).