Hasselback Stuffed Pork Roast, a juicy Pork Roast stuffed with thin sliced Pancetta and sliced mushrooms sautéed in olive oil and spices. The perfect Family Dinner Recipe.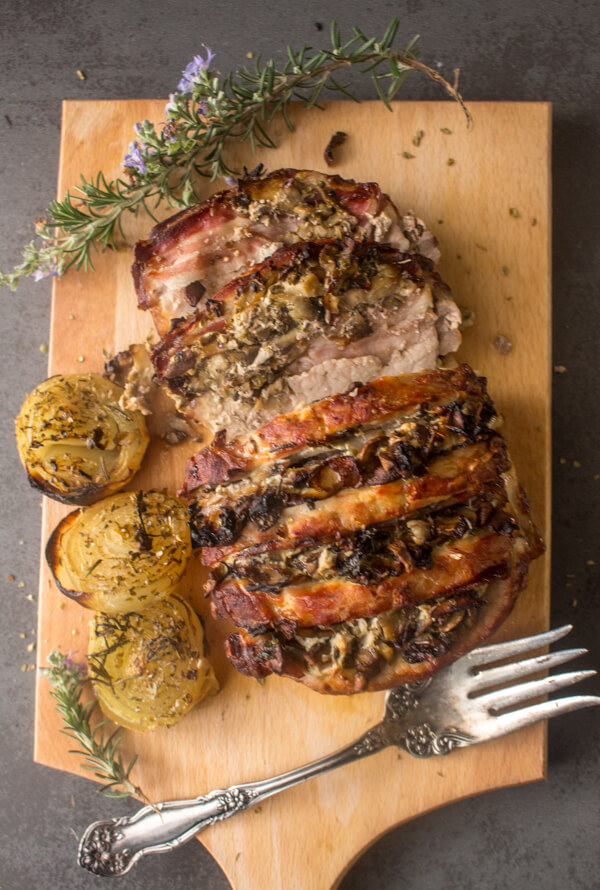 Christmas in Italy was never what I was used to or what I grew up with. No stuffed Turkey or dressing, or Cranberry sauce or Shortbread or Coconut Jam Squares (my favourite by the way).
No, instead we ate, Baked Cannelloni or Lasagna, a delicious roast with Roasted Potatoes.  Yummy Torrone and Pandora.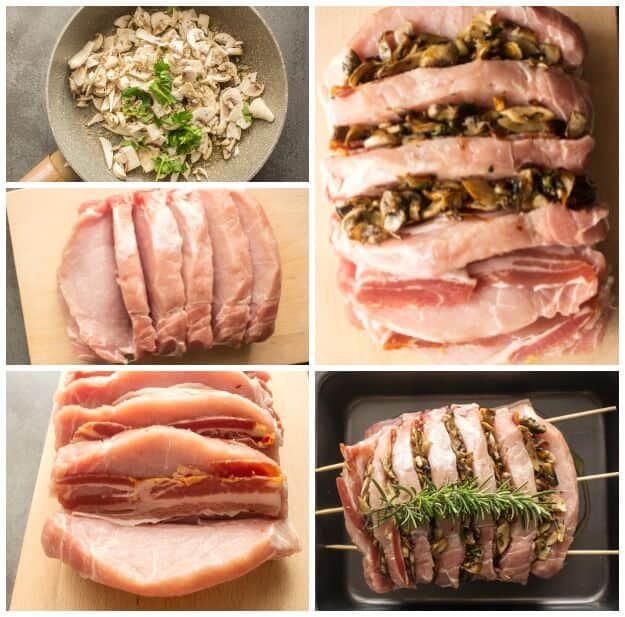 To tell the truth I really missed my Turkey but there was nothing I could do about it, because back then there was no Turkey to be found anywhere. Now of course is a different story.
Unfortunately the Italian is not a Turkey or Chicken lover and after all these years Baked Pasta and a Special Roast isn't so bad.
And I have to say this Hasselback Stuffed Roast Pork is just that, a special Baked Roast. After sharing a Hasselback Parmesan Potatoes Recipe last week. I decided a Pork Roast would be perfect.
I bought a two pound lean piece of Pork Loi. I sliced it into 6 x 1/2 inch slices, and just like the potato I did not slice it all the way through. I lined each slice with a thin slice of Pancetta and stuffed each cut slice with a couple of spoonfuls of sautéed mushrooms.
Hasselback Stuffed Pork Roast
The Hasselback Stuffed Pork Roast was then baked for about an hour. It is best to measure the internal temperature of the meat, it is considered safe to eat when it reaches 155-160° F (or 68-71° C). Let it sit for about 10 minutes before slicing completely.
The Perfect Sunday Family Dinner Roast, serve with a delicious side dish and enjoy. Buon Appetito!
Hasselback Stuffed Pork Roast
Hasselback Stuffed Pork Roast, a delicious Oven Baked Pork Loin Recipe,
Ingredients
2

pounds

pork loin

4

cups

sliced mushrooms

3

tablespoons

olive oil - divided

1/4

teaspoon

salt

pepper to taste

1

teaspoon

oregano

1-2

teaspoons

chopped rosemary

1

tablespoon

chopped fresh parsley

1

clove

garlic minced

6

thin slices pancetta
Instructions
Pre-heat oven to 425°

In a medium frying pan add 2 tablespoons olive oil, mushrooms, salt, pepper, oregano, rosemary, parsley and garlic, sauté for approximately 10-15 minutes.

Make approximately 6 x 1/2 inch slices in the Pork Loin, be sure to not slice right through, place 1 slice of pancetta between each slice and divide mushroom mixture between the 6 slices. Stick 3 long kabob sticks through the meat to hold the mixture in place.

Drizzle a little oil on baking pan, Place Stuffed Pork on pan and sprinkle with more oregano, a little salt and pepper and a sprig of rosemary, bake for approximately 50-60 minutes or meat thermometer reads 155-160° F. Let sit 5-10 minutes before slicing and serving. Enjoy!
Nutrition