Creamy Mushroom Lasagna, a delicious vegetarian way to enjoy Lasagna. Classic Italian Tomato Sauce, chopped mushrooms and just the right spices makes this a new Family favourite Lasagna.
For us Lasagna is the perfect Sunday lunch. In Italy we eat our big meal at lunch and a smaller meal at dinner. Works for me, a great way to use up leftovers.
Lasagna, one of our favourite Italian dishes. I have to admit I make Lasagna at least once a month, usually when we have friends or family over.
It is one of those quick and easy dishes but looks like you spent all day getting it together. And lets face it, it is one of the most delicious dishes out there, don't you agree?
This time I decided to make a meatless lasagna, so why not mushrooms? It's one vegetable that is year round, which makes this the perfect lasagna!
They say we eat with our eyes, but I really don't know about that, I think our first impression is what we smell and you can't beat the aroma from  the large pot of tomato sauce boiling and gurgling on the stove.
It sometimes splatters everywhere but it's well worth it.
Creamy Mushroom Lasagna
A secret to a creamier lasagna is to drizzle some white sauce between the layers, you are eating lasagna, what's a little white sauce? I usually buy those lasagna noodles, that you don't have to pre-boil (also referred to as strips, oven ready).
Saves time and I think they are really delicious. Maybe next time I will make my own noodles, it certainly has to be easier than Ravioli. Buon Appetito!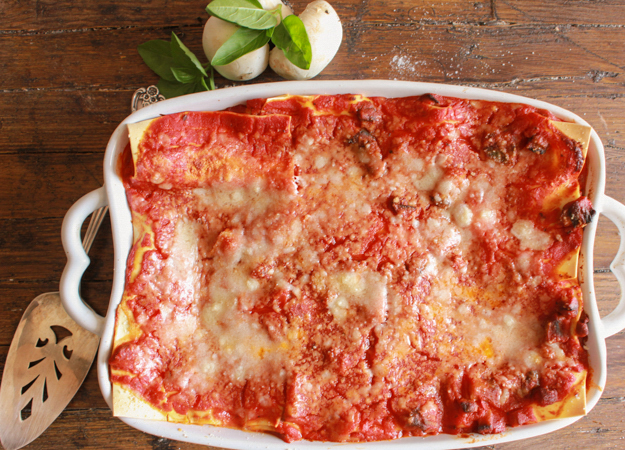 Creamy Mushroom Lasagna
Creamy Mushroom Lasagna, an easy vegetarian lasagna recipe, simple creamy and perfect. The best lunch, dinner, family or guest dish.
Ingredients
2

tablespoons

olive oil

6-8

medium-large

mushrooms chopped

1-2

cloves

garlic finely chopped

2½-3

cups

tomato puree/passata

⅔

cup

water (divided)

1-2

teaspoons

chopped fresh parsley

1

teaspoon

basil

½

teaspoon

salt

1-2

dashes

black pepper
EXTRAS
1

cup

freshly grated Parmesan cheese

1¼

cups

cubed fresh mozzarella

16

strips

lasagna noodles (also referred to as strips oven ready), more or less

½-¾

cup

thick white sauce (homemade or store bought)
HOMEMADE WHITE SAUCE
1

tablespoon

butter

¾

cup

+ 2 tablespoons milk

1

tablespoon

flour

1

pinch

salt
Instructions
In a large pot add the oil, garlic, mushrooms and ⅓ cup of water, cook on low-medium heat until the mushrooms start to become tender and water has evaporated, then add the tomato puree, remaining water, parsley, basil, salt and pepper, continue to cook low-medium until thick, approximately 30 minutes. Stirring often.

Pre-heat oven to 350F / 180C.

In a medium baking dish spread 2-3 spoonfuls of sauce on the bottom of the pan, cover with a layer of lasagna noodles, then spread with sauce, drizzle with some white sauce, top with ⅓ of the cubed mozzarella, ¼ of the grated fresh Parmesan and continue for 4 layers. The last layer omit the mozzarella and white sauce, sprinkle with just Parmesan cheese. Bake for approximately 20-25 minutes, let sit 5-10 minutes before serving. Enjoy!
HOMEMADE WHITE SAUCE
In a medium pot over medium heat melt the butter then add the flour and salt, whisk to combine, add the milk slowly and continue to stir until thickened. Remove from heat.
Notes
If you can't find oven ready lasagna noodles then you can use the regular kind that needs to be boiled first. 
Nutrition