Grilled Zucchini Double Cheese Tuna Bake, an easy healthy baked in the oven casserole recipe.  Zucchini, tuna and melted cheese a delicious combination.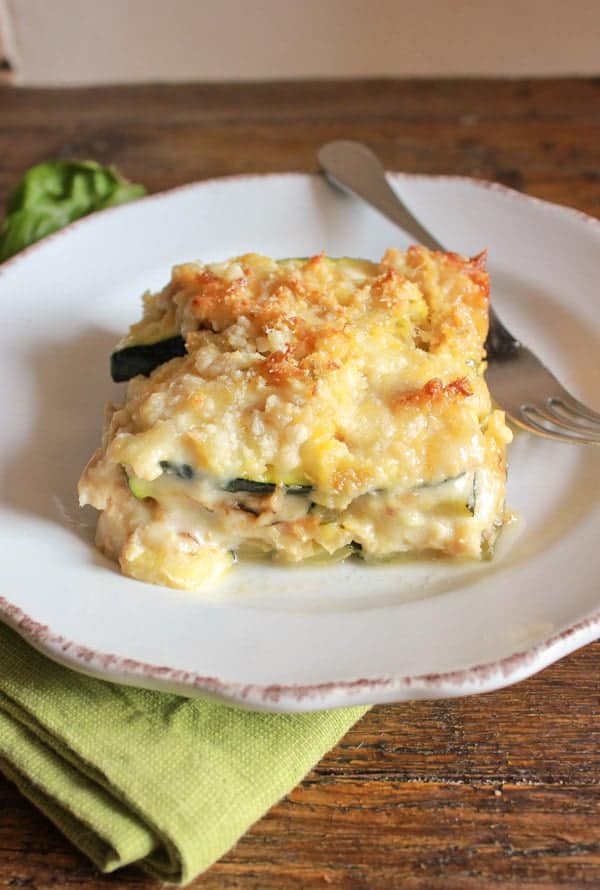 Another summer and another batch of zucchini.  And I have to say this summer the zucchini is really out doing itself.  Not only do I have the zucchini plants that my husband planted but my mother-in-law seems to think another couple of dozen won't hurt me either.
Needless to say I have shredded, baked, chopped, baked, boiled, baked and stuffed zucchini until I seriously can't take anymore, along with the horrendous heat, I might add.
And when the Italian comments "hmmm zucchini again", aaa yeah you planted the darn things and you will be eating them until October.
But even he has to admit this Grilled Zucchini Double Cheese Tuna Bake is really really delicious.  I pretty well make this at least once a week.  I actually made it last weekend when friends came over.
I made a triple batch, thinking I would have left overs for Sunday.  Sorry no leftovers for us!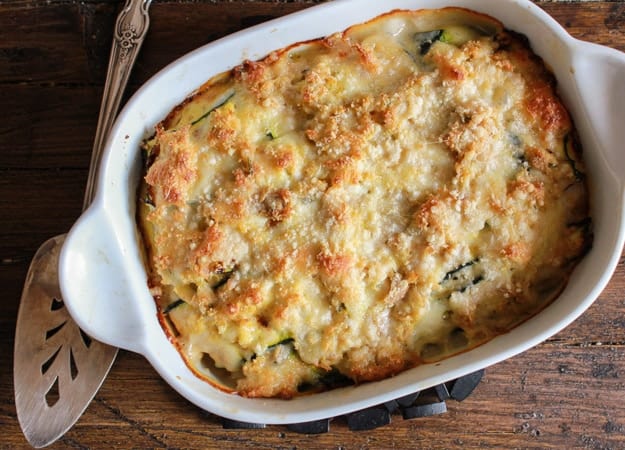 Again I have grilled the zucchini, just enough to eliminate that over abundance of liquid that zucchinis unfortunately seem to have.
After you have grilled your zucchini, all you have to do is mix together some cheese (firm mozzarella), the tuna, some bread crumbs, an egg and of course my all time favourite, Parmesan.
When I have time to spare I whip up my own white sauce, but there are some pretty good ones on the market now so that isn't a problem. Bake it for about 20-25 minutes and there you have it.
We could probably call this Grilled Zucchini Double Cheese Tuna Bake a zucchini lasagna, but I can already see a few Italians cringing in the back ground.  Buon Appetito!
Grilled Zucchini Double Cheese Tuna Bake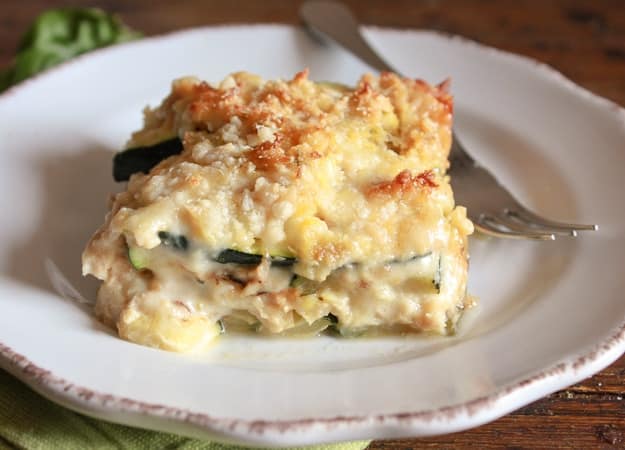 Grilled Zucchini Double Cheese Tuna Bake
Grilled Zucchini Double Cheese Tuna Bake a delicious healthy, cheesy and creamy bake, the perfect family dinner, your new favourite.
Ingredients
3

medium zucchini sliced (not too thin) lengthwise and grilled

6

ounces

tuna

140 grams

1 1/2

tablespoons

bread crumbs

10 grams

1

cup

shredded firm mozzarella

100 grams

1

egg slightly beaten

1/4

cup

freshly grated Parmesan cheese + extra for sprinkling

25 grams

1

tablespoon

olive oil

15 grams

1/2

teaspoon

salt

2.6 grams

1/2

teaspoon

parsley

.3 grams

1/2

cup

white sauce homemade or storebought

120 grams

HOMEMADE WHITE SAUCE**

1

tablespoons

butter

15 grams

1

tablespoon

flour

13 grams

1/2

pinch salt

1 1/4

cups

milk

280 grams
Instructions
Pre-heat oven to 350° (180° celsius), lightly grease a deep (8x6 inch / 20x15 centimeter) baking dish

In a medium bowl mix together, tuna, bread crumbs, mozzarella, egg, Parmesan, olive oil, salt and parsley.

Line the baking dish to cover the bottom with grilled zucchini top with 1/3 tuna mixture and pour half the white sauce on top, cover with another layer of grilled zucchini, 1/3 tuna mixture and remaining half of the white sauce, cover with remaining grilled zucchini, tuna mixture and sprinkle with freshly grated parmesan (how much you want), bake for approximately 20-25 minutes, let sit 5 minutes and serve. Enjoy!

**Homemade White Sauce: In a small pot on medium heat add the butter until melted, add flour and salt and whisk to combine, add milk and continue whisking until thickened. Remove from heat.
Nutrition