This delicious Savory Zucchini Pie is the perfect Summer Tart to make for dinner, lunch or even an appetizer. A tasty way to use up an overload of zucchini from the garden or even purchased from the supermarket.
Italian Savory Zucchini Pie
A couple of months ago I shared a recipe for Savory Dough, it makes enough for a two pie crust, so I decided to use one of them for this Rustic Zucchini Pie.
This is the perfect savory pie to make when you have an overload of zucchini in the garden, or just pick some up at the farmer's market or grocery store.
If you have your own garden throw in a few Zucchini Flowers too, just like I did. While you are at it, those Zucchini Flowers make the most amazing appetizer or side dish idea.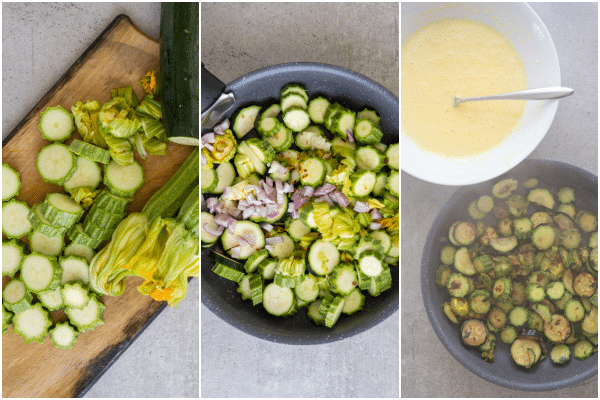 How to make Savory Dough
In a large bowl or bowl of a food processor whisk together the flour and salt, then add the olive oil, stir with a fork or pulse to combine to form coarse crumbs.
Slowly add the cold water and continue stirring or pulsing until dough comes together.
Move the dough to a lightly floured flat surface and knead until smooth. Wrap the dough in plastic and refrigerate one hour before using.
This Savory dough recipe makes enough for a 2 pie crust, so any left over dough can be frozen. Wrap well in plastic and freeze in an airtight freezer bag. Dough will last up to six months.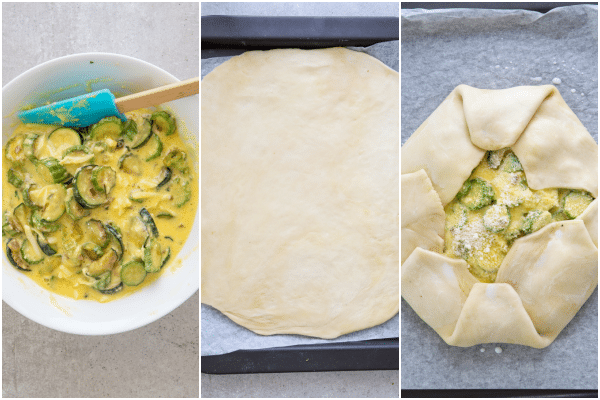 How to make the Zucchini Filling
In a medium frying pan with a little oil, cook the sliced zucchini & flowers (if you add them),shallot and spices until golden.
In a medium bowl beat together the egg, parmesan cheese and cream.
Stir in the shredded cheese and sauteed zucchini.
Roll out your dough spoon the filling in the middle and bring the dough over to cover the filling, but do not cover completely.
What is the best cheese to use?
I like to use a creamy Italian cheese such as Fontal or Galbani but you could also substitute with Gruyere or even Swiss.
How to Store Zucchini Pie
The baked zucchini pie should be wrapped tightly and stored in the fridge, it will keep for up to 4-5 days, reheat in the oven before serving.
Can I freeze Zucchini Pie
It's best to freeze the pie when it has been baked, let the zucchini pie cool completely then wrap tightly in plastic wrap and place in an airtight freezer bag. It can be frozen for up to two months. The pie can be reheated when frozen.
More Zucchini Recipes:
Creamy Italian Zucchini Risotto
Zucchini Pie
So in the middle of Summer and you are looking at the zucchini that is taking over your garden and your kitchen, I hope you give this delicious Zucchini Pie a try and let me know how you like it. Buon Appetito!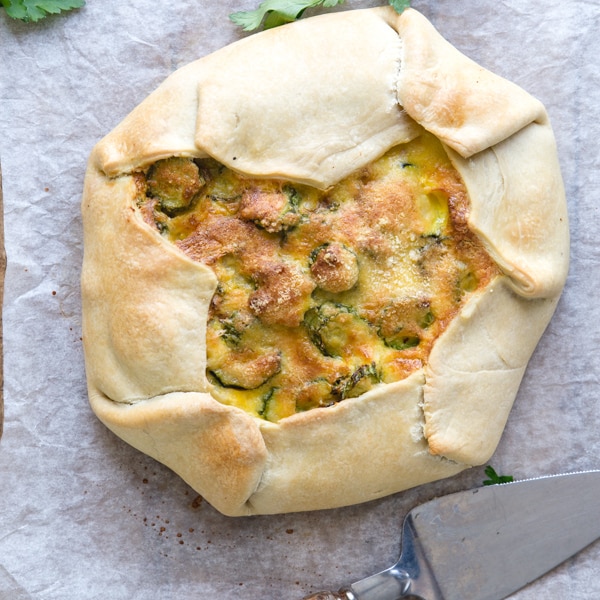 Italian Savory Zucchini Pie
This delicious Savory Zucchini Pie is the perfect Summer Tart to make for dinner, lunch or even an appetizer.
Ingredients
ZUCCHINI FILLING
2

teaspoons

olive oil

2 1/2

cups

sliced zucchini (include 2-3 flowers if desired)

(400 grams)

1

small shallot chopped

1/4

teaspoon

salt (or to taste)

2

dashes

pepper

1-2

tablespoon

chopped fresh parsley

2

eggs

3/4

cup

freshly grated parmesan cheese (divided)

(75 grams)

3

tablespoons

whole / whipping cream

1/2

cup

fontal cheese shredded (or gruyere)

(50 grams)
Instructions
ZUCCHINI FILLING
While the dough is chilling, make the filling. In a medium frying pan, add the olive oil, sliced zucchini and shallot and sprinkle with salt, pepper and fresh chopped parsley. Sautee stirring often until golden. Let cool to warm.

Pre-heat oven to 350F (180C). Line a medium/large cookie sheet with parchment paper.

In a medium/large bowl beat with a fork the eggs, parmesan and cream, then fold in the zucchini mixture and fontal cheese.

Roll the dough into an approximate 11/12 inch (30/32 cm) circle, 1/8 inch thick. Place on a parchment paper lined large cooke sheet, then spoon the mixture into the middle of the dough, and fold the dough up and around the filling (don't cover completely). Brush the dough with a little milk. Bake for approximately 30-40 minutes or until golden baked. Enjoy!
*This recipe uses half the recipe, the remaining dough can be frozen, wrap well.
Nutrition
Calories:
224
kcal
Carbohydrates:
3
g
Protein:
11
g
Fat:
12
g
Saturated Fat:
7
g
Cholesterol:
85
mg
Sodium:
266
mg
Potassium:
189
mg
Fiber:
1
g
Sugar:
2
g
Vitamin A:
550
IU
Vitamin C:
10.5
mg
Calcium:
281
mg
Iron:
0.7
mg