Mushroom and Ham Cannelloni, a delicious creamy Italian Pasta dish. Cannelloni / Manicotti stuffed with a mushroom and ham filling, topped with a white sauce and cheese. Perfect.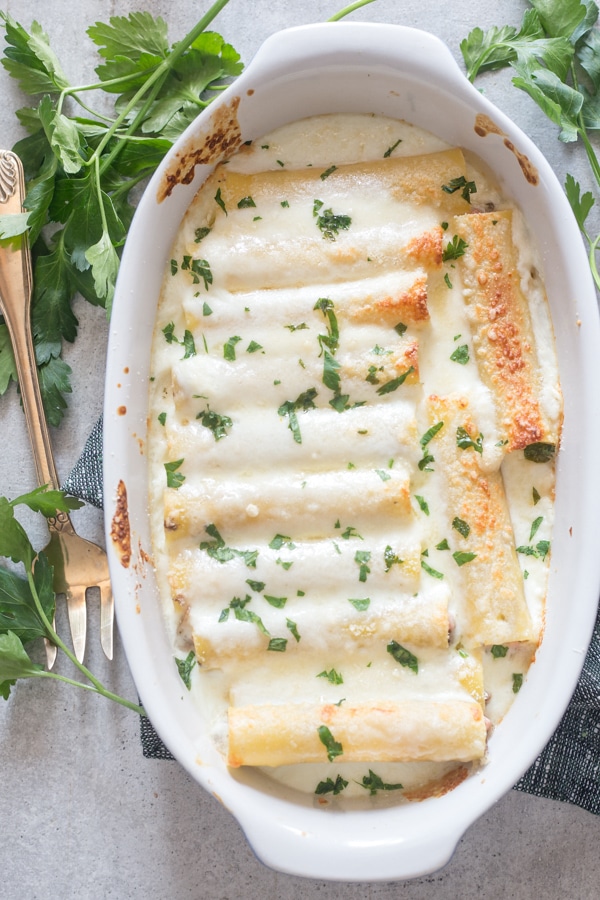 Yesterday in Italy we were celebrating Martedi Grasso or Shrove Tuesday.
In Italy it is the last day of Carnivale, a very cute holiday for children, they dress up and spend the afternoon with their parents in the Town Square.
Everyone eats Frappe and Castagnole! And that was the day I remade my Ham and Cheese Stuffed Cannelloni.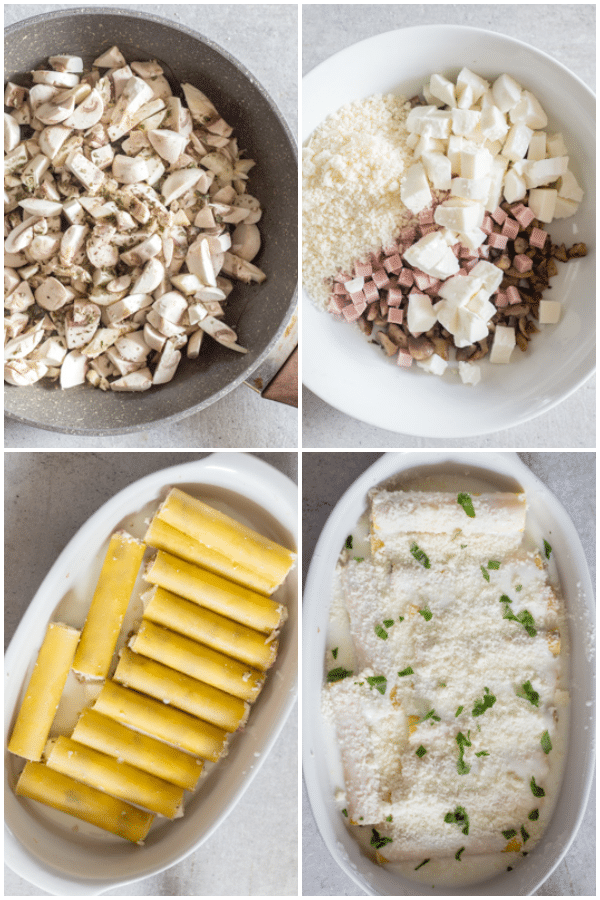 What is the difference between Cannelloni and Manicotti?
To tell the truth I really can't say there is much difference. Some say Manicotti is an Italian American term for Cannelloni.
Which I can actually believe because I have never heard an Italian in Italy say Manicotti.
Some say Manicotti is a filled crepe rather than a dry Pasta Shell which is a Cannelloni.
Although I have seen recipes for Manicotti made with pasta shells. Some say Manicotti is filled with a cheese filling and Cannelloni with meat.
One is made with a red sauce and the other a white sauce. But I say, whatever you want to call this Baked Dish, Cannelloni or Manicotti it's delicious either way.
Should the noodles be cooked before stuffing?
I would say yes, make sure to cook them in boiling salted water just until very al dente, they will finish cooking in the oven.
Also make sure to separate and dry them when you remove them from the water or they will stick together.
How to store it
Cooked Cannelloni or Manicotti should be kept in the fridge for up to 3 -4 days.
Uncooked Manicotti or Cannelloni can be frozen in air tight containers or bags. They will keep for up to 1-2 months.
How to Cook Frozen Cannelloni
Place frozen pasta in a baking pan and cover with desired sauce, cover the pan with foil and bake for approximately 35 minutes. Let stand 5-10 minutes before serving.
More Delicious Baked Pasta Dishes
So however you call this Ham and Cheese Cannelloni I hope you enjoy it. Buon Appetito!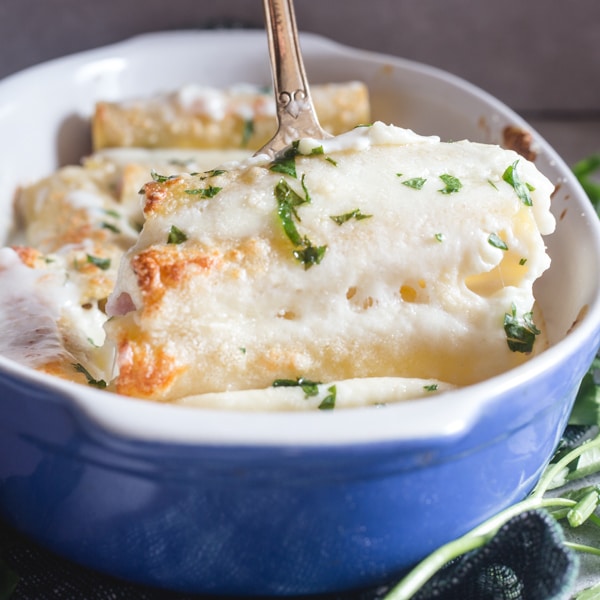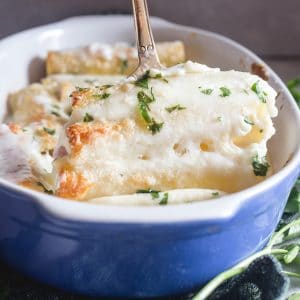 Mushroom and Ham Cannelloni
Mushroom and Ham Cannelloni, a quick and easy creamy Italian Pasta dish, filled with mushrooms, ham and a homemade white sauce. Delicious.
Ingredients
16

cannelloni / manicotti tubes

2

tablespoons

olive oil

2

cups

chopped mushrooms

3/4

teaspoon

oregano

3/4

teaspoon

parsley

1/4

teaspoon

salt

1/4

cup

water

1/2

cup

chopped cooked ham

(50 grams)

1/2

cup

freshly grated parmesan cheese

(50 grams)

3/4

cup

chopped fresh mozzarella

(125 grams)
WHITE SAUCE
2

tablespoons

butter

2 1/2

tablespoons

all purpose flour

pinch salt

2 1/2

cups

milk (2% or whole milk)

(560 grams)

TOPPING

1/4

cup

freshly grated parmesan

(25 grams)
Instructions
Pre-heat oven to 350° (180° celsius). Dot the bottom of a 9x12 (23x30cm) baking dish with approximately 1 tablespoon of butter, set aside.

Cook the Cannelloni tubes in boiling salted water until very al dente, drain and towel dry before stuffing.
MUSHROOM FILLING
In a medium frying pan over medium heat add the olive oil, mushrooms, oregano, parsley, salt and water, cook until tender and liquid has evaporated, add chopped ham and continue cooking for approximately 2 minutes. Remove from heat, let cool then fold in the cubed mozzarella and ¼ cup parmesan cheese.
WHITE SAUCE
In a melted pot add the butter and heat on medium until melted, add the flour and salt and whisk to combine, slowly add the milk and continue whisking until thickened. Remove from heat. Place ½ a ladle of white sauce on the bottom of the baking dish.

Stuff the cannelloni tubes with 2-3 dessert spoons of mushroom/cheese mixture, place the cannelloni in a single layer in the prepared baking dish continue until finished, then spoon the remaining white sauce over the cannelloni and sprinkle with the remaining ¼ cup freshly grated parmesan. Bake for approximately 20-25 minutes. Let sit 5 minutes before serving. Enjoy!
Nutrition
Calories:
413
kcal
Carbohydrates:
39
g
Protein:
19
g
Fat:
19
g
Saturated Fat:
9
g
Cholesterol:
46
mg
Sodium:
588
mg
Potassium:
421
mg
Fiber:
3
g
Sugar:
7
g
Vitamin A:
480
IU
Calcium:
337
mg
Iron:
1.9
mg
.
Updated from February 17, 2015.