Homemade Creamy Mushroom Ravioli, homemade pasta stuffed with a creamy mushroom filling, a little work but so worth it!

with a creamy Mushroom filling, nothing like Homemade Pasta! I don't do it often but when I do it sure is worth all the time and effort.
Once in awhile I get the urge to make my own egg pasta. I remember Watching my mother-in-law make it all by hand, no machine.
She would use a long thin rolling pin and work that dough until it became paper thin. An art!
Unfortunately I am not capable of that, I use a machine.
More Pasta Recipes you may enjoy!
Baked Gnocchi Double Cheese Tomato Sauce
Classic Carbonara Pancetta and Egg Pasta
Homemade Creamy White Sauce Lasagna
Simple Two Ingredient Homemade Pasta
What you will need to make this Amazing Homemade Creamy Mushroom Ravioli.
Pasta Machine  –  I could never make pasta without it!
Pasta Crimper  –   These are any absolute must have for making homemade ravioli or any other pastry that needs the edges closed so no filling escapes.
Wooden Board  –  I went back to wooden from plastic.
Olive Oil  –    You can't cook Italian if you don't have Olive Oil. And besides it's good for you.
Making homemade pasta is becoming less and less common. Here in Italy you can find egg pasta as easily as you can find a Tim Hortons in Canada.
But I really believe you have to make your own Pasta, whether you make ravioli, fettuccine, cappelletti or even tortellini at least once.
Homemade Creamy Mushroom Ravioli
And remember egg pasta is made with only 3 ingredients, eggs, flour and a little salt. As my mother-in-law told me 1 egg to every 100 grams of flour.
The other day while I was in the grocery store wandering around trying to decide what I was going to make for lunch, I came across Ravioli with a Mushroom Filling, sounded good to me.
Well the Italian and I thought they were delicious, and of course my husband's next comment was "you could make these", and I did.
Mushroom Ravioli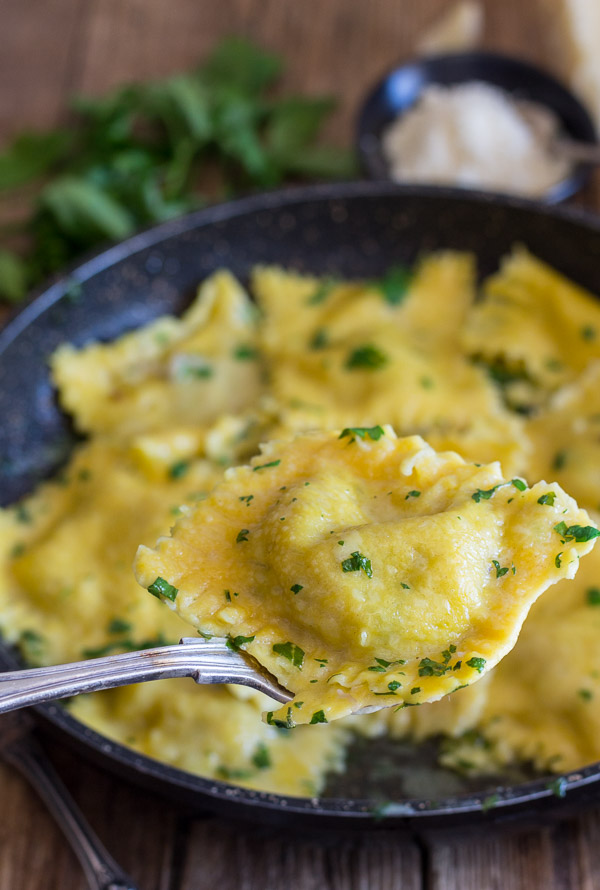 And as strange things happen, it turned out we were given a large fresh Mushroom Porcini from a friend of ours,( I also added some chopped white button mushrooms).
Italians take their mushroom picking seriously, there is school to attend and a certificate is given to those who pass! 🙂
So that my friends is how my Homemade Creamy Mushroom Ravioli came to be. And how did I serve this Mushroom Ravioli? In a simple butter sauce with chopped fresh Italian Parsley.
I know homemade takes time and patience but believe me that first forkful and you will be planning your next pasta making recipe. Buon Appetito!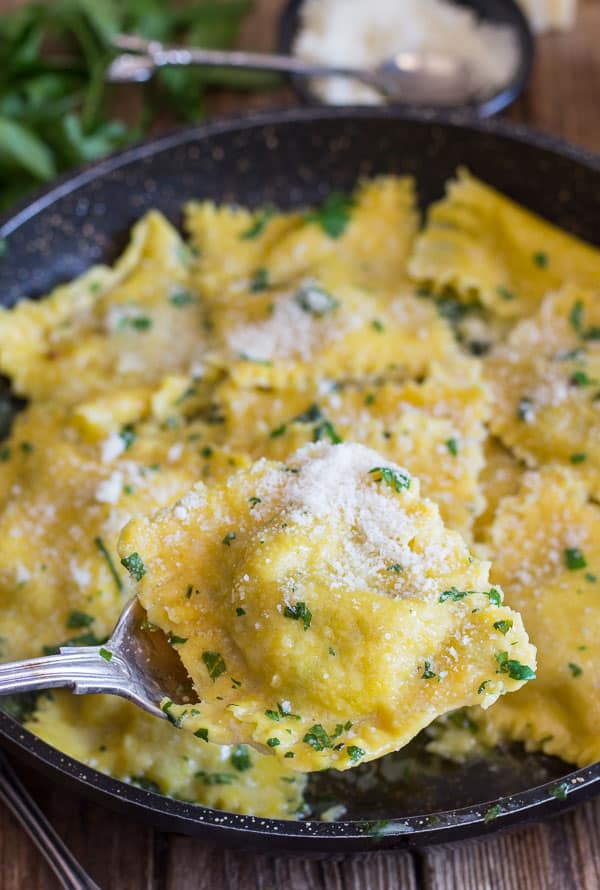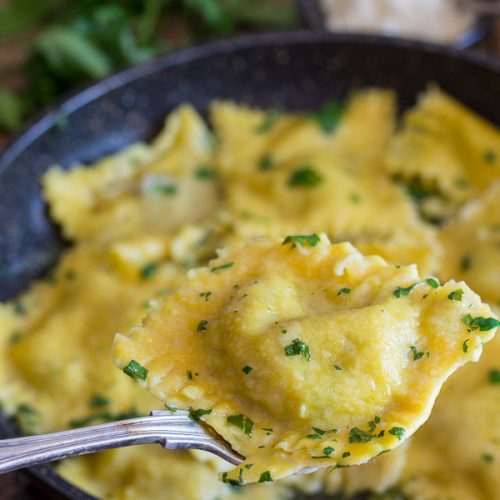 Homemade Creamy Mushroom Ravioli
Homemade Creamy Mushroom Ravioli, a homemade egg pasta recipe filled with a creamy mushroom filling. The perfect dinner idea.
Ingredients
EGG PASTA
1 1/4

cups

+ 2 tablespoons all purpose flour

2

eggs

pinch of salt
MUSHROOM FILLING
1

tablespoon

butter

1

large

porcini mushroom

(chopped small)

3/4

cup

chopped white mushrooms

(chopped small)

1/2

small

onion

(finely chopped)

1

clove garlic

(finely chopped)

1

tablespoon

minced Italian Parsley

1/2

teaspoon

oregano

1

tablespoon

flour

1

tablespoon

mascarpone

1 1/2

tablespoon

freshly grated parmesan cheese

1

tablespoon

cream
SAUCE
3

tablespoons

butter

2-3

tablespoons

finely chopped Italian Parsley

freshly grated Parmesan cheese if desired
Instructions
EGG PASTA
On a flat surface place four, make a well in the middle and add the eggs, with your fingers or a fork slowly mix together the flour and eggs to form a smooth dough. Cover and let rest one hour.

Cut dough into 3-4 parts, roll out slightly and roll through machine until thin (you will want to see your hand underneath the dough). Sprinkle dough with flour so it doesn't stick.

Cut dough into even squares using a pastry crimper (I made them about 2 x 2 inches). Then fill with approximately 1 heaping teaspoon full of mushroom filling. Place another square on top and close the sides with the pastry crimper. Make sure to go around the whole ravioli with the crimper, you don't want them to open.

In salted boiling water cook the ravioli for approximately 5 minutes. Drain.
SAUCE
In a large pan melt the butter and add the parsley, simmer for 1 minute. Add ravioli and a couple of tablespoons of pasta water, and toss to cover and sauté 30 seconds. Serve immediately sprinkled with freshly grated parmesan cheese. Enjoy!
MUSHROOM FILLING
In a medium pan add butter, chopped mushrooms, chopped onion and garlic, cook until golden stirring occasionally. Then add oregano, parsley and cook 20 seconds.

Remove 3 /4 of the mixture and blend until creamy, then place back in pan and mix with remaining 1/4 mixture. Sprinkle with flour, add cream and mascarpone, heat on low for 1 minute. Remove from heat and add parmesan, stir to combine and let cool.
Notes
How to freeze Ravioli - place the uncooked ravioli in a single layer on a parchment  paper lined baking sheet. Freeze for 30 minutes, or until they are frozen. Then, place them in an air-tight freezer safe container or bag and store in the freezer for up to 6 months. When ready to cook place the frozen (they do not need to be thawed) ravioli in boiling salted water until done.
Nutrition
Calories:
650
kcal
Carbohydrates:
65
g
Protein:
17
g
Fat:
35
g
Saturated Fat:
20
g
Cholesterol:
244
mg
Sodium:
427
mg
Potassium:
258
mg
Fiber:
2
g
Sugar:
1
g
Vitamin A:
1185
IU
Vitamin C:
1.2
mg
Calcium:
102
mg
Iron:
4.9
mg
.
I am a participant in the Amazon Services LLC Associates Program, an affiliate advertising program designed to provide a means for me to earn fees by advertising and linking to Amazon.com.