Learn how to make the Best Meatloaf with just a few ingredients including cheese. Yes, this is a cheese-stuffed meatloaf that is tender, moist, and an amazing comfort food dinner. Add in some chopped onions, peppers, and spices and you will love this amazing best meatloaf.
This was my Mom's homemade meatloaf recipe and she always called it "the best", and I am standing behind it 100%. To tell you the truth I have never eaten any other meatloaf but this one.
Which will make some people say, "then how can you say this is the best if you haven't tried any other"? Yeah I know, you have a point. But to tell the truth I haven't found one that makes my mouth water like this one! I think it's because it's a cheese-stuffed meatloaf and I love anything cheesy.
I can remember coming home from school and I was so happy to find and smell that amazing aroma drifting all through the house from the kitchen. It was meatloaf night!
IIt was always one of the best and yummiest dinners ever, especially when my Mom served it with Roasted Potatoes.
When you eat something and it is so good, you know there can't be anything better! Especially when you add some cheese.
Why You Should Try This Best Meatloaf Recipe
Maybe you have a favorite recipe already? I know many people have a love for their family's recipes and meatloaf is one of them – there are so many ways to make it. But, I think you should give this one a try!
You only need a few simple ingredients to make it, and it takes no time at all to mix it up and get into the pan. Most of the time is spent waiting for it to bake, so this isn't one of those quick meals cooked in 30 minutes. But it is very easy, and it does come together in 10 minutes and only an hour to bake.
And if by chance you have leftovers (sometimes it is difficult to leave any on the serving plate), refrigerate the leftovers. The next day slice it up and make a sandwich with some tasty bakery bread and you will certainly agree that you just ate one of the best sandwiches ever!
And let's not forget about the cheese! It really is what takes it from good to GREAT. It's stuffed with cheese plus more on top. You are going to love this cheese-stuffed meatloaf right out of the oven, hot and cheesy.
Ingredients
Lean ground beefCracker crumbs – I use saltines.
Ketchup
Beaten eggs
Chopped green pepper
Salt
Crushed bay leaf
Dried marjoram and thyme
Shredded cheese – Pick your favorite! firm mozzarella, cheddar, swiss, gouda, gruyere, fontina – any good melting cheese will work fine.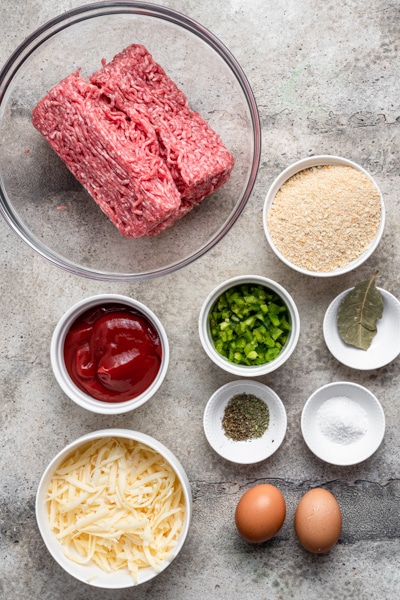 How to Make It
Place all of the ingredients, except for the cheese, in a large bowl and mix them well.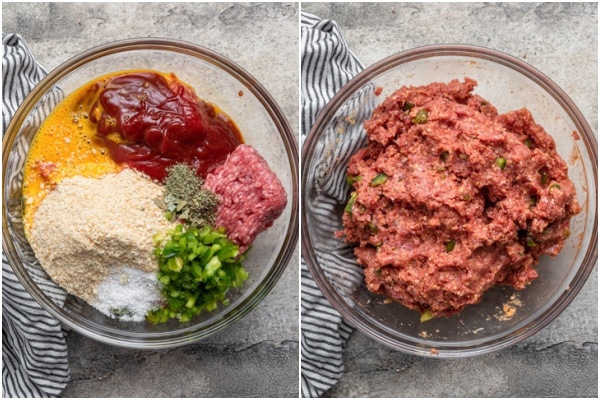 Divide the mixture in half and place half of it in a prepared baking dish. Lightly press it into an even layer.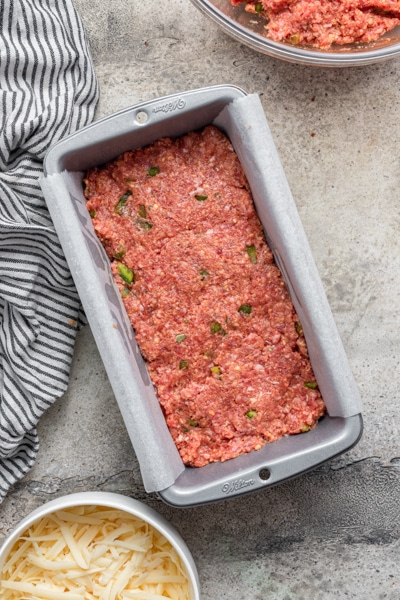 Top with 1/2 the shredded cheese, then top with the other half of meat mixture, and lightly press it so it's even.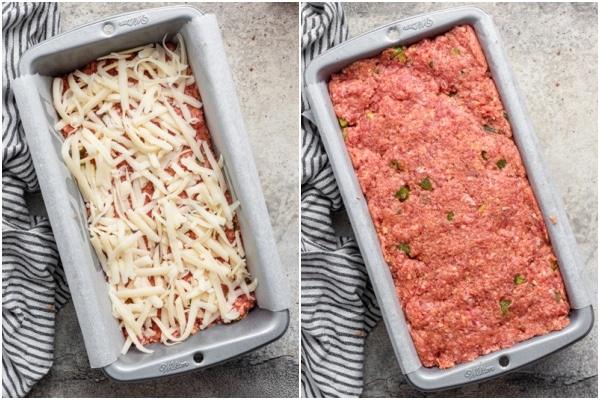 Bake it for 45 minutes at 350°F (180°C). Take it out of the oven and sprinkle the rest of the cheese over the top. Place it back in the oven and bake it for 10 to 15 minutes more or until the cheese is melted.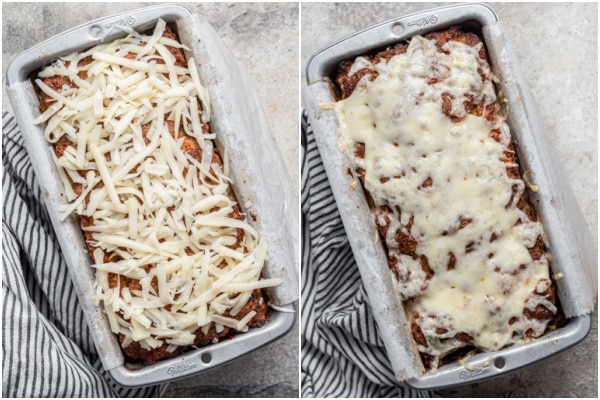 FAQs
What's the secret to moist meatloaf?
The balance of wet ingredients is what makes it moist and delicious. For my recipe, the eggs and ketchup add lots of moisture. Also, it's important to not overbake your meatloaf. If you are not sure if it's done, you can use a meat thermometer to check the temperature. It should be between 160 and 165°F when you take it out of the oven.
What's the best filler for meatloaf?
There are many fillers like dried breadcrumbs, day-old bread crumbs, and I've even seen rice, oatmeal, and crushed chips used as fillers! Probably everyone has a favorite, but I think the best filler are cracker crumbs. They just work so well in meatloaf.
Why does my meatloaf fall apart?
Did you forget the eggs or cracker crumbs? You need a binder to hold your meatloaf together and both of these do that.
Can you use ground turkey instead of beef?
Yes, this recipe works well with ground turkey, too.
Recipe Tips
When you press the mixture into the pan don't press too hard. You don't want to compress the meat too much so you get juicy, tender meatloaf and not one that is dense.
My mom always used ketchup and it's what I use, too, but try using BBQ sauce instead if you don't like ketchup. It will give it a sweeter, tangier flavor.
If you have leftovers, keep them wrapped in refrigerator for three to four days. We love to use them to make amazing sandwiches. Oh and don't forget to put some ketchup on that sandwich, now that's perfection!
You can freeze it, too. Cool it completely and then tightly wrap it and keep it in the freezer for later.
Or, assemble it a few hours ahead of time and keep it in the refrigerator. Then pop it in the oven to bake. Just add a few minutes of baking time since it will be cold when it goes in the oven.
Whenever you get the urge for an easy tasty meatloaf, then I hope you give this Best Meatloaf a try and remember to let me know what you think. Buon Appetito!
More Recipes with Ground Beef
Best Meatloaf
Best Meatloaf, the only meatloaf recipe you need. So delicious and tasty. perfect out of the oven or sliced cold in sandwiches.
Ingredients
1 1/2

pounds

lean ground beef

1

cup

cracker crumbs

1

cup

ketchup

2

large

eggs beaten

2

tablespoons

chopped green pepper

1 1/4

teaspoons

salt

1

medium

bay leaf crushed

1

dash

marjoram and thyme

1

cup

shredded cheese (firm mozzarella, cheddar, swiss, gouda your choice)
Instructions
Pre- heat oven to 350° (180° celsius). Lightly grease a 9 inch (22 cm) shallow baking dish or loaf pan.

In a large bowl combine well all the ingredients together, except for the cheese. Add half the meat mixture into a shallow lightly greased baking dish, top with 1/2 the shredded cheese, then top with the other half of meat mixture.

Bake approximately 1 hour. After the 45-50 minutes baking time, remove the meatloaf from the oven and top with the remaining shredded cheese, return to oven to finish baking. Let sit 5-10 minutes before serving. Enjoy!
Notes
Leftovers should be wrapped and kept in the refrigerator for three to four days. 
You can freeze it, too. Cool it completely and then tightly wrap it and keep it in the freezer for later.
Nutrition
Calories:
353
kcal
Carbohydrates:
27
g
Protein:
25
g
Fat:
15
g
Saturated Fat:
5
g
Cholesterol:
104
mg
Sodium:
1055
mg
Potassium:
449
mg
Sugar:
9
g
Vitamin A:
315
IU
Vitamin C:
3.1
mg
Calcium:
135
mg
Iron:
3.7
mg
Republished from February 26, 2015.