Best Meatloaf Recipe, and that is exactly what it is, made with lean ground beef, chopped peppers, onions, spices and what makes it even more delicious? Your favourite cheese baked and melted right in this Amazing Best Meatloaf.
Best Meatloaf
this was my Mom's recipe and this is what she called it, and I am standing behind it 100%. To tell you the truth I have never eaten any other Meatloaf but this one.
Which will make some people say,  "then how can you say this is the best if you haven't tried any other"? Yeah I know, you have a point. But to tell the truth I haven't found one that makes my mouth water like this one!
When you eat something and it is so good,  you know there can't be anything better! Especially when you add some cheese.
I can remember coming home from school and I was so happy to find and smell that amazing aroma drifting all through the house from the kitchen. It was Best Meatloaf night!
It was always one of the best and yummiest dinners ever, especially when my Mom served her meatloaf with Roasted Potatoes.
So of course I also do it this way to this day. It is so nice to have memories like this to share with your kids and what better way than with a delicious recipe made by your Mom.
I must say not just with my family but quite a few times my Italian friends have asked if I could serve this Best Meatloaf when we get together. That amazing smell gets them every time.
Best meatloaf isn't one of those quick meals that are made and cooked in 30 minutes, on the table in no time. But it is very easy and it does come together in 10 minutes and only an hour to bake.
The last 10 minutes of baking I top it with the remaining shredded cheese. All that melty cheese! 
And trust me it will be well worth it. One of those perfect Comfort Weekend Meals. Or even weekday when you have the time.
 Easy Best Meatloaf Recipe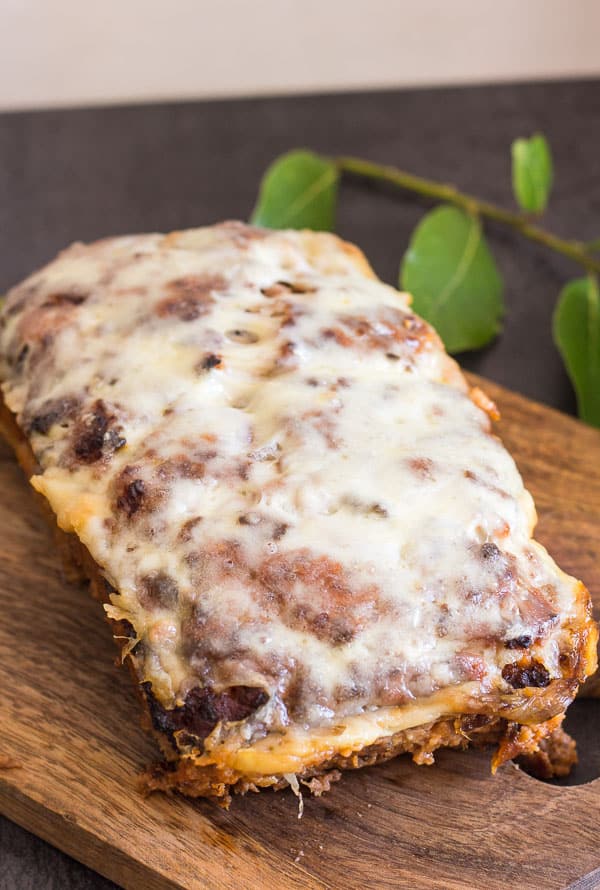 But wait I'm not done yet, this dish just keeps on getting better. You are going to love this Easy Meatloaf right out of the oven, hot and cheesy.
And if by chance you have leftovers (sometimes it is difficult to leave any on the serving plate)!
Refrigerate the leftovers and then the next day slice it up and make a sandwich with some tasty bakery bread and you will certainly agree that you just ate one of the best sandwiches ever!
Oh and don't forget to put some ketchup on that sandwich, now that's perfection! Buon Appetito!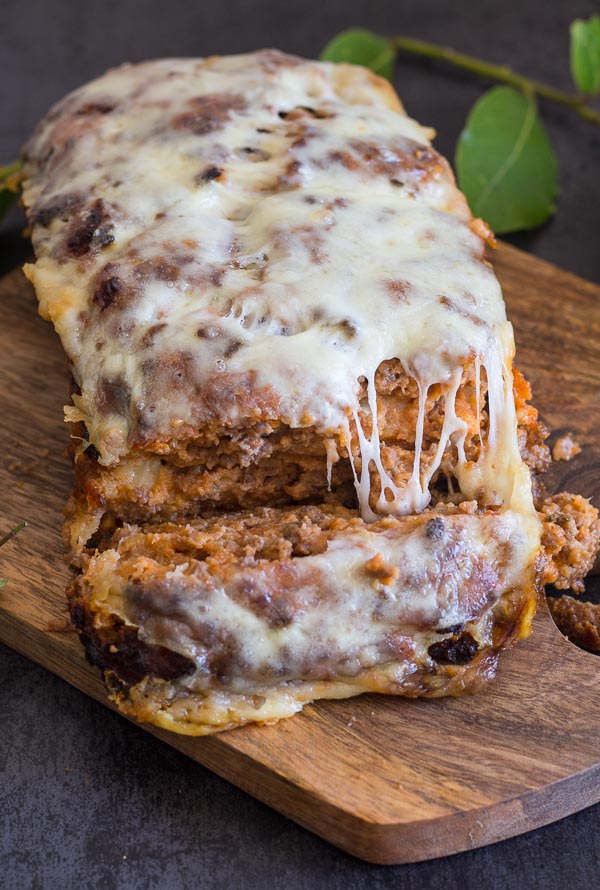 Best Meatloaf
Best Meatloaf, the only meatloaf recipe you need. So delicious and tasty. perfect out of the oven or sliced cold in sandwiches.
Follow me on Youtube!
Watch the videos and don't forget to subscribe on Youtube!
Ingredients
1 1/2

pounds

lean ground beef

1

cup

cracker crumbs

1

cup

ketchup

2

eggs beaten

2

tablespoons

chopped green pepper

1 1/4

teaspoons

salt

1

medium bay leaf crushed

dash of marjoram and thyme

1

cup

shredded cheese

(firm mozzarella, cheddar, swiss, gouda your choice)
Instructions
Pre- heat oven to 350° (180° celsius)

Combine all the ingredients together, combine well. Add half the meat mixture into a shallow lightly greased baking dish, top with 1/2 the shredded cheese, then top with the other half of meat mixture. Bake approximately 1 hour. After the 45-50 minutes baking time, remove from oven and top with the remaining shredded cheese, return to oven to finish baking. Enjoy!
Nutrition
Calories:
353
kcal
|
Carbohydrates:
27
g
|
Protein:
25
g
|
Fat:
15
g
|
Saturated Fat:
5
g
|
Cholesterol:
104
mg
|
Sodium:
1055
mg
|
Potassium:
449
mg
|
Sugar:
9
g
|
Vitamin A:
315
IU
|
Vitamin C:
3.1
mg
|
Calcium:
135
mg
|
Iron:
3.7
mg
Republished from February 26, 2015.