Simple Italian Grilled Zucchini, too many zucchini, just slice them and grill them. Tossed with fresh Italian Parsley, garlic and olive oil. Serve with fresh bread and it's an amazing appetizer.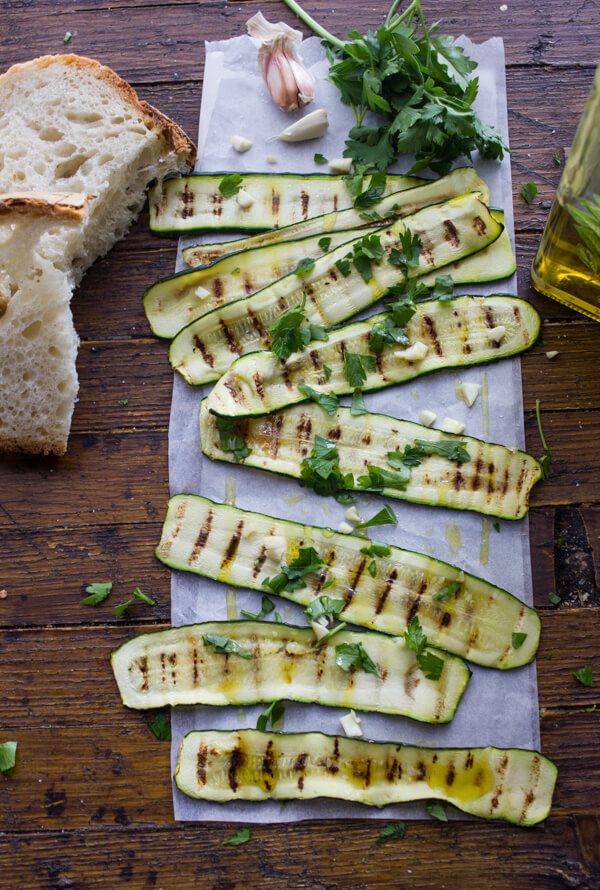 No matter where I am, in Italy or Canada there is one thing that I love to do and that is barbecue.
The summer is the perfect time for Grilling Meat, Vegetables,  fruit and my all time favourite Bruschetta. Especially on Canada Day and the 4th of July. Is there anything you can't barbecue or grill?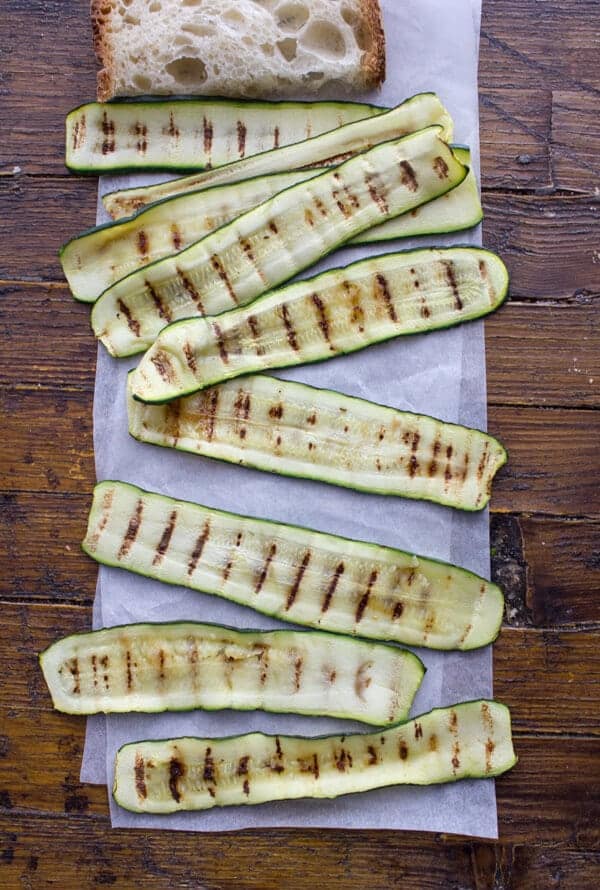 Living in Italy, I have discovered that vegetables can be at their absolute best grilled. Especially zucchini. When you have so many zucchini hanging around this is one of the best way of using them up. Believe me they will be gone in seconds.
This Simple Italian Grilled Zucchini appetizer recipe is perfect when served with crusty Italian bread or with a basic Bruschetta,  which is day-old Italian, crusty bread grilled and then drizzled with olive oil and a sprinkle of salt.
If you are looking for a fast and easy side dish, Appetizer or even simple meal, grill up some Zucchini and serve with a tossed salad. The perfect light Summer dinner.
Simple Italian Grilled Zucchini
This is a very simple and refreshing recipe. The perfect party appetizer. And we all know how fun and wonderful summer parties are. Serve with a glass of your favourite white wine, add a couple more Appetizers and  invite over some of your favourite people. And let Summer Begin. Buon Appetito!
Simple Italian Grilled zucchini
Simple Italian Grilled zucchini, a fast, easy and healthy appetizer recipe. The perfect BBQ dish with fresh seasonings.
Follow me on Youtube!
Watch the videos and don't forget to subscribe on Youtube!
Ingredients
2-3

zucchini (or how many you wish to grill)

1/4

cup

freshly chopped Italian parsley

7 1/2 grams, if more if needed

2-3

cloves

garlic chopped

1/2-1

teaspoon

salt

2-4 grams

1/4

cup

olive oil

30 grams
Instructions
wash and trim zucchini, slice zucchini lengthwise (thin but not too thin), grill until tender (careful not to burn) for approximately 1-2 minutes on either side (can be grilled on a barbecue or a pan grill), remove grilled zucchini to a clean plate and continue until all zucchini are grilled.

In a medium bowl layer zucchini, chopped garlic,chopped Italian parsley, sprinkle with a pinch of salt and 2-3 tablespoons of olive oil, continue with layers until all the zucchini is finished (I usually do 3 layers). Toss gently together, serve with simple bruschetta or Italian crusty bread. Enjoy!
Nutrition