Creamy Filled Patriotic Fruit Tarts, celebrating Canada Day or the 4th of July? These easy Fruit Tarts filled with a creamy Mascarpone or Cream Cheese filling and topped with fresh fruit will be a hit with everyone.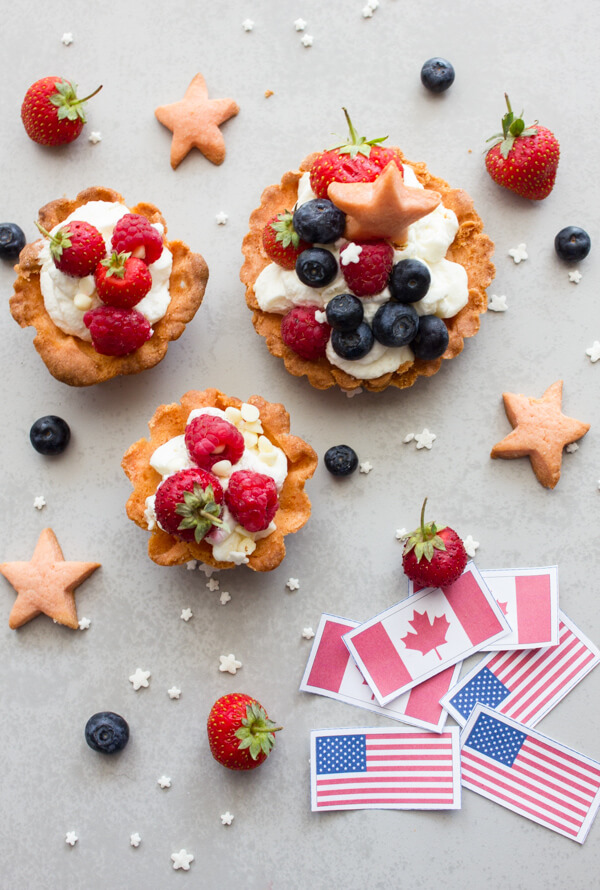 I have always loved the festivities of Canada Day when I was home, and I always tried to show it to my kids here in Italy also. For dessert I would usually make a Strawberry Shortcake, with loads of whipped cream and strawberries.
This year as I was thinking of something that I could share with all of you. I came up with the idea of a red pastry tart. I rarely use food colouring although deep down I love the stuff.
I discovered that it is really difficult to dye dough because of the fat content of the butter and the yellow colour of the eggs. So I put it out of my mind for a few days.
At least until I went into town and stopped by a little and I mean little shop. She is the nicest woman and has anything and everything you can imagine for decorating and baking.
Every time I go in and ask for something, since the shop is so tiny I am convinced she won't have it. But lo and behold she reaches behind or underneath or even on top and TADA there it is.
Creamy Filled Patriotic Fruit Tarts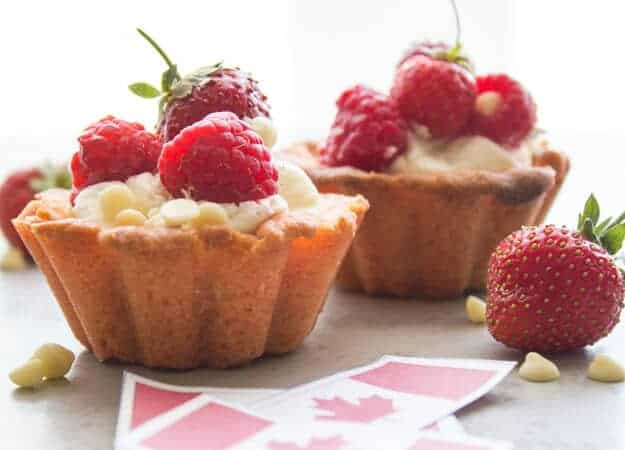 So needless to say I explained my plan and she had just the thing. She advised me that you need to use a dye that will colour fats, or even chocolate. I used half of the small tube to arrive at the colour of my dough.
I also decided to use only one egg in my fruit tart dough instead of my usual Crostata Dough. It turned out nice and flaky, might even become my new favourite.
Nothing better than Fresh Fruit at this time of the year, and believe me it can't get much better than this creamy delicious Mascarpone Cream Filling. If for some crazy reason you don't like or can't get Mascarpone, Cream Cheese is a great substitute.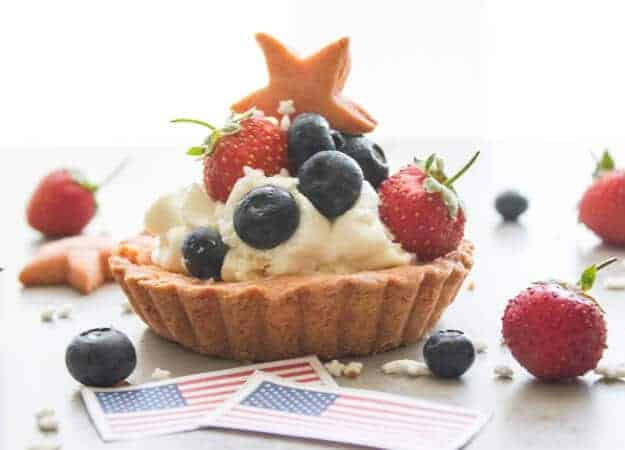 I pre baked the Pastry Shells and then filled them and topped them with fresh fruit. It's best to sit them in the fridge for at least 30 minutes before serving. And then watch everyone gobble them up!
So thanks to you all of you wonderful readers I wish you an amazing Canada Day or 4th of July, lots of good food shared with family and friends. Enjoy!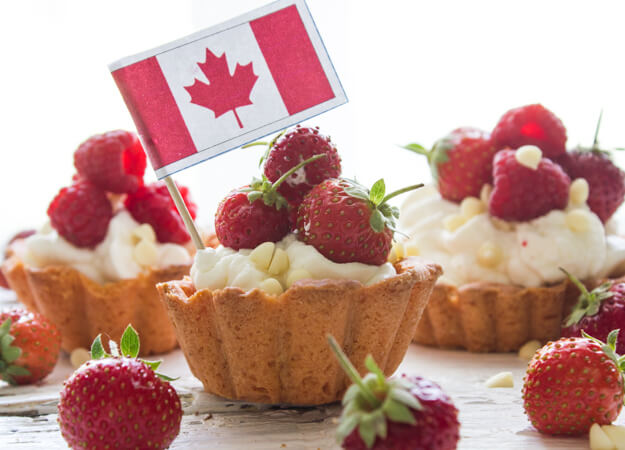 Creamy Filled Patriotic Fruit Tarts
Creamy Filled Patriotic Fruit Tarts, a flaky pastry crust, filled with a creamy Mascarpone/cream cheese filling, an easy dessert recipe.
Follow me on Youtube!
Watch the videos and don't forget to subscribe on Youtube!
Ingredients
PASTRY DOUGH **
1 1/2

cups

+ 1 tablespoon flour

250 grams

pinch of salt

1/4

cup

+ 3 tablespoons sugar

88 grams

1/2

teaspoon

baking powder

2 1/2 grams

1/2

cup

cold butter

125 grams

1

egg
CREAMY FILLING
8

ounces

mascarpone or cream cheese

250 grams

1/2

cup

powdered/icing sugar

55 grams

1/2

teaspoon

vanilla

2.1 grams

1

cup

cream

250 grams
TOPPING
strawberries, blueberries, raspberries
Instructions
Pre-heat oven to 375° (190 celcius)
PASTRY DOUGH
In a large bowl,gently whisk together flour, salt, sugar and baking powder, create a well in the middle and add egg, butter cut into pieces and vanilla. Mix together with a fork,then turn mixture onto a slightly floured surface and gently knead the mixture, when mixture is almost formed into a dough add the food colouring (if using) and knead until smooth and colour is even (keep surface lightly floured). Wrap in plastic and refrigerate for 30 minutes.

Remove from fridge and knead the dough a couple of times to soften it up again on a lightly floured surface. Roll out to 1/8" thickness. Place cut out dough into lightly greased tart pans. Prick the bottom of the dough and place a piece of parchment paper or foil on each shell and fill with dried beans, bake in pre-heated oven for approximately 15 minutes, remove paper and beans and bake for approximately 5 -10 minutes more or until lightly golden. Remove from oven and let cool completely before filling.
CREAMY FILLING
In a medium bowl add cream and whip until thick peaks appear.

In a medium bowl beat until smooth mascarpone (or cream cheese), icing sugar and vanilla.

Gently fold mascarpone mixture into whipped cream, until combined. Cover with plastic and refrigerate 30 minutes.

Fill cooled tart shells with Creamy Filling ( I used a pastry bag to fill), top with fresh fruit, refrigerate 20-30 minutes before serving. Enjoy!

Dough can be made in a food processor, add dry ingredients and then butter, egg and vanilla, pulse until almost combined.
Nutrition
Canadian and American mini Flag printable from Activity Village.