Ricotta Spinach Tarts are a fast and easy appetizer. Pre-made pastry makes these tarts so easy, and each one is filled to the brim with a delicious cheesy spinach ricotta filling.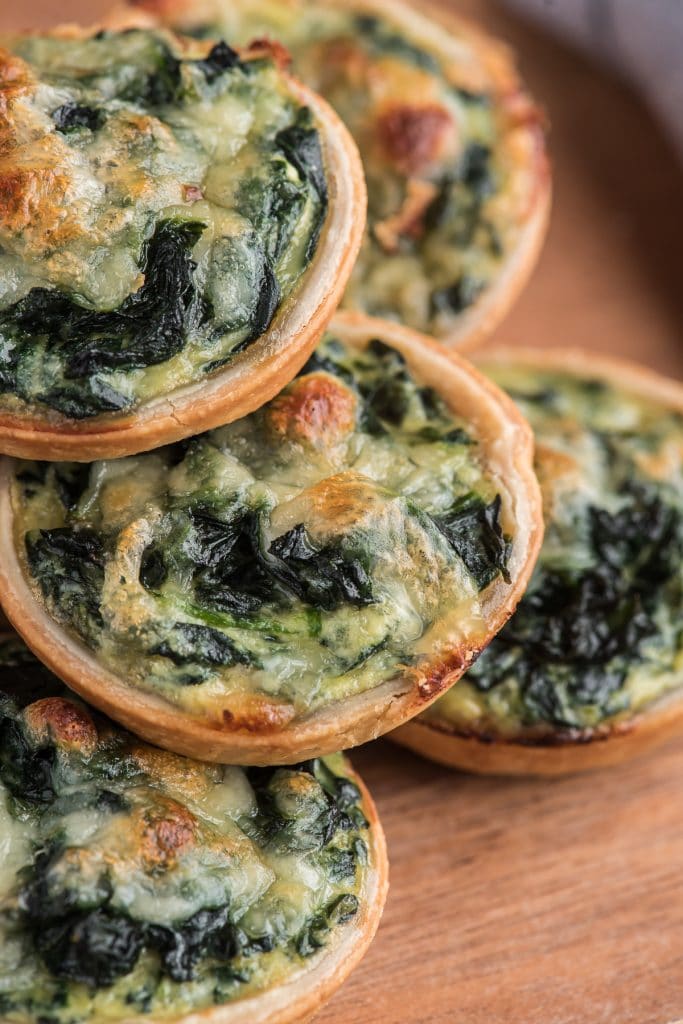 Whenever I make these easy spinach tarts, I can't help but think of my husband's parents. When I first came to Italy I remember my in-laws had some farm animals, including a cow and a couple of sheep.
My mother-in-law would milk the cow and the goat and make the most amazing types of cheese. Needless to say, ricotta cheese was one of those.
I didn't like ricotta made from goat's milk then and I still don't. I find it too strong for me, but I know that most Italians prefer that strong taste compared to the subtle light flavour of the ricotta made from cow milk.
She would make a delicious filling for pasta or just toss with some spaghetti, which is my father-in-law's favourite. I loved hearing their stories about making and using the cheese to make delicious recipes.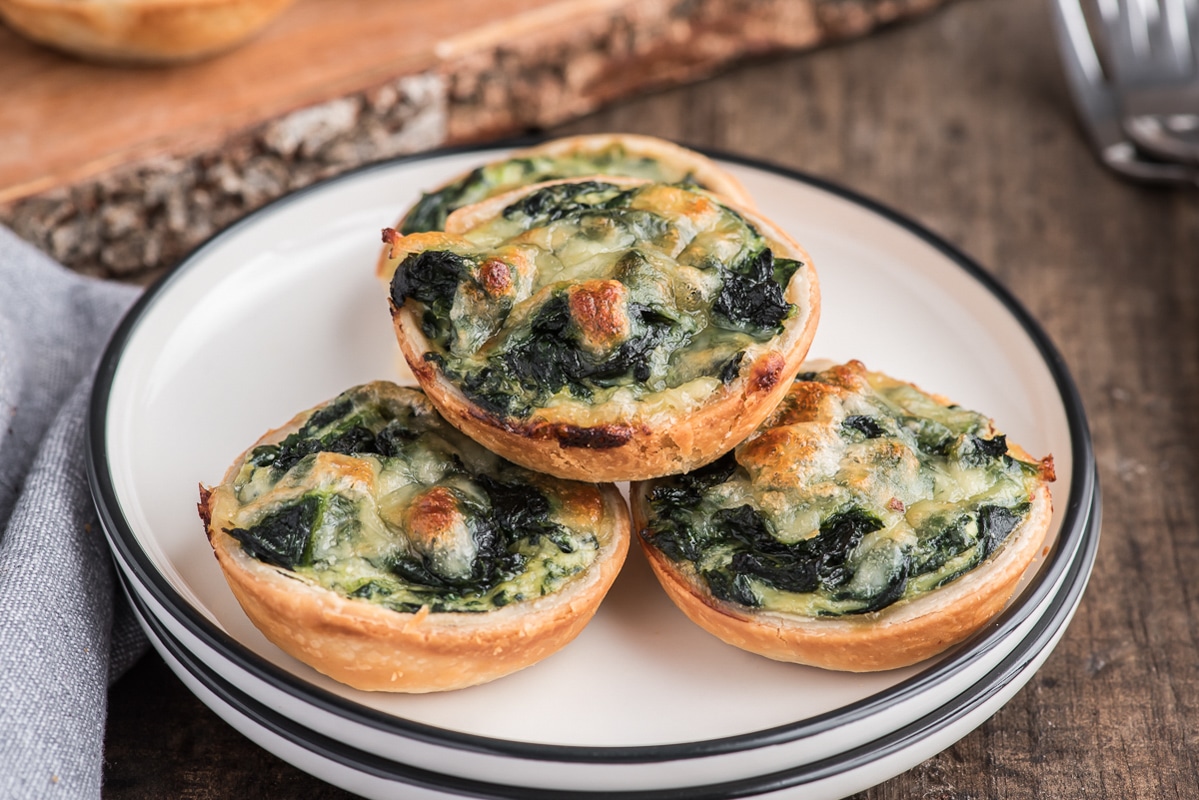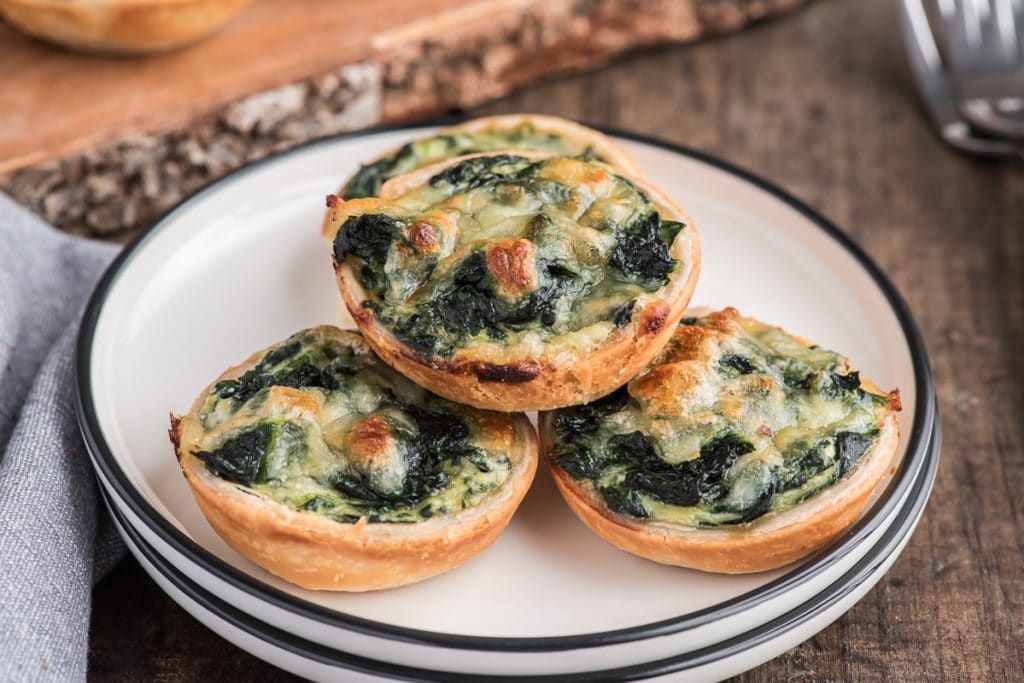 Easy Ricotta Tarts
Lucky for us ricotta is easily available, so no cow milking for me! And what do I do with ricotta? Well, I decided to make these small Ricotta Spinach Tarts.
I used store-bought pastry but you could also make your own pie crust if you prefer. I cut out medium-sized circles and filled my muffin tin, then I filled them with this creamy ricotta filling topped them off with some more chopped spinach, sprinkle a little or a little more shredded mozzarella and into the oven they go.
These spinach tarts are a great appetizer or make them to have on hand for snacks. The creamy cheese and spinach is really the best combination. Add in a flaky crust and you have the perfect ricotta spinach tarts.
They are delicious warm from the oven, but equally delicious served at room temperature or chilled. The perfect appetizer for sharing – everyone will love them.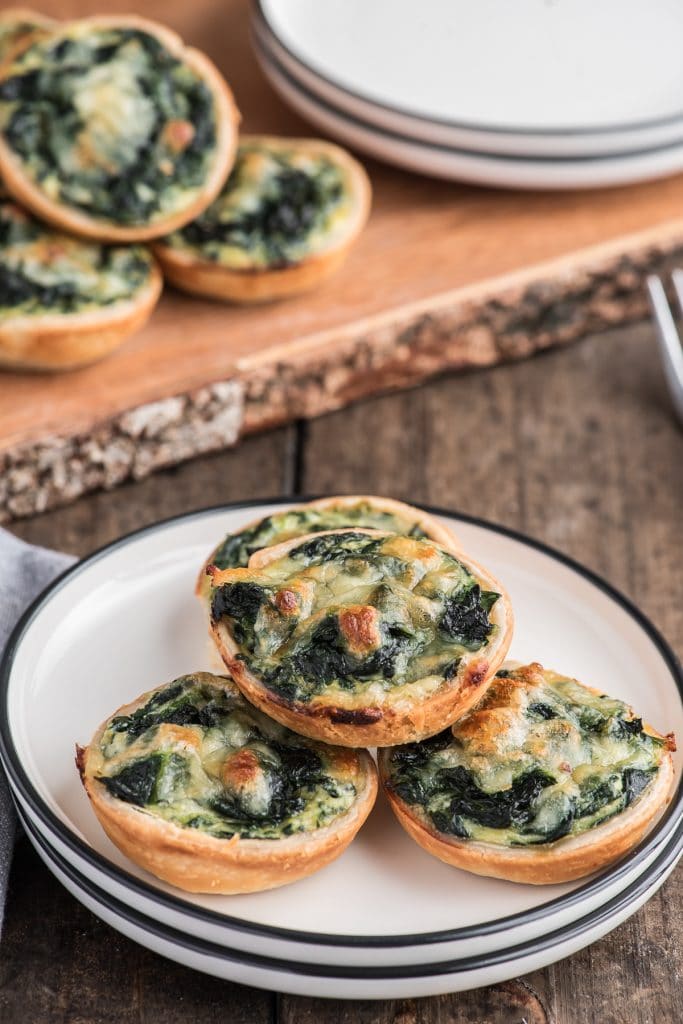 Ingredients
Cooked chopped spinach – be sure to drain and wring out as much excess liquid as you can after the spinach is cooked.
Ricotta cheese
Freshly grated parmesan cheese
Salt
Egg
Shredded mozzarella cheese
Pre-made pie dough – or homemade if you prefer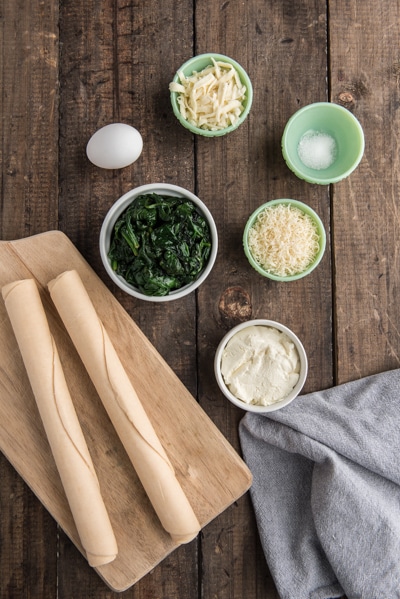 Instructions
Preheat the oven to 375°F (190°C) and lightly grease a standard muffin pan.
In a medium bowl mix 1 1/4 cups chopped spinach with the ricotta cheese, Parmesan, salt, and egg. Stir well to combine.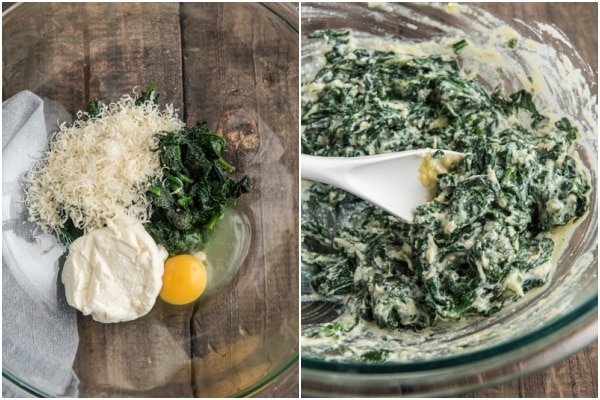 Cut out nine medium-sized dough rounds to make the crust. Fit the rounds into the prepared pan.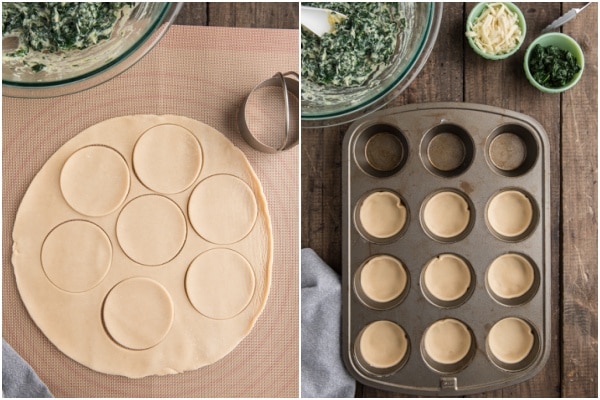 Fill each with cheese and spinach mixture and top them with the rest of the chopped spinach.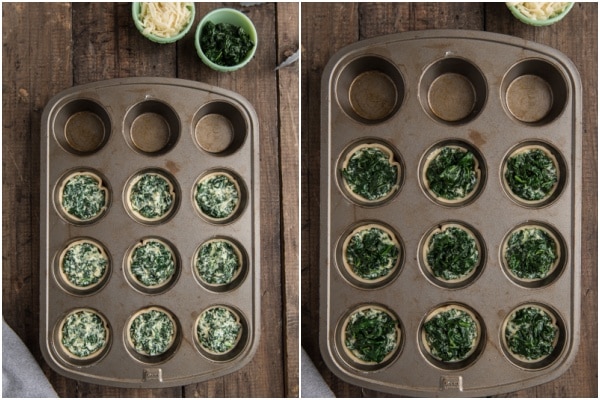 Sprinkle the shredded mozzarella cheese over the top.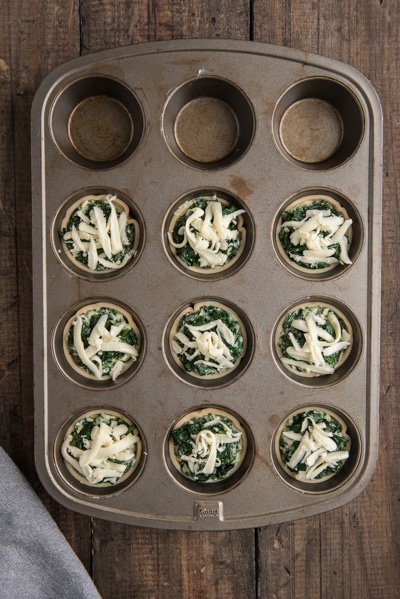 Bake the ricotta tarts for approximately 20 minutes or until golden brown.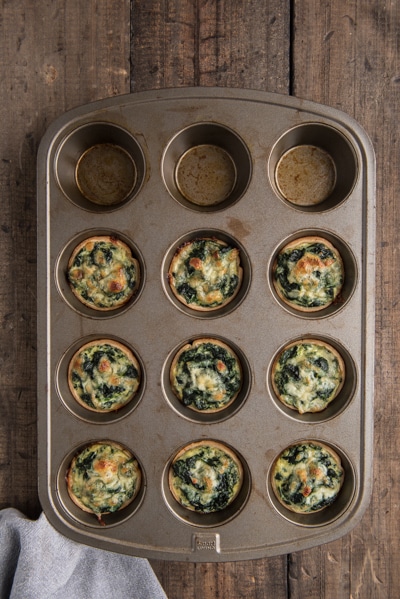 Recipe Tips
Feel free to add some fresh herbs to the filling like chopped parsley, dill, or basil. You could also add some sautéed onion or garlic and chopped cooked mushrooms. Just don't add too much since the tarts are small.
For serving, try sprinkling a little more grated Parmesan over the tarts. Freshly ground black pepper would be nice, too.
I haven't tried it with this recipe, but puff pastry would make a great crust, too. You can use store-bought or try making your own easy puff pastry.
You can use a mini tart pan if you have one, but the baking time will need to be adjusted. Start checking at the 12 minute mark.
Wrap these ricotta spinach tarts in plastic wrap and they will keep well at room temperature or you can store them in the refrigerator. You can also freeze them in a freezer-safe container.
These ricotta spinach tarts are fast, easy, and better still, delicious. The perfect appetizer. Buon Appetito!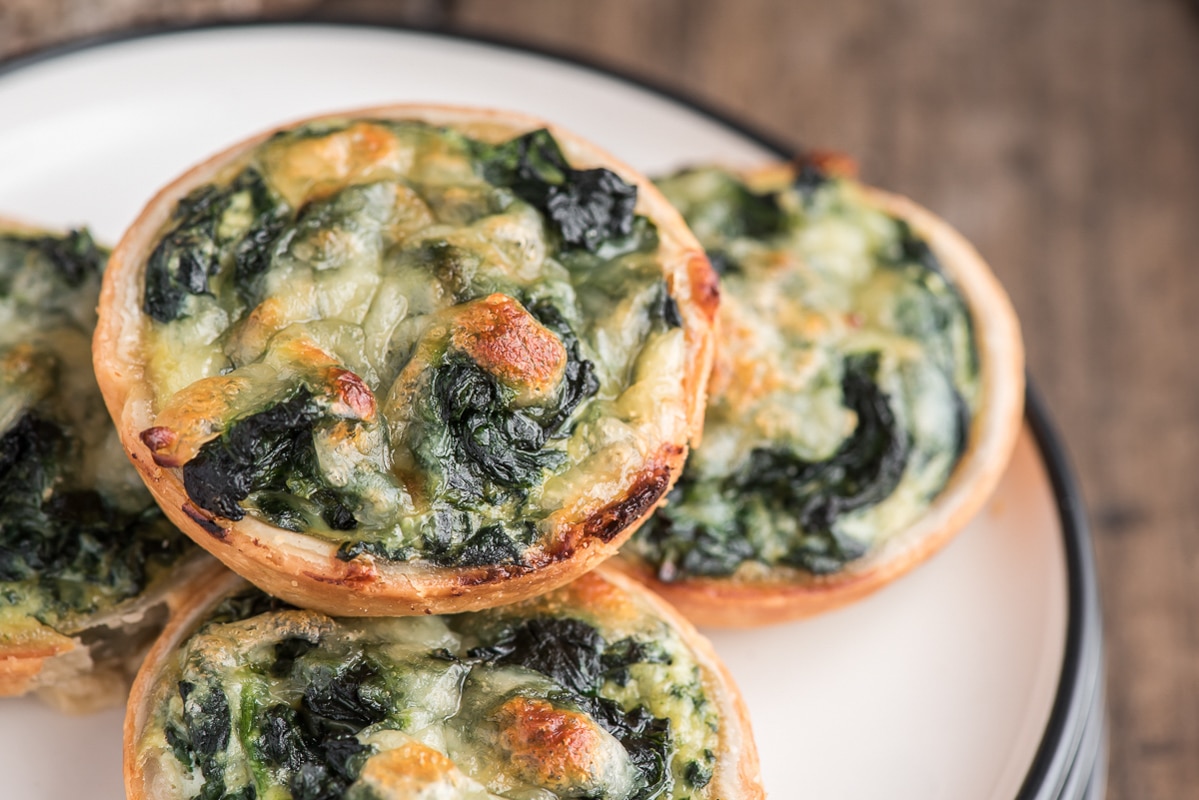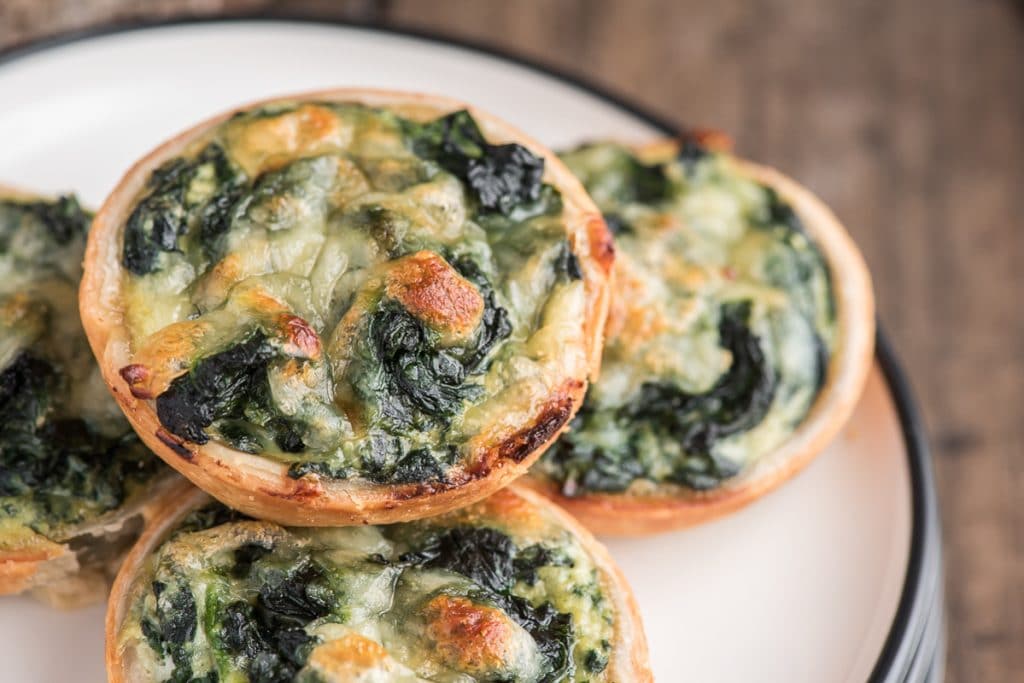 More Easy Appetizers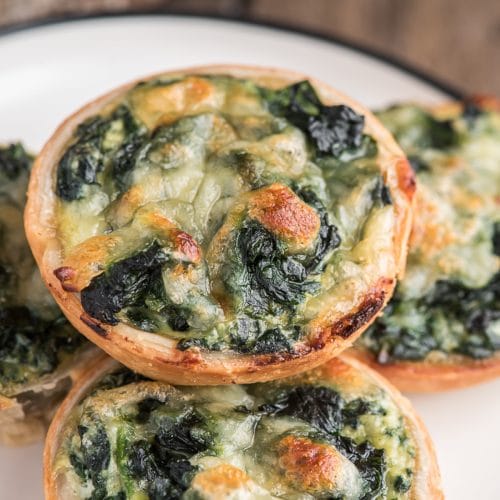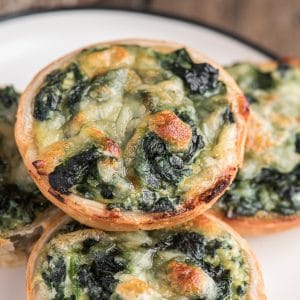 Ricotta Spinach Tarts
Ricotta Spinach Tarts are a fast, easy and delectable Italian appetizer. Easy to make and the perfect appetizer for a party or any get-together.
Ingredients
1 3/4

cups

cooked chopped spinach (divided)

1/3

cup

ricotta (I used dairy ricotta)

1/4

cup

freshly grated parmesan cheese

1/2

teaspoon

salt

1

large

egg

2-3

tablespoons

shredded mozzarella

1

pre made pie dough
*Drain the spinach really well, wring out with your hands to remove as much excess moisture as possible.
Instructions
Pre-heat oven to 375° (190° celsius), lightly grease a 12 medium size muffin pan.

In a medium bowl mix together 1 1/4 cups (220 grams) chopped spinach, ricotta, parmesan, salt and egg.

Cut out 9 medium size circles and place in muffin pan, fill with ricotta mixture and top with some of the remaining (1/2 cup/95 grams) chopped spinach.

Top with shredded mozzarella and bake for approximately 20 minutes until golden. Enjoy!
Notes
Wrap these ricotta spinach tarts in plastic wrap and they will keep well at room temperature for a day or two, or you can store them in the refrigerator for up to 4 days. You can also freeze them in a freezer-safe container, they will keep for up to 2 months in the freezer. Be sure to thaw them overnight in the fridge and warm in a low oven or microwave.
Nutrition
Calories:
133
kcal
Carbohydrates:
10
g
Protein:
5
g
Fat:
8
g
Saturated Fat:
3
g
Polyunsaturated Fat:
1
g
Monounsaturated Fat:
3
g
Trans Fat:
1
g
Cholesterol:
30
mg
Sodium:
290
mg
Potassium:
74
mg
Fiber:
1
g
Sugar:
1
g
Vitamin A:
664
IU
Vitamin C:
2
mg
Calcium:
79
mg
Iron:
1
mg
Updated from December 14, 2014.