Sometimes eating Healthy does taste better, just try a Baked Homemade Veggie Burger. Carrots, Celery, Zucchini, and spices make this a perfect alternative to a regular burger.
We love burgers! Who doesn't? But as my youngest daughter reminds me "Ma let's do something veggie". So needless to say we decided to give a Veggie Burger a try.
We love our Tuna Burgers and our Italian Stuffed Burgers so now it's time for a Baked Homemade Veggie Burger.We wanted to make a burger without the usual black beans or humus more of our favourite raw veggies instead.
Baked Homemade Veggie Burger
So I shredded a carrot, zucchini, potato and half a celery stalk, I mixed them all together and really squeezed it well to remove as much excess moisture as possible. I then mixed in some spices, an egg and some flour. Formed them into a patty shape, we then baked them for approximately 20 minutes. I turned them halfway so they would brown on both sides.
Veggie Burgers make the perfect light meal serve them with a tossed salad with or without a bun. Pretty good too if you add a little bit of mayo on the bun. Plus they are so fast and easy, what more can you ask for? Seems to me it would make a yummy summer meal also. Buon Appetito!
Baked Homemade Veggie Burger
Fast, easy and Healthy Baked Homemade Veggie Burger. A delicious lunch or dinner recipe idea. Zucchini, Carrot & Potato combination.
Ingredients
1

medium carrot grated

1

medium zucchini grated

1

small potato grated

1/2

celery stalk grated

2

tablespoons

chopped fresh parsley

1/4

cup

flour

31.75 grams

1

egg

1/4

teaspoon

salt

1.4 grams

pepper to taste

1

tablespoon oil divided

15 grams
Instructions
Pre-heat oven to 350° (180° celsius) line a cookie sheet with parchment paper, oil very lightly.

Wash, peel and grate vegetables, squeeze out excess moisture and place in a medium bowl. Add parsley, flour, egg, salt and pepper and mix gently to combine. Form into patties (5 or 6) and place on cookie sheet. Drizzle with a little olive oil and bake approximately 25 minutes, turning after 15 minutes. Serve immediately enjoy!
Nutrition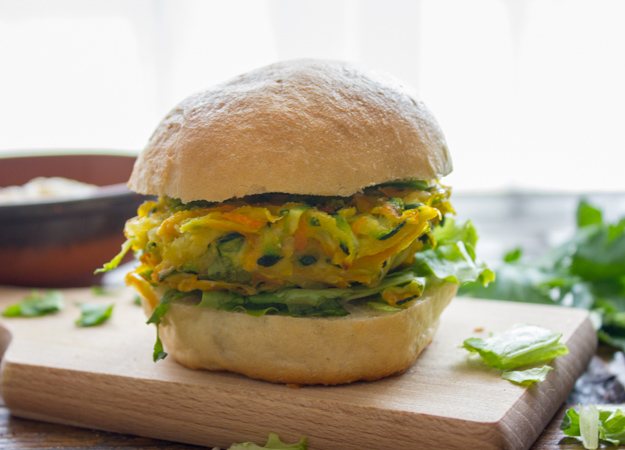 Adapted from Il Giornale "Ricette Tradizionali".